Our stopover in Miami on the way home
Miami has always been one of my favorite cities and it was great to stop by on the way home from Colombia.
Our flight was on time and customs was a breeze.
Even though it was a little drizzly when we arrived, the weather and atmosphere overall was always warm and relaxing.
One of the first things I noticed on this visit, was that the food scene seems to have improved.
It's started to become more diversified with a lot of different options than there used to be. Always a good thing!
It also never fails to remind me how different some parts of the US are.
Some of the people there only speak Spanish. Feels like I'm not in the US in that regard, but that's just the way it is.
What has brought me back to Miami over the years has mostly been music events like Ultra Music Festival or Phish.
Most recently Above and Beyond had their own little party as part of Miami Music Week and that's one of the reasons we made a detour here on the way back.
For the hotel and car
We stayed at the Residence Inn Miami Airport West/Doral using two Marriott free night certificates.
Although it was near the airport, the hotel was quiet and convenient.
We rented our car through Costco travel. Did you know they have the cheapest rates? 
I've yet to find anywhere that beats them. Even the car rental companies themselves!
Exploring Miami
We spent our first day exploring Wynwood and all the street art in the area.
In total, we probably spent 2-3 hours walking around looking at all the walls.
There is a lot to see and it seems to change with each visit. (This was my third time to the walls)
The rest of the time we went to South Beach, Virginia Key, and Brickell Key to explore a bit.
One of the highlights we found was Miami Beach's one and only botanical garden.

Miami Beach Botanical Garden
It's a little hidden in a residential looking area.
But once you find it, its pretty easy to navigate.
Inside, each section had little sign posts with QR codes and so I thought I would scan one.
After scanning it, it brought up an audio guide and walked us through the garden. Unexpected and very fun!
Sometimes having someone guide you through an exhibit or foreign place really adds to the experience.
We noticed somethings we probably would have completely missed include a vanilla orchid (where Vanilla comes from). Did you know the whole plant only produces one flower ?
There was also a relative of the banana plant, which is actually a type of grass. Not a tree. Did you know that? I didn't!
The little banana I found tasted just like a banana by the way.
We got through the whole garden in about 30 minutes, so it's pretty small.
I'd recommend visiting if you are looking for things to do.
Now on to food!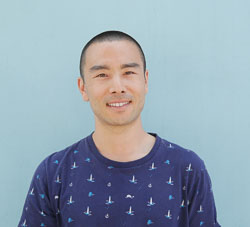 Konnichiwa! (Hello!) I'm Pat Tokuyama, a Japanese tofu cookbook author, who travels for music, food, and adventure. If you like Japanese tea, checkout some of the newestorganic japanese teas now in stock!!
** Curious about the Plant Based Japanese Cooking Club? ** Learn more here!

For food, these are the restaurants and places we visited along with some of my notes:
Fireman Derek's World Famous Pies – recommended
I've had a few of the pies here and my favorites are coconut cream and key lime pie. I haven't found a better key lime pie in Miami, so if you know of a place. let me know!
El Palacio de Los Jugos – recommended
I've never had food here, since it looks kind of like cafeteria food and it's also very heavy/unhealthy looking. But I do like their juices. Guanabana is my favorite. We most recently tried this location which is less crowded/busy than their other one, which I thought was more relaxing.
Della Test Kitchen  – recommended
We had their Caribbean bowl and Mexican chocolate frappe. The bowl was good and just enough for two people since we also had the smoothie. The frappe was kind of like a cold chocolate drink with a little spice and very filling. If I was in the area I would go back!
Nuevo Siglo Market  – recommended
This market is my go to for Cuban food in Miami. I discovered it many years ago on one of my trips there and I haven't found a better place for cooked food. They have specials that change each day and the staff mostly speak Spanish. But I did notice they added an English menu. Each time I go it's filled with locals. One order is enough to share so unless you really really eat a lot that's what I'd recommend for two people.
Azucar Ice Cream Company – recommended
If you want some unique flavors of ice cream this is your place. It is walking distance from the market so you can get your Cuban meal there and then some ice cream after!
Plant Food + Wine  – recommended
The food looked delicious and reviews very promising and it met those expectations for sure! The dumplings we started with were savory, light and airy. It's a shame they were one bite each, but maybe that's what kept them light. The salad was the most memorable with all sorts of flavors and textures. My noodle dish was also very novel and interesting. The noodles reminded me of Naengmyeon (cold korean noodles) since they were light and chewy. The cheesecake was also one of the better vegan cakes I've had with slight floral notes, not overpowering and not overly sweet.
Yardbird Southern Table and Bar – not recommended
We ate a late lunch here and waited about 15 minutes for a table since we didn't have reservations (recommended by the way). The chicken came out quickly along with the biscuit we ordered. The waffle came with a bourbon infused maple syrup which was really tasty. Never had anything like it! On the other hand, the fried chicken was pretty standard. I thought it needed a little more salt and wasn't that flavorful. I think I like Screendoor in Portland and then KFC in that order. 🙂
click pictures to enlarge
So to summarize, we had a good time in Miami exploring and eating.
Like most major cities, Miami is a place that seems to be continuously changing and evolving.
I'm sure I will find myself back there sometime in the future.