Lula Bistro
Lula Bistro is located about 15 minutes from the center of Guadalajara by car, in a seemingly industrial area right next to some train tracks.
The restaurant feel was very modern/minimalist with a warehouse feel. Concrete floor walls and ceiling and dark lighting.
They had downtempo and jazz music playing the whole time, which I liked.????
When we arrived there was no one except us for the first 30 minutes or so. That was a little worrisome, but gradually the place started to fill up.
There was a good mix of locals and foreigners, maybe 50/50 by  the time we left.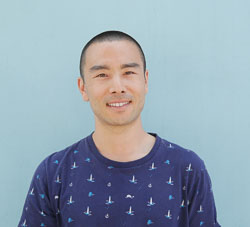 Konnichiwa! (Hello!) I'm Pat Tokuyama, a Japanese tofu cookbook author, who travels for music, food, and adventure. If you like Japanese tea, checkout some of the newestorganic japanese teas now in stock!!
** Curious about the Plant Based Japanese Cooking Club? ** Learn more here!

'New Mexican' food
The food here was very good!????
I would liken the cuisine and menu to what New American is to American food.
It's a contemporary and modern take on traditional Mexican cuisine. A lot more refined. And I liked it a lot.
It was much lighter, with delicate flavors. But you could definitely see the influences and roots of each dish.
For example, they had 'carne en su jugo', which was like a modern and minified version what I had at Kamilos 333.
This was easily one of the best meals we've had while visiting Mexico.
We chose one 6 course and then one 10 course to get a good mix of flavors/plates.
I think start to finish was approximately 1.5 hours. Not bad!
Each course was finished with 3-5 bites, so it really was a tasting.
I think for what was served, that was appropriate.
I don't think we were stuffed by the time we left, but we were definitely full.
I don't know what's better, to be stuffed or full. It's probably better to be full. At least healthier.????
My only comment or critique was that the majority of the dishes came with some sort of a sauce.
The sauces were poured over by the waiter, after they brought out the plates.
It was nice to have that for the first few courses, but definitely got a bit old and tired by the time we were finished.
But don't get me wrong! The food was good and very nicely presented.
Have a look below at what we ate! (sorry some of the photos didn't come out so well with the low lighting 🙁 )
Make sure to bookmark this place if you happen to be craving a fine dining experience in Guadalajara!
Click to enlarge photos-