Jasper National Park, Alberta Canada September 2016
After hearing so many good things about the national parks in Canada I finally made it. We visited both Jasper National Park and Banff National Park. This first post will outline the first leg of the trip.
We flew from LAX into Edmonton in Alberta, Canada. After getting our rental, we drove straight to Jasper National Park to begin our week long visit. The drive from Edmonton was pretty uneventful. Most of what you pass appeared to be farmland.
We bought a park pass on the way in. The pass is good for 2 years!! I think usually it is one year, but since they are celebrating their 150 year anniversary all parks are free in 2017. So next year could be a good time to go! Anyways, as soon as we got in we went to our campsite to setup.
I had camping reservations for Whistler's campground for the first two nights. This site is about a 5 minute drive from the town of Jasper. The nice thing about the campground is that they have hot showers. The facilities were also quite nice. Much better than I have seen in American national parks.
Unfortunately, the first 4-5 days of the trip the weather was pretty poor. So we didn't really spend much time outside of our tent at the campsite. The lows were in the 30s and we were already looking forward to staying in our hotel later on in the week.
Throughout the rest of the trip, it rained, snowed or hailed each day. The clouds also hung low obstructing the mountain views, but occasionally there would be gaps of blue sky. We tried watching the weather radar to see when and were we should try to be to get the best view and time weather. It worked for the most part I would say. 
In spite of the weather, the scenery, from what we could see was spectacular and some of the best I've ever seen in terms of mountains and lakes. These are some of the places that we visited –
Our first stop was at  Maligne lake. Maligne lake is one of the larger lakes in Jasper National Park and has a deep emerald green color in the water. Really nice and scenic.

After driving to Maligne lake we did our first hike to Moose Lake. I think round trip is about 2 miles and is relatively flat and easy. Moose lake is appropriately called so, as we saw a moose feeding in the water. We got lucky since we saw it in between two groups that probably missed it before it walked off into the woods.
On this trail, there were barely any tourists around, which was nice. As you go further south, the trails and lakes do get a bit more crowded.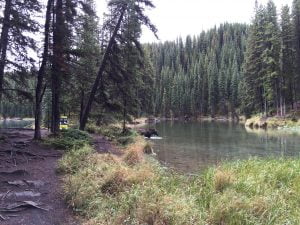 This is what the trail looked like for most of it. Very lush and green.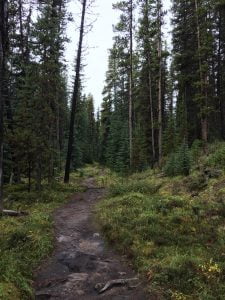 With all the rain we were getting, we had the opportunity to see multiple rainbows. This was a view from one of the streets in Jasper town.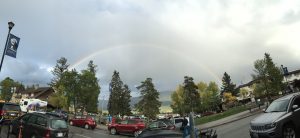 After staying 3 nights in the Jasper area we were due to head south. One of our stops on the way down was at Edith Cavell Glacier. We couldn't see the top due to the fog, but got to see the soft blue water with little ice blocks floating in the lake!! They're actually a lot bigger if you get closer, maybe the size of a large SUV/van.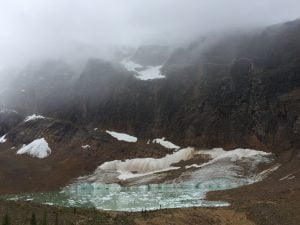 In terms of food, we ate at a couple places.
Syrah more upscale New Canadian restaurant. Seemed like their specialty was meat and thats what we ate. Got to sample the
Famoso Neopolitan Pizza – pretty decent pizza place, we all shared a couple pizzas and a salad. It was good for the price.
Bear paw bakery for breakfast. One of the more popular bakeries in town, had the cinnamon bun, scone and coffee. It was a long wait so be prepared for that if you go here in the morning.
Stay tuned for my next post on the Icefields Parkway and Banff National Park.
NOTE – If you are planning to visit the Jasper National Park or Banff National Park areas, note that for the remainder of 2016 and all of 2017 there are no admission fees!!  See this Travel and Leisure article!
Here is the link to part two of my Jasper and Banff National Park trip ! 
Save