Tuscany Road Trip Itinerary
This is a map of our original itinerary. We actually didn't complete the loop.
Our original plan was to go clockwise in a circle, but on our last day, we decided to back track.
Instead of going from Colle di Val d'Elsa back up to Florence, we went to Chianti for olive oil.
Then the area down by Pienza, before going back to Florence.
Had we planned better we could have visited Pienza the first day. Ideally, it would have been just after seeing Montepulciano. 🙁
The blue outline is all freeway so you can get to each destination on the loop relatively quickly. Once you get off the freeway, though, some of the roads are quite windy since they pass through the hills, mountains, and the countryside.
The scenery is very nice and just like you would expect.
If you've seen pictures of Tuscany with their olive trees and pointy shaped trees lining the roads, that was exactly how it looked. It was very scenic!!
We got lucky that the weather cooperated and never had any problems with fog. It was cloudy most of the time, but no rain, so that was good also!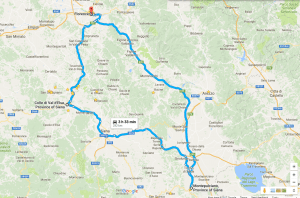 This was our little car-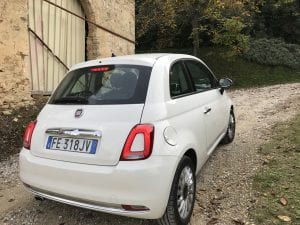 Hotel
For our lodging, we used an Airbnb. We were lucky to get this one, as it is usually booked a few months out.
We wanted something centrally located, but outside any of the major towns. And this was a good match for what we wanted.
It was about a 10-minute drive on dirt off the main road.
The house is located in Poggibonsi which is a small town with a collection of farms in the hills.
Poggibonsi was a great place to stay and I would recommend considering a stay in this area for your first visit.
It is easy to access
It feels like you are in the countryside
It is very quiet and predominantly residential/farms
Our place happened to have a very large olive grove as do many of the properties in the area.
This was a view from right outside our door –

Our first stop was Montepulciano. This is a small medieval town on a hill that seemed to be quite popular based on forum posts on Tripadvisor. So it was toward the top of our list of places to see.
Once you arrive at the town there are parking lots all around the perimeter. A lot of the towns in Tuscany have restrictions on where you can drive. If you aren't careful you can potentially get a camera ticket for violating them.
The town is easy to walk through in about 1-2 hours, if you stop at each store, of course, it will take longer.
I liked this place and can see why it's so popular. It has a unique feel to it and the towers that shoot up from the town also add to the atmosphere.
View of Montepulciano from the outside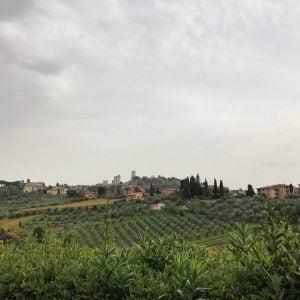 After doing a bit of walking, our first stop was lunch:
This is a restaurant run by a husband and wife. While we ate there were only a handful of other customers. Mostly locals doing take out.
The way they did take out here was cool. As they didn't use plastic and styrofoam.
Rather, they took a pasta plate and put another pasta plate on top of it, but upside down. Thus insulating the food and keeping it hot.
The customer would then walk out with their utensils and plated food and return it when they were done.
The food was very good and this is probably one of my favorite restaurants that we ate at in Italy.
I especially liked the pici, which is a thick noodle. Imagine spaghetti 2-3x thicker, that's what pici was like.
I think it's my favorite pasta and need to learn how to make it!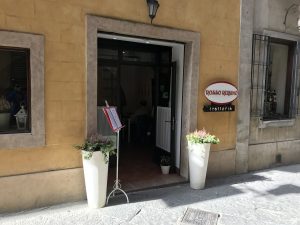 Truffle tortellini with a cream sauce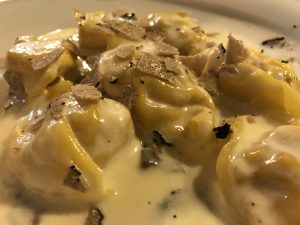 Pici with porcini and pancetta. I regret not buying dried porcini before leaving Italy. I don't think I ever liked how it tasted until I had this dish!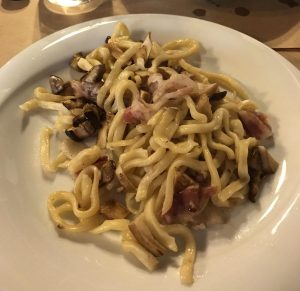 Wild Boar Ragu. This was a lot of meat for us. It tasted good, but wish that it had a side of carbs like rice or potatoes.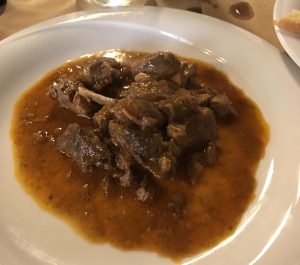 Panna cotta with honey. This was super tasty. The honey on touch was a bit over the top, but the thick cream underneath compensated for it. Very rich and thick.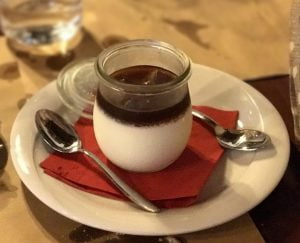 Park and Castle on the hill in Montepulciano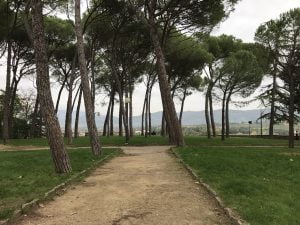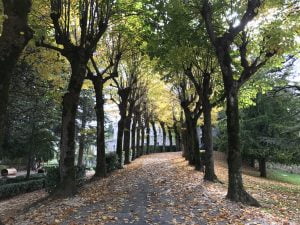 Tuscan art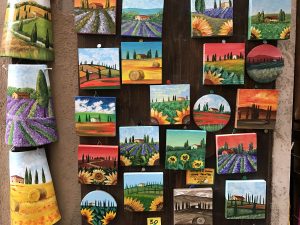 Though we liked staying in Poggibonsi, there aren't too many options for eating. I found this place in one of the neighboring towns (Colle di Val d'Elsa) and it seemed the most promising.
The food here was pretty good overall, but not the best food we had in Tuscany.
We started with crostini (left-right) – white bean, roast beef, tripe, chicken liver pate, and I forgot what the last one was. The tripe and pate were my least favorite. Yuck!!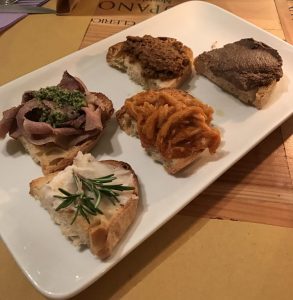 Radicchio salad with balsamic in the back and spaghetti pomodoro front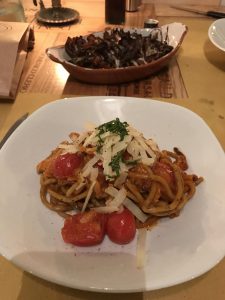 Rigatoni with sausage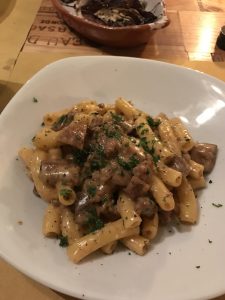 While walking back from one of the local parks, we found a random elevator to take us down to the street below.
Look – no gelato allowed in the elevator!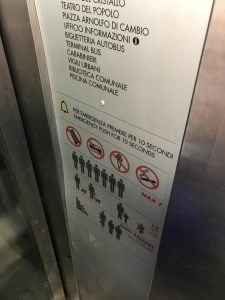 San Gimignano was another one of the 'can't miss' spots to see in Tuscany. Looking back, I don't know if I would recommend visiting here.
It seemed just like a smaller version of Montepulciano. Similar architecture and overall feel.
This is a view looking out at the countryside from one of the viewpoints in the town.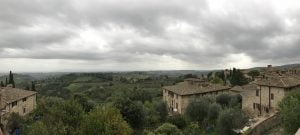 And after visiting 3-4 of these small towns they all start to look similar.
Kind of like temples, churches, or beaches. If you see too much of them when traveling, they all start to look the same.
Thus the term 'templed-out'. Maybe we got 'towned-out'.
Since we were there around lunch time we headed over to lunch at a restaurant on the edge of town.
This restaurant was so-so. Wasn't great and wasn't bad. At the time, I thought it was the most promising based on the reviews, so we went here.
I would consider looking at other restaurants next time I visit though and use this as a backup.
We started with roasted eggplant and parmesan cheese.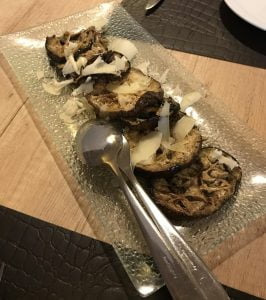 This was a balsamic spaghetti with tomato. I forgot why the noodles were purple, though, it may have been beets.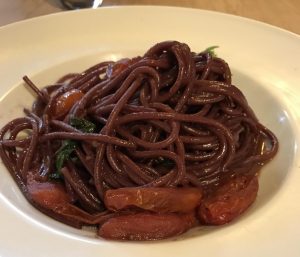 This was cheese ravioli pretty good flavor, but wish they gave me at least 2 more pieces.
I know in Italy, the pasta is not the main course. So maybe I should have just ordered a main!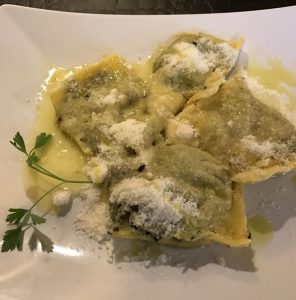 Guess what's after lunch??!
gelato!!
Outside of Florence, this place was the most popular gelateria in Tuscany. It had a lot of reviews and there is a man (owner?) who comes out and talks to everyone waiting in line.
I didn't think it was anything special, but there aren't very many options in town.
We spent that evening and the next day driving to gelaterias that were closed for the season or just not open late ~ 8 pm.
So the lesson is… get it while you can.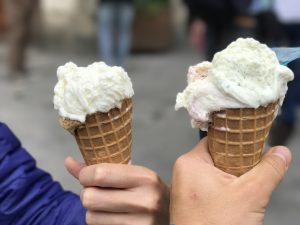 This place has rave reviews on Tripadvisor. You pay 30 EUR for a multicourse meal with all you can drink wines (red, white) and sparkling water.
There was a ton of food and we spent a good 1.5 hours there eating. The tables are long and communal so you sit next to strangers. We got seated next to a Middle Eastern couple and an Italian couple so not much English was spoken, unfortunately.
Even after they bring each dish out, they still ask you if you want more. The quality and value were very good and I would definitely recommend eating here if you get a chance.
There's no other restaurant like it.
The menu and most of the courses are pictured below.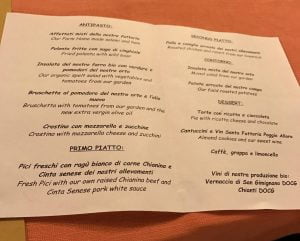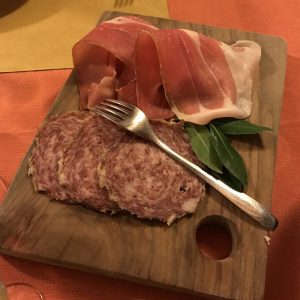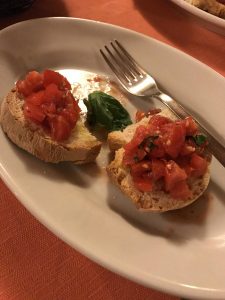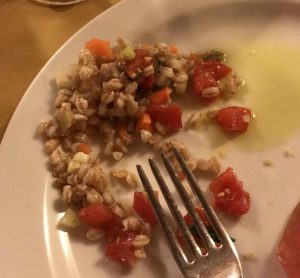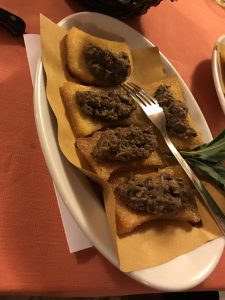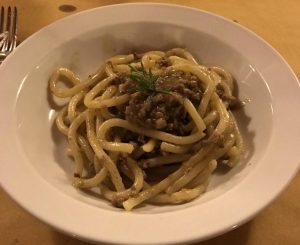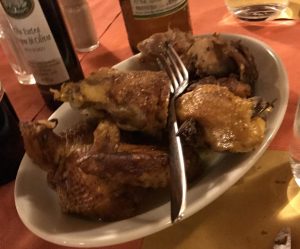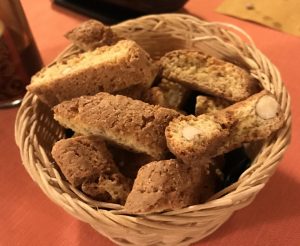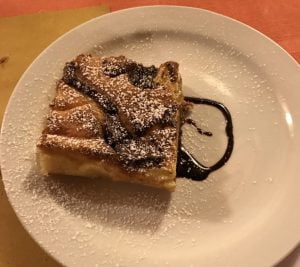 Pienza
This was one of the cheese shops in the town of Pienza. It's famous for it's Pecorino cheese. It's funny that once you park your car and walk into the town, it actually smells like cheese.
Some say Pecorino smells like vomit and I can see why. But that doesn't put me off and I like to eat it, especially in Cacio e Pepe!!
Look at all those wheels!!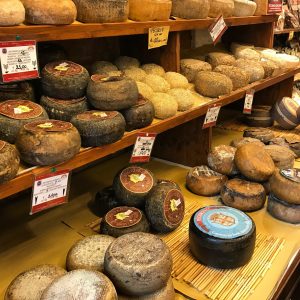 The Search for Olive Oil
Before heading back to Florence, we went on a search to find and buy olive oil to take home.
Unfortunately, most farms only had olive oil from the previous year's harvest. The current year's harvest generally starts in late October/early November and ends in December.
So a lot of the places we contacted ahead of time said they were too busy to take visitors (due to the harvest). Some places were also closed and we didn't get any response via phone email.
We actually made it to three different farms. Two of which were winners.
The first was Podere La Marronaia- Sosta Alle Colonne. This place is located just outside Montepulciano.
The oil here was no good. First, we had to pay 5 EURO per person just do the tasting. One of us did a wine flight and I did the oil.
The fee should have been a red flag, but we ignored it. Even in California, places like Napa/Sonoma produce olive oil and allow you to taste for free.
The oil was flat and tasteless. They even had 4 flavors of olive oil, including garlic, rosemary, chili, and truffle. Another red flag and no bueno!!
The wine wasn't that good either so we got out of there asap.
The second was just down the street from our Airbnb and it was a breath of fresh air!!
This property is quite large and I would call it an estate. It has a very large living quarters as well as large industrial size olive oil machinery underground
It was difficult to find since google maps led us astray, but after calling them we learned we had driven too far. After backtracking a minute or so, we found them.
We tasted the olive oil and it was very very good. It had very prominent notes of spice and tasted delicious. Some of the best I've ever tasted.
I immediately knew I wanted to buy some and so I did!
The lady said that the airlines only let you bring two bottles out of the country. I tried to verify that online, but couldn't get a definitive answer. Since I didn't want to get my olive oil confiscated, I settled for just two.
The third place we went to was another farm deep in the Chianti region.
Last was a farm in Chianti. This place was a good 30-minute drive from Monsanto. I believe it is also a guesthouse, so you can stay there if you wish.
When we arrived there was no one around. It was essentially a working farm with a central building with an office and what seemed like guest rooms and a restaurant.
We were able to taste the olive oil right away and decided we want to buy a few bottles.
Unfortunately, we found out they had no olive oil left! Only one small 500mL bottle was available and we took it. Definitely bookmarked for next time!!
Since we didn't have much luck buying olive oil direct from farms, we ended up buying more at the supermarket in Bologna. (I did ask around on Tripadvisor and do more reading and didn't find anything concrete that said you were limited to two bottles of oil. So good to know for next time !)
Our last meal in Tuscany was a good one.
I happened to find this place by accident in the car. As we were heading back to Florence we didn't have anywhere planned for lunch. This place had the best reviews in the area, as I was searching by map.
It's located in a small town called Sinalunga. The staff only spoke Italian and somehow I managed to order the wrong thing. ha! It was probably my poor Italian pronunciation.
I ended up with a lamb dish instead of a pasta dish that I thought I was ordering. Since it smelled good I decided to just go ahead and try it. I didn't know it was lamb until I bit into it. It was good but tasted like lamb which isn't my favorite type of meat.
The lasagna was very tasty and more than made up for the lamb. It literally melted in my mouth and was very well done.
I would highly recommend stopping here if you are in the area.
It felt like it was the most Italian restaurant in Tuscany, that we ate it.
There is an elderly lady that I think runs the place. She helps to take orders and serve. Customers seemed to be local business people and only Italian was spoken.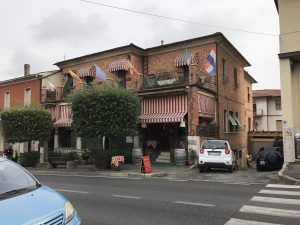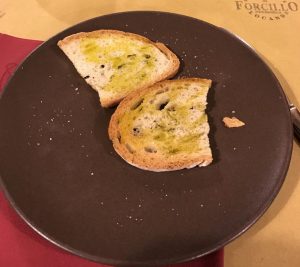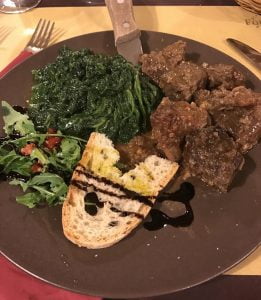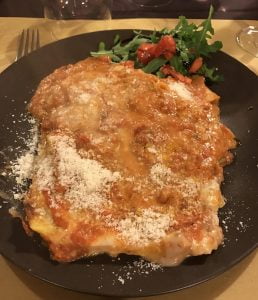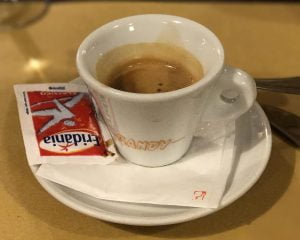 Florence train station, waiting to take the train to Bologna. The food city of Italy and my favorite of the trip!!!!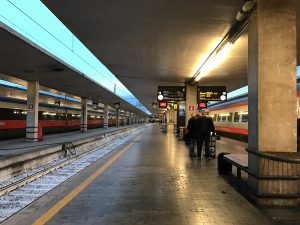 If you enjoyed this post please, follow me on one of my social channels or sign up for my email list on the top right corner. 🙂
Thanks for reading!
In case you missed them, here are my posts on the other parts of my trip to Europe-
Italy November 2016 Part 7 : Venice
Italy November 2016 Part 6 : Bologna
Italy November 2016 Part 4: Florence
Italy November 2016 Part 3: Naples Day Trip
Italy November 2016 Part 2: Food in Rome
Italy November 2016 Part 1: Rome and First Impressions
France October 2016 Part 2: Food in Paris
France October 2016 Part 1: Paris and Versailles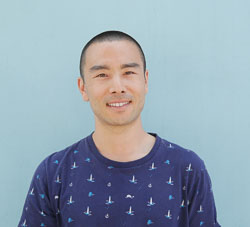 Konnichiwa! (Hello!) I'm Pat Tokuyama, a Japanese tofu cookbook author, who travels for music, food, and adventure. If you like Japanese tea, checkout some of the newestorganic japanese teas now in stock!!
** Curious about the Plant Based Japanese Cooking Club? ** Learn more here!

Italy Travel tips:
Rick Steve's has free audio tours complete with maps for many of the major cities in Italy.

If you like to do things on your own, they are a great way to learn about the history and culture while wandering around. We used them in Rome, Naples, Florence, and Venice.

Buy a small bottle of water and bring it with you to restaurants.

I'm not saying leave it on the table and drink it openly. The staff might not appreciate it. Maybe take a swig before/after the meal.
In restaurants, they will charge you 2-4 EUR per bottle. Sometimes the bottles are small. And if you are eating out 2-3 times a day this adds up quite quickly.
We realized in the first 4 days we spent almost 40 EUR on water! Water!!!

Gelato

Almost all the gelato places that we went to allow you to taste the flavors prior to buying. I think about half let you combine two flavors in a single scoop
It doesn't hurt to try speaking a little Italian. I learned from Rick Steve's audio tour "posso assaggiare" means can I have a taste. Smile when you say it yo!
Save