Arrival and First Impressions
We took the fast train from Rome early one morning. It was only about an hour and a half from Rome, so very quick and easy. I love trains. Wish we used more of them here in the U.S. It would probably cut back on traffic!
We arrived at the Florence train station right on time. It was just as crowded as Rome was. Once we made our way out we had our first view of the city.
It seemed newer and brighter for some reason. Maybe it was the color of the buildings, but I knew that I already liked it a bit more than Rome.
Hotel
Our hotel was a short 10-minute walk from the train station. Unfortunately, we stayed at a pretty mediocre hotel – Hotel Kursaal & Ausonia Firenze. The room was dark and there were mosquitos. No screens on the windows.
It was also pretty chilly at night and we asked them if they could turn on the heater in the room. We waited and waited and they never turned it on. They also made you leave your keys at the front desk before you left. Isn't that silly?
Breakfast was included, but it was mostly bread/pastries. Nothing special. As such, I thought the value was quite poor and would not recommend staying here.
The only reason that we picked it was because there was a promotion by Pointshound for 12,500 miles for a 2-night stay.
Essentially that is enough for a one-way ticket on a domestic flight. That is a solid deal.
Now on to the good stuff. Our first stop after arriving was to check out the Duomo.
(for easy reference – most blue font is clickable)
Sights and Restaurants
This is a side view of the Duomo. I was very very surprised to see this. I had never seen pictures of it before and was quite impressed with both the size and the unique design. The white stone and dark metallic green contrast very nicely with each other. It added a lot to the atmosphere of the square and felt very Italian.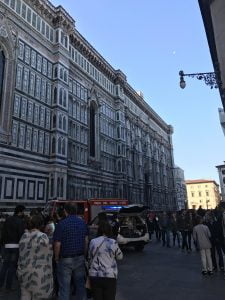 Here is another view from the other side. We hung out in the area for a bit as we listened to Rick Steve's tell us about the building and the history.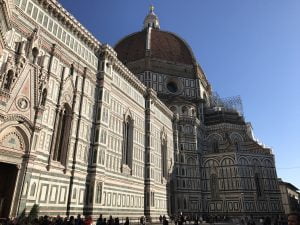 Our next stop after checking out the Duomo was toward the museum and a row of statues in a courtyard nearby.
Eventually, Rick's audio tour ended and we wandered over to a cafe. Since we woke up early we were a bit tired and wanted some coffee.
Of all the cafes in the city, this one seemed to have the best and most consistent reviews. We ordered a couple cafes and thought they were decent.
Nothing special and a bit on the more expensive side. Were I to visit again, I would probably look for something else to try before going back.
Especially as it seemed like it catered more to tourists than locals.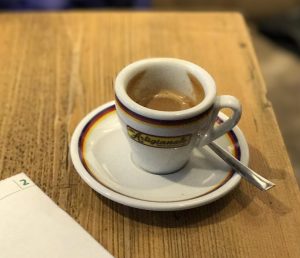 This was our first meal in Florence. After doing some research on Tripadvisor and Yelp, the general consensus was that this was the place to go for Tuscan cuisine.
We made reservations and made it for the first seating. The food was good, but the quantity was a bit much. They have a set lunch that you choose an appetizer, a main, and a side.
Overall, I think the value is good, but not sure I would return. The food was good, but not anything outstanding.
For me, the appetizer of roast beef was the best part.
Starter bruschetta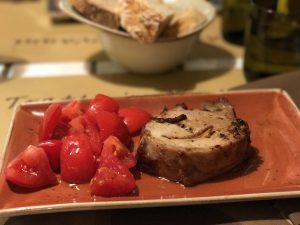 Starter roast beef with potatoes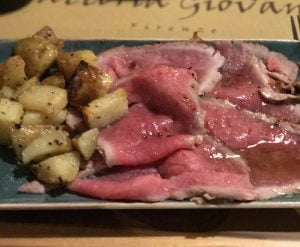 Wild Boar Ragu with Penne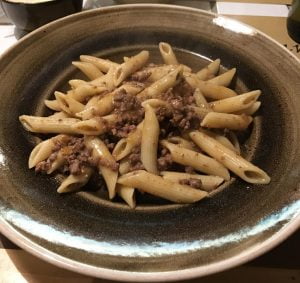 Risotto with Butternut Squash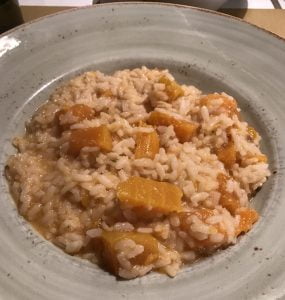 View of the famous bridge across the river. Doesn't look that special from the outside, but it's whats on the inside that counts.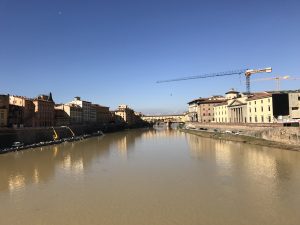 View of the old shops that are on the bridge. These shops definitely made it seem a few hundred years old. Never seen anything like it. Very cool!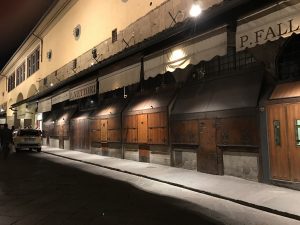 For dinner, we ended up eating at this restaurant since it had good reviews.
Overall, I thought the food was trying to be a little fancy and just barely made it out as such.
I don't think I would go back here since the portions were quite small for the money that you pay.
The flavors were good, but not enough to justify the price point.
They do have set courses, which may have been a better value, but they require that everyone order the same set course. No customizing. Not cool.
amuse bouche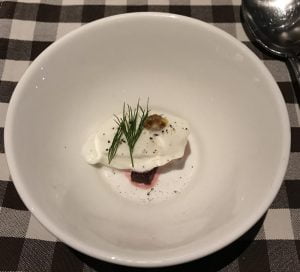 Stuffed squash blossoms with burrata, tomato coulis, and herring caviar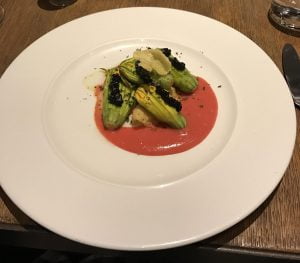 Mackerel fillet, cucumber, fried quinoa, yogurt and horseradish cream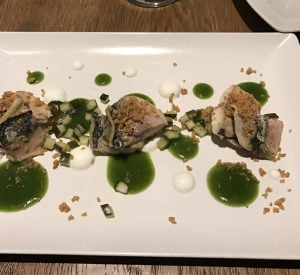 Potato ravioli,wild fennel cream, mortadella di Prato, and poppy seeds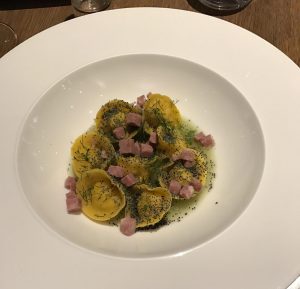 Spaghetti with mussels, zucchini cream, goat cheese
and bread crumbs anchovies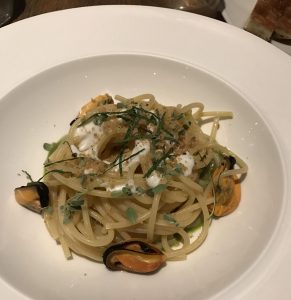 You know how much I love ice cream and gelato. Sticking to our gelato after every meal plan… This was our first in Florence. So far so good!
Left side was fior de latte with cafe and right side was egg yolk! Yummm.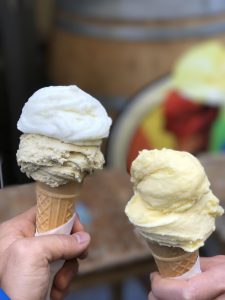 This was our favorite restaurant meal in Florence.
I wish we had visited this place first since it was very tasty.
The food was fresh and well done.
They work with local farms to source their ingredients and sell some of the products inside if you want to take any home.
The olive oil they had on the table was good and looking back I wish I had bought some!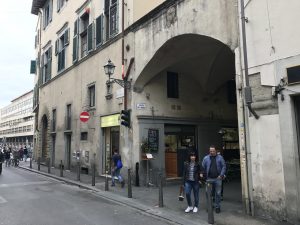 Tuscan soup with beans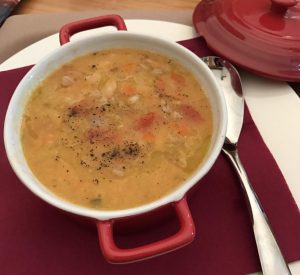 Bruschetta

Fettuccine with fresh artichoke and parmesan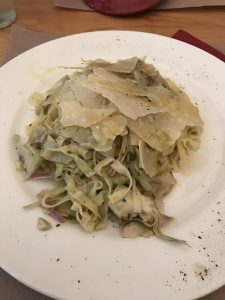 This was my favorite place for gelato in Florence. It's a small shop and they only had 8 or so flavors. You know you've found it since they have a white bike right out in front of it.
The owner happened to be there the first time we visited and allowed us to taste the different flavors before buying. His pictures are everywhere so we knew it was him. He was a pretty nice guy.
The second time we went, however, there was someone else and they didn't let us taste the flavors. Lame lame lame. But at least they have good gelato!
Left to right – cream and chocolate, pistachio and fior di latte.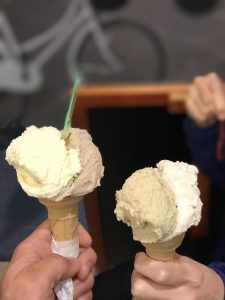 Second visit raspberry with fior di panna front, hazelnut with toffee.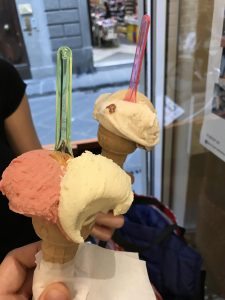 We wanted some coffee on our second day and decided to stop at this cafe on the way to the Piazzale Michelangelo (a hill overlooking Florence).
It's not centrally located and there isn't much around it. As such, when we went in, it seemed like most of the customers were locals. The cafes were only 1 EUR here and tasted pretty good.
You can sit outside in the courtyard below. As you can see it was pretty quiet. I would recommend this if you are looking for a more local vibe or happen to be walking from the city to the hill like we did.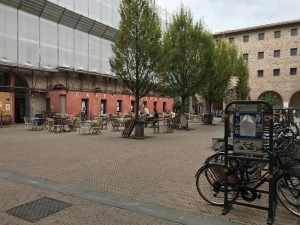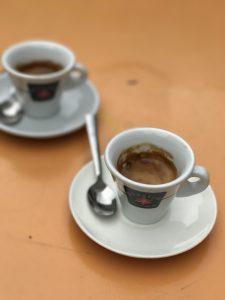 This was one of the better-rated sandwich places in Florence.
Though we stopped by at an off-hour around 4 pm, it was pretty busy and we had a little bit of a wait. It was definitely worth it, though. The sandwiches were very good!!
This was one of their daily special sandwiches. The bread was ciabatta with some sort of ham and cheese. It was very good.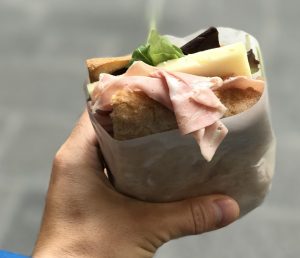 This second sandwich was also on ciabatta with prosciutto and another cheese. Also very good!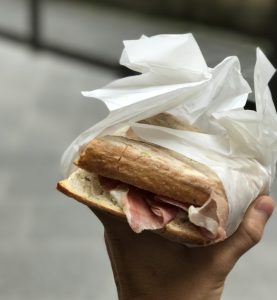 This place was okay. After tasting a few flavors we settled on a raspberry sorbet with fior de latte. Flavor was average and scoops were on the small side.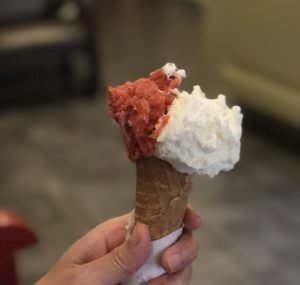 This is the view from the hill. You are looking at Florence in the distance. You can see the Duomo (the dome) which I showed you earlier.
There were several tour buses while we were there, but enough space to spread everyone out. It was a good 30-minute walk through mostly residential areas from downtown. It was nice to see the surrounding area from here.
If you are visiting for the first time, I wouldn't miss this. It gives you a different perspective and makes Florence seem smaller than you might think.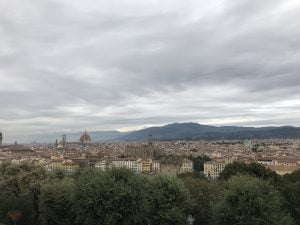 Little electric Mini Coopers for the kids to race.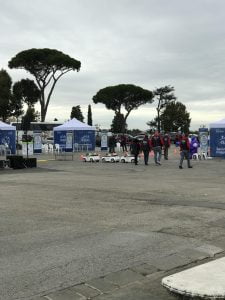 Panoramic view

The cafe and fior di latte was some of the best I had on my trip. I liked the balance between sweet and creaminess. The scoops were also well sized. Go here!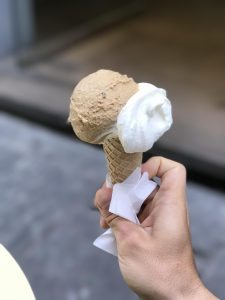 Pistachio and fior di latte in the back, hazelnut and chocolate front. Decent but not my favorite.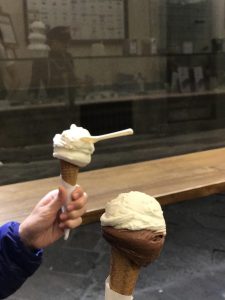 This was my least favorite gelato in Florence.
They make the waffle cones fresh and you can smell them from the street.
The cone was the best part. The gelato was uninspiring and scoops the smallest out of all the places we tried. Cream and pistachio.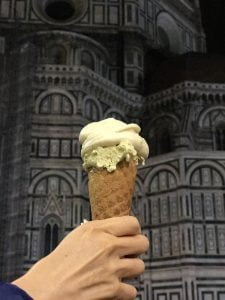 So that was my visit to Florence. Do you think we ate enough gelato? 🙂
We didn't end up visiting any of the museums, unfortunately, so hopefully, we'll get a chance next time we go.
Looking back I think Florence has a distinct character and atmosphere.
Though there are a lot of tourists, there didn't seem to be as many as in Rome. It was a lot more relaxed too.
The air also seemed cleaner and buildings and streets nicer.
The food was good and it is easy to walk around everywhere as most of the sights are close together.
One of these days I would definitely like to return.
Have you been to Florence before? If so, would love to hear your tips or advice for next time.
If you enjoyed this post please, follow me on one of my social channels or sign up for my email list on the top right corner. 🙂
Thanks for reading!
In case you missed them, here are my posts on the other parts of my trip to Europe-
Italy November 2016 Part 7 : Venice
Italy November 2016 Part 6 : Bologna
Italy November 2016 Part 5: Tuscany
Italy November 2016 Part 3: Naples Day Trip
Italy November 2016 Part 2: Food in Rome
Italy November 2016 Part 1: Rome and First Impressions
France October 2016 Part 2: Food in Paris
France October 2016 Part 1: Paris and Versailles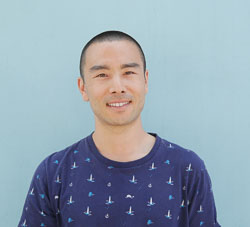 Konnichiwa! (Hello!) I'm Pat Tokuyama, a Japanese tofu cookbook author, who travels for music, food, and adventure. If you like Japanese tea, checkout some of the newestorganic japanese teas now in stock!!
** Curious about the Plant Based Japanese Cooking Club? ** Learn more here!

Italy Travel tips:
Rick Steve's has free audio tours complete with maps for many of the major cities in Italy.

If you like to do things on your own, they are a great way to learn about the history and culture while wandering around. We used them in Rome, Naples, Florence, and Venice.

Buy a small bottle of water and bring it with you to restaurants.

I'm not saying leave it on the table and drink it openly. The staff might not appreciate it. Maybe take a swig before/after the meal.
In restaurants, they will charge you 2-4 EUR per bottle. Sometimes the bottles are small. And if you are eating out 2-3 times a day this adds up quite quickly.
We realized in the first 4 days we spent almost 40 EUR on water! Water!!!

Gelato

Almost all the gelato places that we went to allow you to taste the flavors prior to buying. I think about half let you combine two flavors in a single scoop
It doesn't hurt to try speaking a little Italian. I learned from Rick Steve's audio tour "posso assaggiare" means can I have a taste. Smile when you say it yo!

Checkout Wikitravel. It can be a very good quick reference. Sometimes it has solid information that you might not find elsewhere. I've used it to find activities, restaurants, and a lot of general background information for example. Wikipedia is a good resource if you want more history/knowledge as opposed to travel tips.
Save