Naples is about a 1-hour train ride from Rome.
If you get the tickets far enough in advance they are quite cheap. Since we bought ours last minute, we paid around 40 EUR per person round trip.
We weren't originally planning to go, but thought it would be nice to see another city. Especially, since Rome felt so touristy.
Also, the real purpose was to eat pizza. I don't think my trip to Italy would have been complete if we didn't come here. So glad we did!
Arrival
Italian train stations are extremely busy. (Naples, Florence, Rome, Venice). There are lots and lots of people standing around and walking around.
One of the convenient features the stations had is luggage storage. We used it once on our last day in Florence. If you do use one, you might want to try and get your luggage early in case there is a long line. You wouldn't want to miss your train!
This was the view from just outside the train station.

This was just a random street on the way to the pizzeria.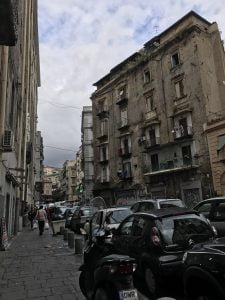 Based on my research reading reviews on Tripadvisor and Yelp, it seemed like this was the place to get pizza.
We got there pretty early around 11 am and there was no one waiting outside. The restaurant was about 3/4 full and we were seated right away.
We only ordered one pizza since it seemed like a lot, but looking back it's just about the right size for one person.
No line!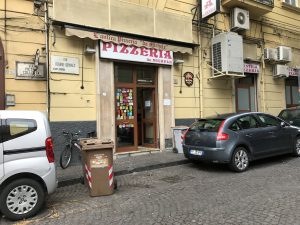 The Margherita pizza! The pizza was very good and exceeded all my expectations. The crust was thin and flavorful. The sauce and cheese were perfect.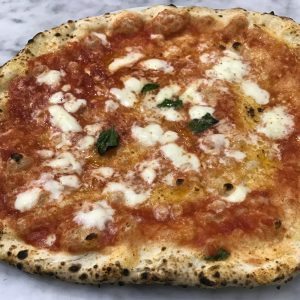 By the time we left there was a small crowd waiting outside to go in.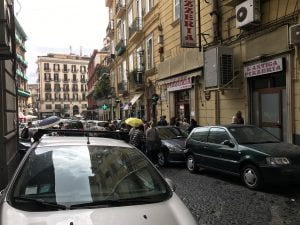 Since we were still hungry after we left we headed to Sorbillo's for more pizza. (Sorbillo's was my backup in case there was a long line for da Michele)
We walked for about 15 minutes or so and made it for their first seating. There was already a line outside but we were luckily able to get a table.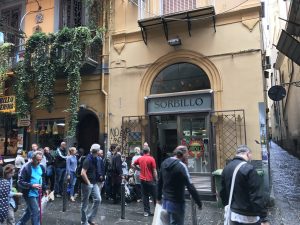 I noticed here that their pizza dough balls had large bubbles in the middle. I haven't seen that before anywhere and was curious what their purpose might be.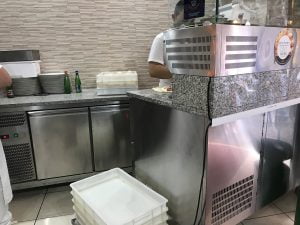 We just got one pizza to share. While this pizza was good, we liked da Michele better. The crust was a bit thicker here and pie a bit smaller.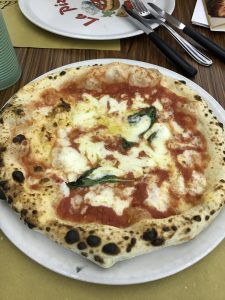 Next we wanted to get coffee, so we headed to one of the popular cafes in the city.

This place has nothing to do with Mexico by the way. It's got a pretty unique interior and atmosphere. I liked it and their espresso was some of the best I had in Italy.
I had 3 different variations on this visit. The third (not shown) was espresso with a dollop of whipped cream. The slushy espresso stole the show though.
This is the front of the cafe –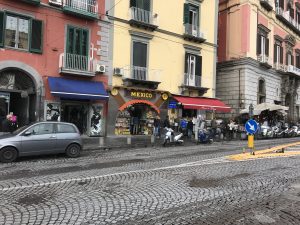 One cafe. Yum.
They use a ticket system. So you pay the cashier first and you get a ticket which you take to the bar for your drink.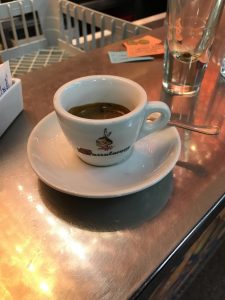 Their slushy cafe with a glass of club soda.
Never had anything like this. It was dispensed from a slushy machine. Like the ones used for Icees. It was slightly sweet and extremely potent. It had a rich dark texture and was dense.
I tried to replicate this at home (Using a Tablespoon of sugar and 2 oz espresso) and couldn't get the density that they attained. I'll need to keep trying!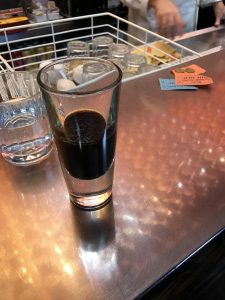 Plaza across from the cafe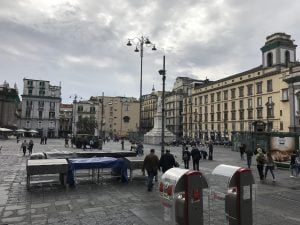 These are pastries called 'baba' that are a specialty here. They are filled with cream and drizzled with an orange liqueur.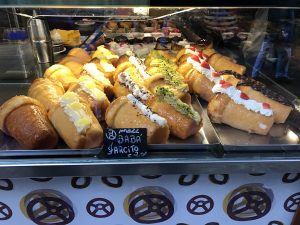 Pistachio and hazelnut gelato. Overall good, but not my favorite.
We passed this on our way toward the waterfront. Nice big area to run around in. I remember when I was kid I used to love running around big spaces like this.

That artist – Clet !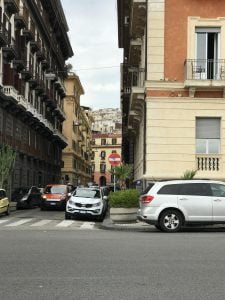 Walking toward the castle.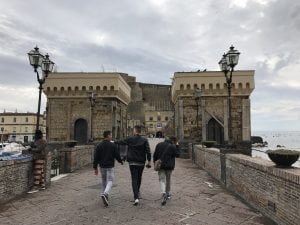 View of Vesuvio in the distance from the castle

One of the specialties of Naples. Translated it means lobster tail.
There are many many many thin layers of crisp dough with a delicate orange cream on the inside. They are served fresh out of the oven and are really tasty.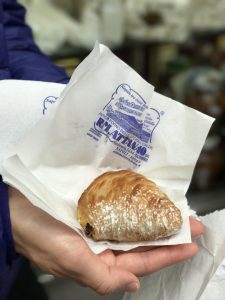 On the way back to Rome, we decided to stop by a deli to get buffalo mozzarella and some sides for the train ride home.
Here is the outside: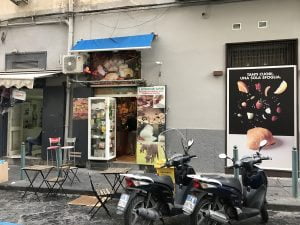 Here is the inside: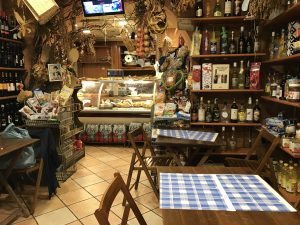 Food: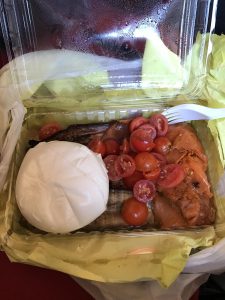 We didn't end up eating this on the train as we had planned.
Instead, we tried it the next day. It was no bueno.
I think the vinegar from the vegetables damaged the cheese and none of it tasted good unfortunately. So we tossed it since we didn't want to get sick.
Overall, I really liked Naples. It felt very Italian. It was also gritty and dirty lending it character. I think that's what I like about it.
There were also a lot less tourists in Rome and the food was solid. So two wins there!
In case you missed them, here are my posts on the other parts of my trip to Europe-
Italy November 2016 Part 7 : Venice
Italy November 2016 Part 6 : Bologna
Italy November 2016 Part 5: Tuscany
Italy November 2016 Part 4: Florence
Italy November 2016 Part 2: Food in Rome
Italy November 2016 Part 1: Rome and First Impressions
France October 2016 Part 2: Food in Paris
France October 2016 Part 1: Paris and Versailles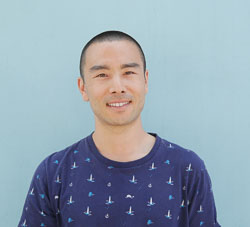 Konnichiwa! (Hello!) I'm Pat Tokuyama, a Japanese tofu cookbook author, who travels for music, food, and adventure. If you like Japanese tea, checkout some of the newestorganic japanese teas now in stock!!
** Curious about the Plant Based Japanese Cooking Club? ** Learn more here!

Italy Travel tips:
Rick Steve's has free audio tours complete with maps for many of the major cities in Italy.

If you like to do things on your own, they are a great way to learn about the history and culture while wandering around. We used them in Rome, Naples, Florence and Venice.

Buy a small bottle of water and bring it with you to restaurants.

I'm not saying leave it on the table and drink it openly. The staff might not appreciate it. Maybe take a swig before/after the meal.
In restaurants, they will charge you 2-4 EUR per bottle. Sometimes the bottles are small. And if you are eating out 2-3 times a day this adds up quite quickly.
We realized in the first 4 days we spent almost 40 EUR on water! Water!!!

Gelato

Almost all the gelato places that we went to allow you to taste the flavors prior to buying. I think about half let you combine two flavors in a single scoop
It doesn't hurt to try speaking a little Italian. I learned from Rick Steve's audio tour "posso assaggiare" means can I have a taste. Smile when you say it yo!
Save