Gelato after every meal
Was something we thought we would challenge ourselves with while in Italy. And for the most part we stuck to it.
This post is a recap of all the food that we ate while in Rome. Starting with our first taste of gelato.
(some blue text is clickable in case you want to bookmark)
First taste of gelato. Fior di latte on right. The 'cafe' on the left was super duper strong. The strongest espresso flavor I've ever had and for the rest of the trip, no gelateria came close.
That day I found my gold standard for 'cafe' gelato. If you get a chance, don't miss it.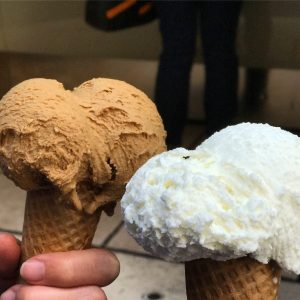 First meal in Rome. They have a deli/restaurant and an espresso bar. The deli always gets packed with a wait. But since we arrived early for lunch we decided to get an espresso.
While I was drinking my espresso, a group came in and asked if they could sit in the back. When I asked if that is for the restaurant the waitress said yes. When we got back there we saw there was a seating area.
Essentially the bar and deli share the same kitchen and menu. So we scored an easy lunch with no wait! + they have wifi.
The cheese pasta on the bottom was super cheesy and salty. Not sure that I'd recommend that one. The carbonara, on the other hand, was solid!
(top to bottom: espresso with club soda, bufala mozzarella appetizer, La Carbonara, Burro e Parmigiano Framcescana)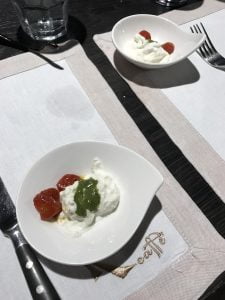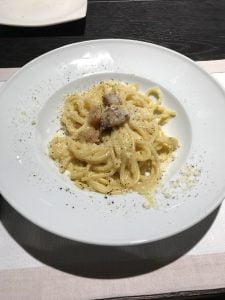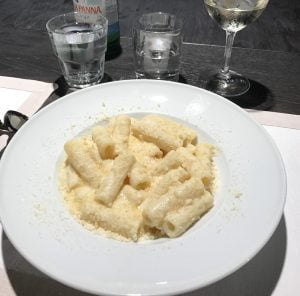 This was our first dinner in Rome. It had good reviews and it was recommended by our hotel concierge. There was a good mix of locals and tourists. At least 5 or 6 people stopped by trying to walk in without a reservation and all were turned away. Make a reservation if you want to eat here. It was some of the best pasta we had on our trip. (note- none of the pasta we had was bad :))
Bucatini all' Amatriciana on the top and Tonnarelli Cacio e Pepe on the bottom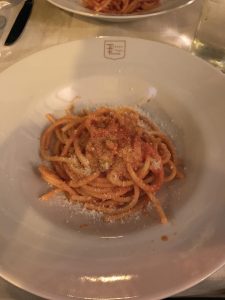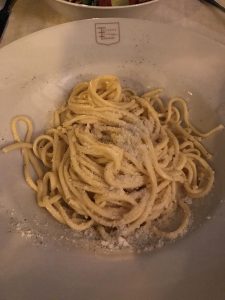 This was our favorite spot for gelato in Rome. Out of all the places we tried, this place had the best flavor and consistency. They also had some unique flavors like apple mint for example. We went here 3 times during our stay. The nice thing is that it doesn't have much around for tourists and each time we went, only locals came by to order their large tubs. Wish we had that option here!!
Top is a cone with cafe and fior di latte, middle is a cup with coconut, bottom apple mint/hazelnut in the cup, stracciatella in the cone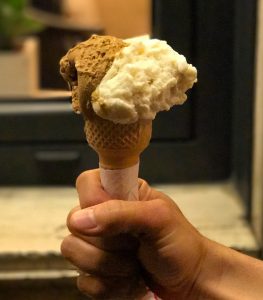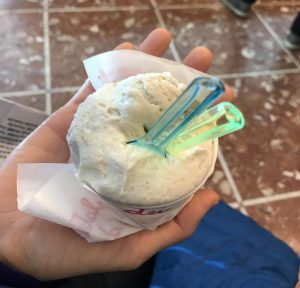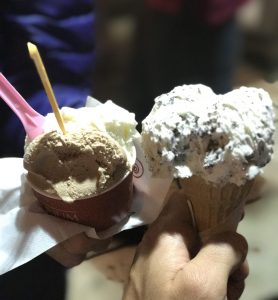 Since it was truffle season we thought we would give this truffle restaurant a go. It had very good reviews and our concierge also recommended it.
We had two of their signature dishes. One was a white truffle tagliolini (left) and a black truffle risotto (right). I liked the white truffle more and the flavor in each was quite strong and potent. None of the "truffle" dishes that I have had come close to what I ate here.
If you remember my book review for Real Food, Fake Food, truffle products are one of the fake foods that he covers.
I'm happy to say that I finally got around to trying the real thing!
For all I know, I could have been eating 2,4-dithiapentane this entire time! eek.
We had passed by this restaurant one day and I thought the menu look interesting and innovative. We arrived at opening and by the time we left there was only one other party. So not sure how popular this place is. The food was okay. We had an octopus pasta.
The octopus was very soft and pasta and sauce a perfect combination.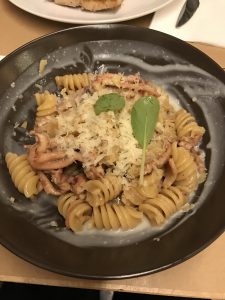 I had mackerel with an herbal seasoning. The skin was perfectly crisp and flesh perfectly moist and tender. It was very nicely done.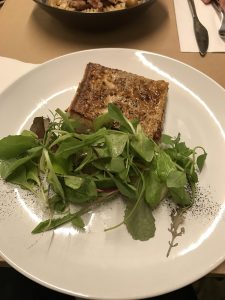 This place was okay. We happened to be in the area and I had bookmarked this place to try. I thought the sign they had in the seating area was funny: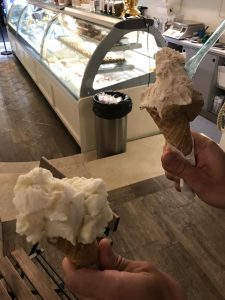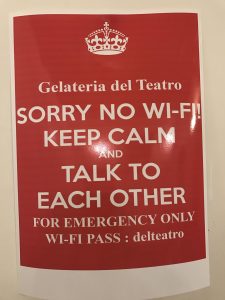 This was our last meal in Rome. We just got back from Naples and were hungry and decided to check this place out. The left is a house special ravioli with ricotta and the right is a carbonara pasta. This place had 6 EUR house wine that is very popular. Overall, it was a very good meal and would recommend this place.
One of the highest rated places to get Tiramisu in Rome. It was pretty good! They say that you need to eat it within 30 minutes. and then ask you "do you understand?!" They ask that quite sternly to each and every customer ! Pretty funny.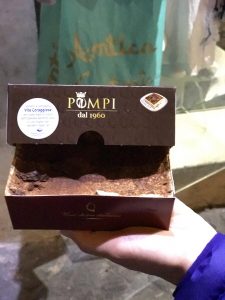 And there you have it. Please leave me a comment or let me know if you have any questions. Thank you for reading!
Want to see where I went next click for Naples 🙂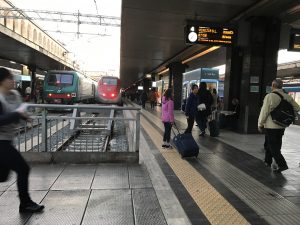 In case you missed them, here are my posts on the other parts of my trip to Europe-
Italy November 2016 Part 7 : Venice
Italy November 2016 Part 6 : Bologna
Italy November 2016 Part 5: Tuscany
Italy November 2016 Part 4: Florence
Italy November 2016 Part 3: Naples Day Trip
Italy November 2016 Part 1: Rome and First Impressions
France October 2016 Part 2: Food in Paris
France October 2016 Part 1: Paris and Versailles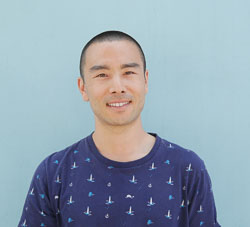 Konnichiwa! (Hello!) I'm Pat Tokuyama, a Japanese tofu cookbook author, who travels for music, food, and adventure. If you like Japanese tea, checkout some of the newestorganic japanese teas now in stock!!
** Curious about the Plant Based Japanese Cooking Club? ** Learn more here!

Italy Travel tips:
Rick Steve's has free audio tours complete with maps for many of the major cities in Italy.

If you like to do things on your own, they are a great way to learn about the history and culture while wandering around. We used them in Rome, Naples, Florence and Venice.

Buy a small bottle of water and bring it with you to restaurants.

I'm not saying leave it on the table and drink it openly. The staff might not appreciate it. Maybe take a swig before/after the meal.
In restaurants, they will charge you 2-4 EUR per bottle. Sometimes the bottles are small. And if you are eating out 2-3 times a day this adds up quite quickly.
We realized in the first 4 days we spent almost 40 EUR on water! Water!!!

Gelato

Almost all the gelato places that we went to allow you to taste the flavors prior to buying. I think about half let you combine two flavors in a single scoop
It doesn't hurt to try speaking a little Italian. I learned from Rick Steve's audio tour "posso assaggiare" means can I have a taste. Smile when you say it yo!