Arriving in Rome and a Dishonest Taxi Driver
We took the last flight out of Paris and into Rome. We arrived late and after we landed the baggage carousel broke and someone had to come and restart it.
We finally got our baggage and headed out to the taxi stand.
I had a look at the posted sign and saw the rate. It was listed above the expected 48 EUR ( read here (in Italian), here and here the official rate is 48 EUR)
I read ahead of time that this was part of the airport taxi fare scam. So not surprised there.
We had no other option to get into the city so, reluctantly we got into a cab.
Since our hotel was outside of the Aurelian Walls, the taxis are supposed to use the meter.
Unfortunately, our taxi driver decided to take the long way. (At least, according to google maps). Total trip was about 45 minutes and 68 EUR.
As far as I could see, there was no traffic or road closures.
This guy was going 140-150km/hr the whole way and had no intention of getting off the freeway where he should have.
What could we do? We don't speak Italian and when we tried to use a credit card at the end of the trip, he said "No! CASH ONLY!"
When checking in to the hotel, I asked the front desk how often they run into dishonest drivers.
She said every now and then. And usually, the driver is demanding > 100 EUR.
Also, she said that all taxis must accept credit cards.
So, though I feel I got taken on the long route, maybe it's as bad not as it could have been. Read this article about taxi scams if you plan to visit.
This was probably the low point of our whole trip, everything else went very smoothly.
Screenshots from my phone… hmm let's take the long way (up and around) to the hotel (rather than the direct blue route from the airport)
(some blue text is clickable in case you want to bookmark)
Hotels
We stayed at the Waldorf Astoria: Rome Cavalieri the first two nights for 400 EUR total ~ 150 USD  per night factoring in the gift card and bar credit
I normally avoid fancy hotels, as all I really want is a clean and quiet place to sleep.
However, there was a fantastic Visa Signature Promo (second night free + $75 gift card and $25 food/drink credit) that appeared and I thought I should take advantage.
In fact, the deal was so good Visa pulled it early. I'm assuming a lot more people took advantage than expected.
View from our room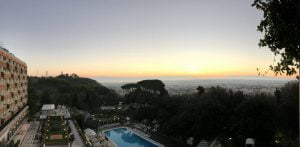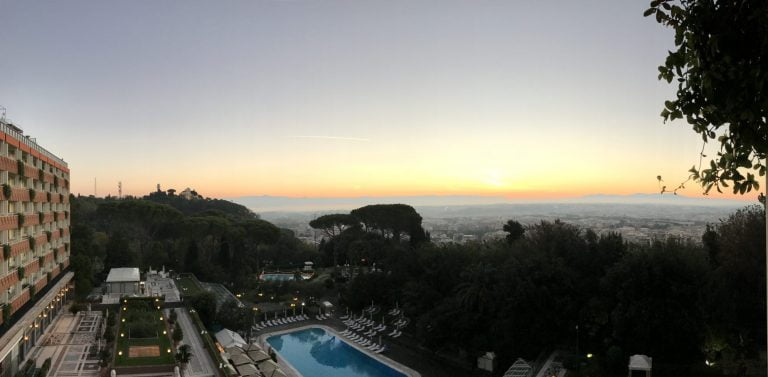 Tiramisu from the lounge
I regret not booking another two nights under my girlfriend's card, because we had to move hotels after the first two nights.
We then moved to a Holiday Inn San Giovanni the last two nights for 40,000 points total.
This hotel was located in a residential area next to the train tracks. Inside of the hotel was fine as was the service.
I would stay here again if I were to visit Rome.
The metro is only a 5 to 10 minute walk away depending on your walking speed. And then, a 10 to 15-minute train ride into the city.

Down to the metro –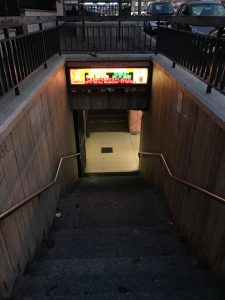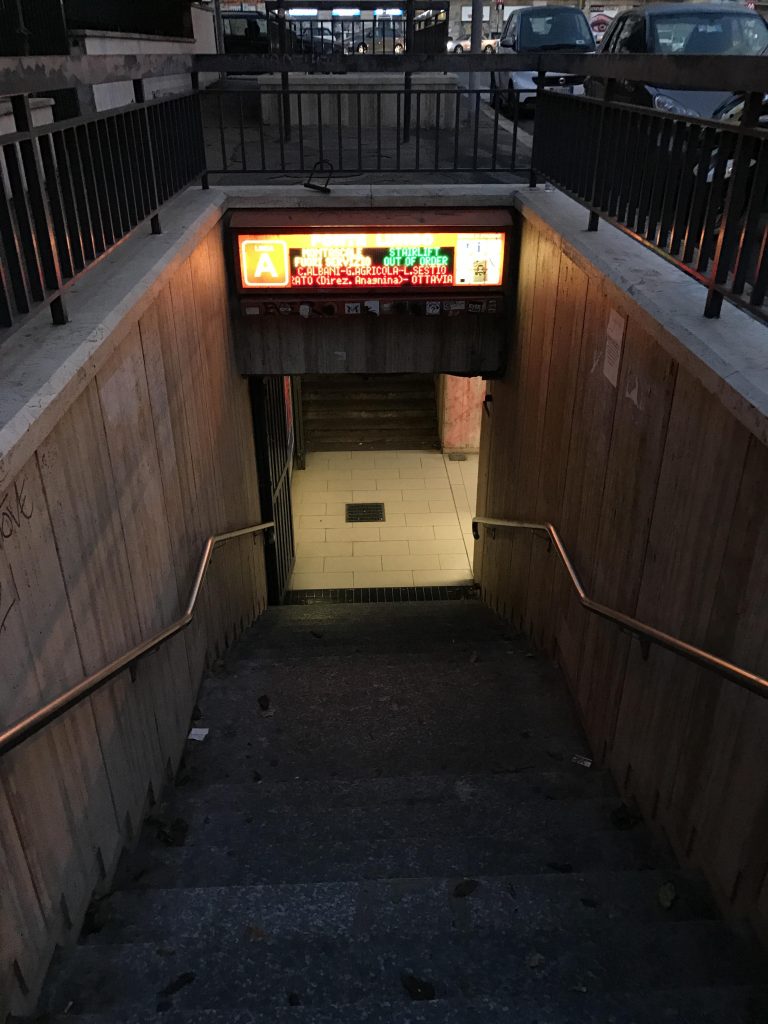 Inside Vatican City
This was my our first stop the next day. St. Peter's Basilica in the background.


This was a nice quiet Plaza during the day and a bit livelier at night when all the restaurants open.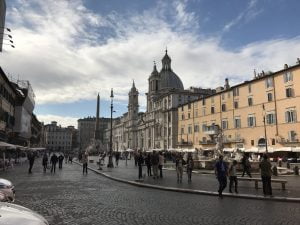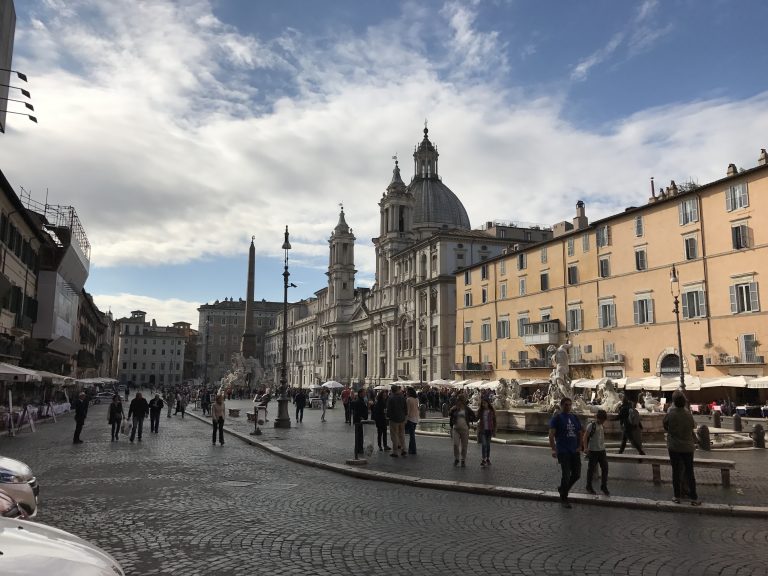 The stalls here were mostly food and it seemed a bit touristy to me. But I didn't look that closely. There were only a couple stalls with fresh produce.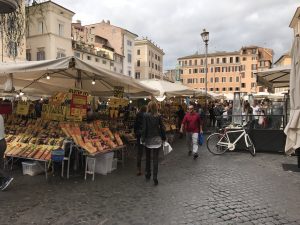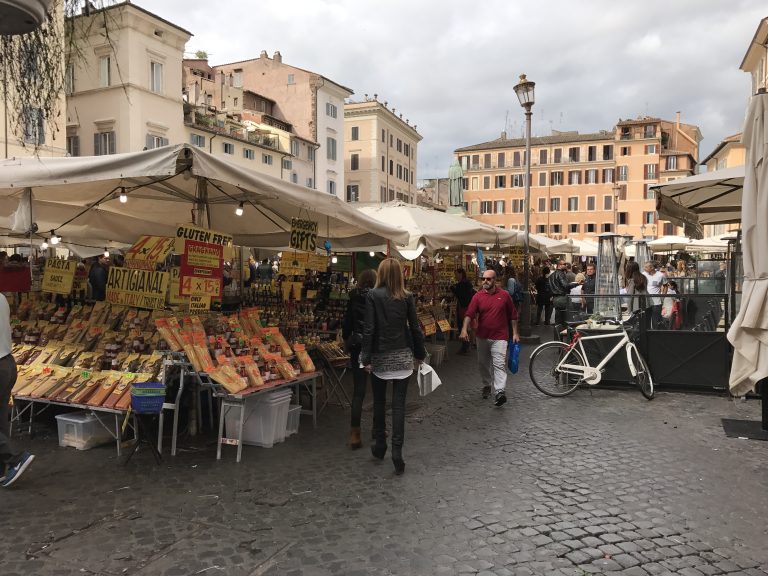 We saw Clet's art all across Italy, they add decorations to the street signs making them more interesting to look at.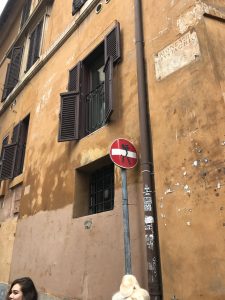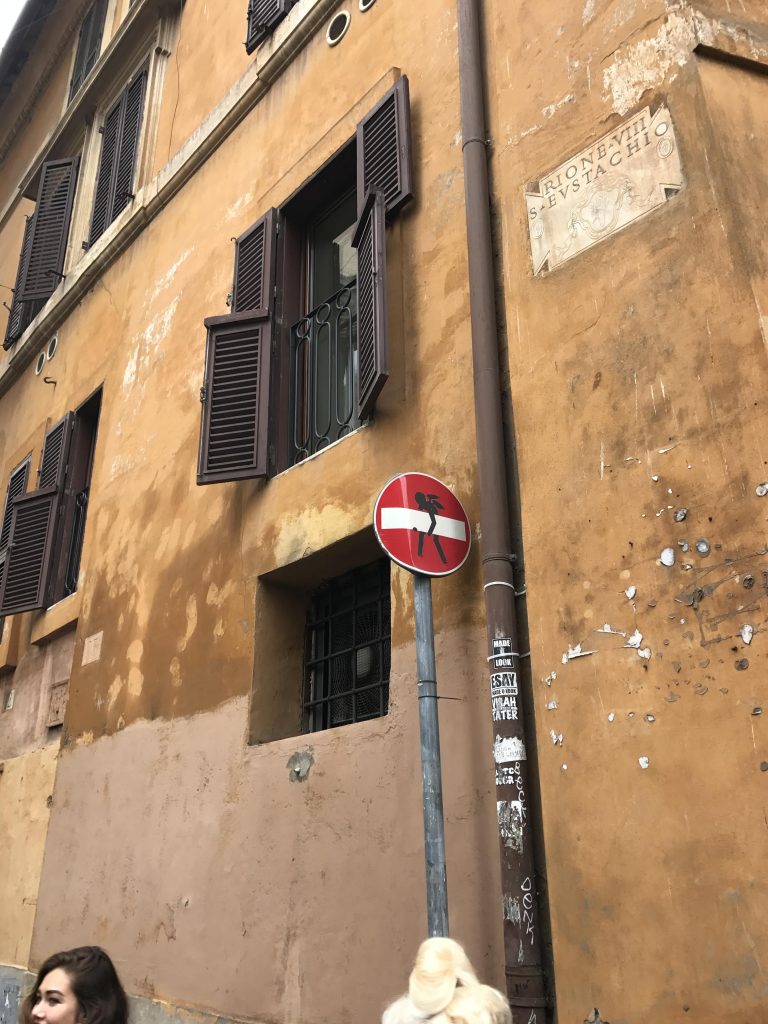 Very similar to the Pantheon we saw in Paris, but this one seemed a lot darker and older.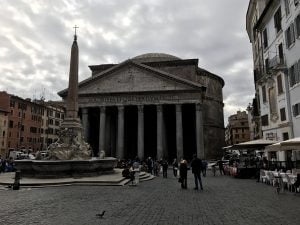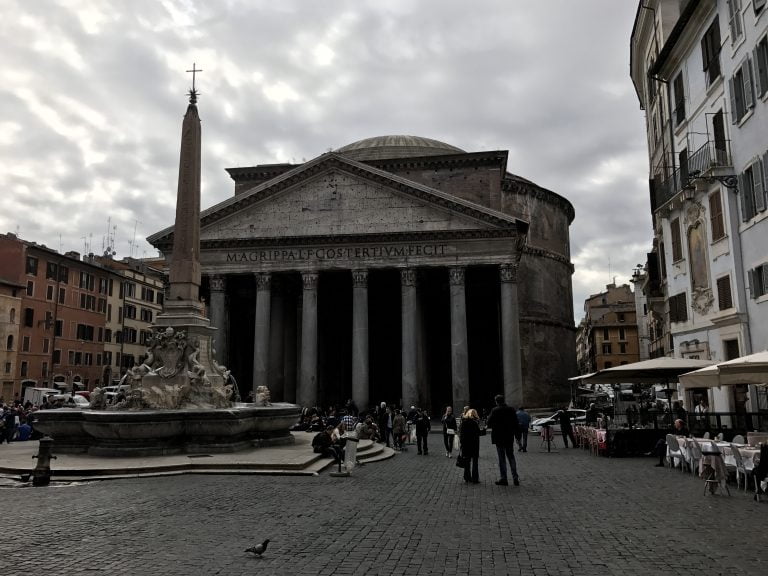 Beautiful during the day and even better at night.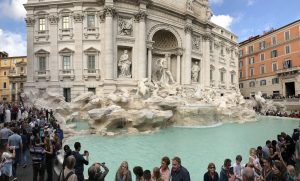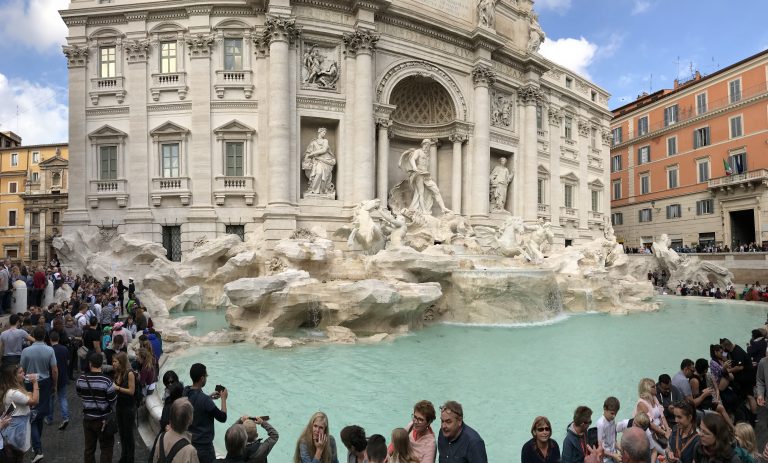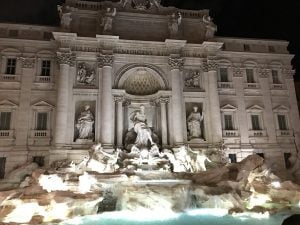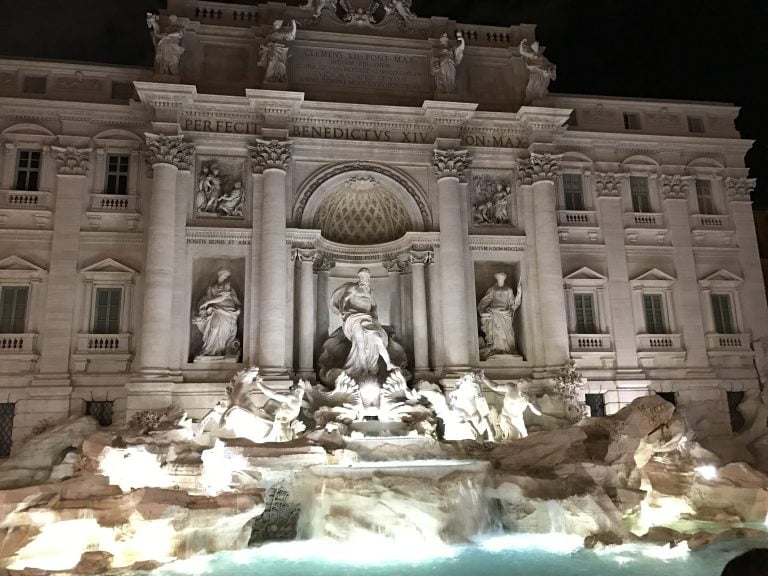 One of my favorite spots in Rome. Feels totally European.
There was a guy hanging out here with a bunch of roses. H gave my girlfriend a flower and said it was free. I said no I didn't want it and tried to give it back.
I had a feeling he would ask for money. Sure enough, after trying to start a conversation he asked me for money. So we gave the flower back and walked away.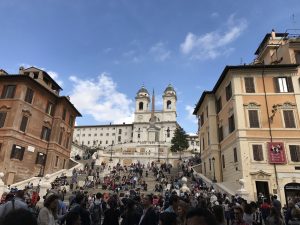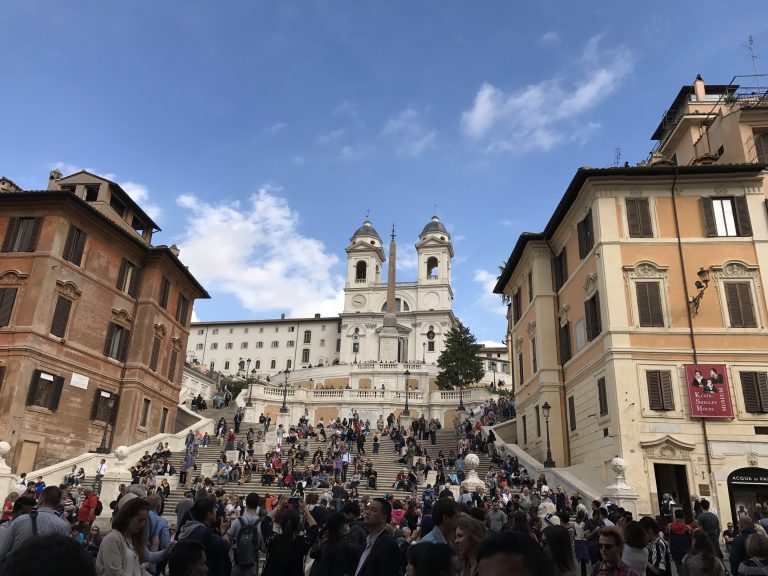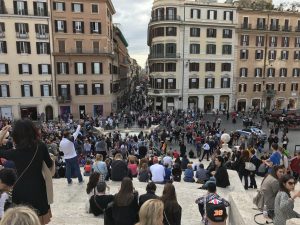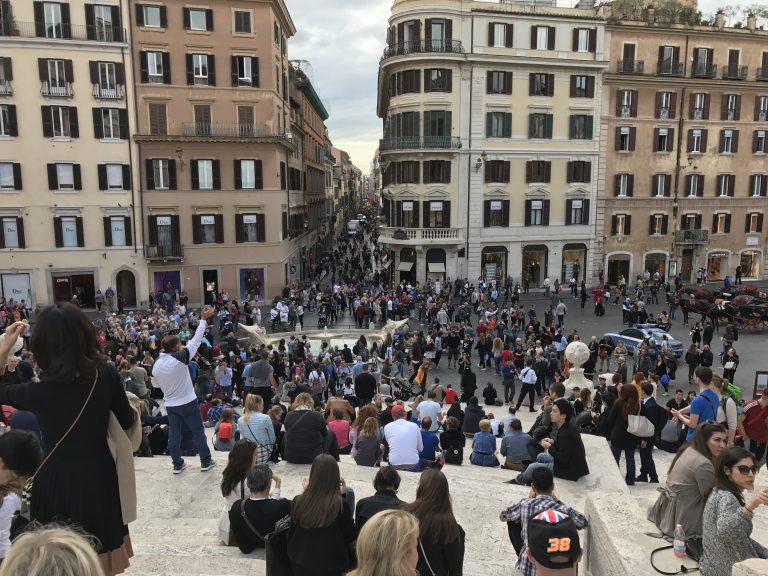 Always very cool to see such old structures still standing and in good condition.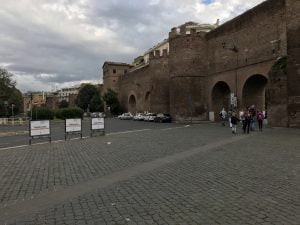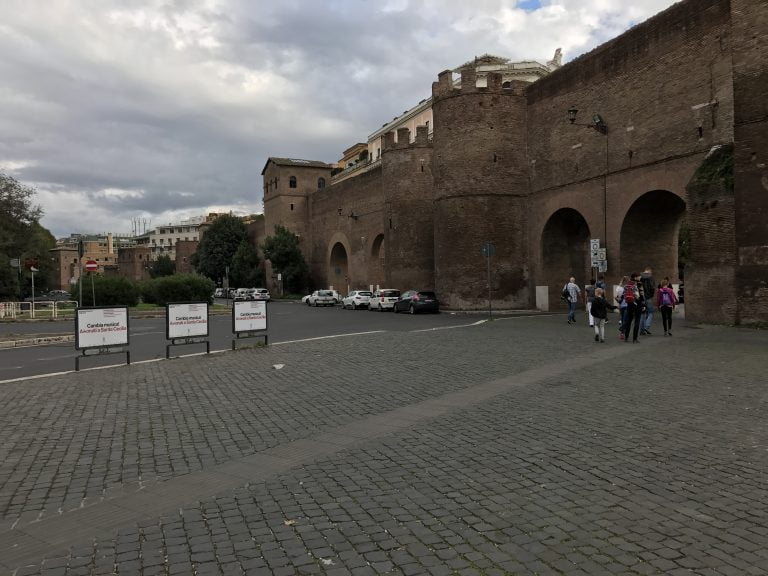 A nice view of the city near the entrance to the gardens. The gardens were a nice place to relax away from all the noise and crows in the city.


Pretty epic. I liked the Forum more since there was more space, more to see, and less tourists.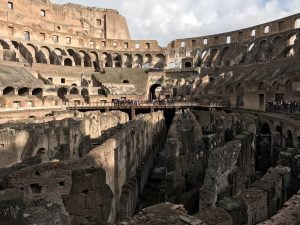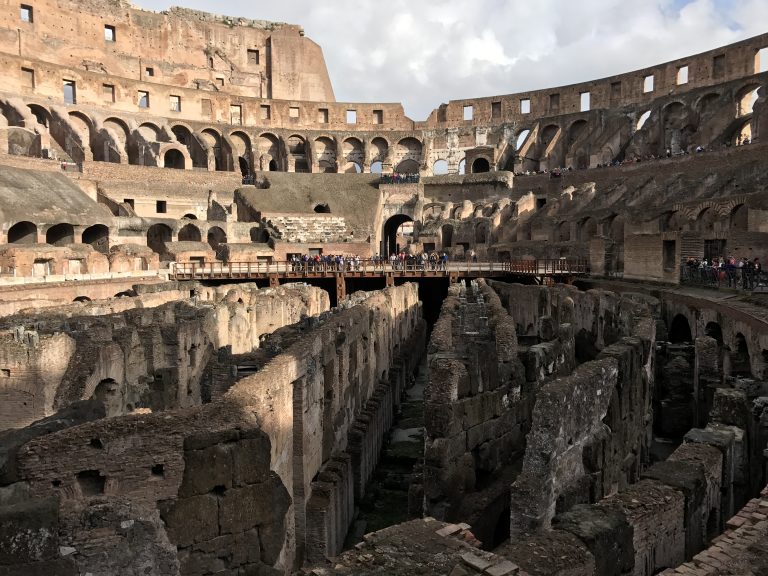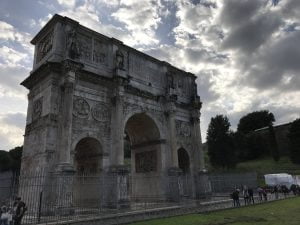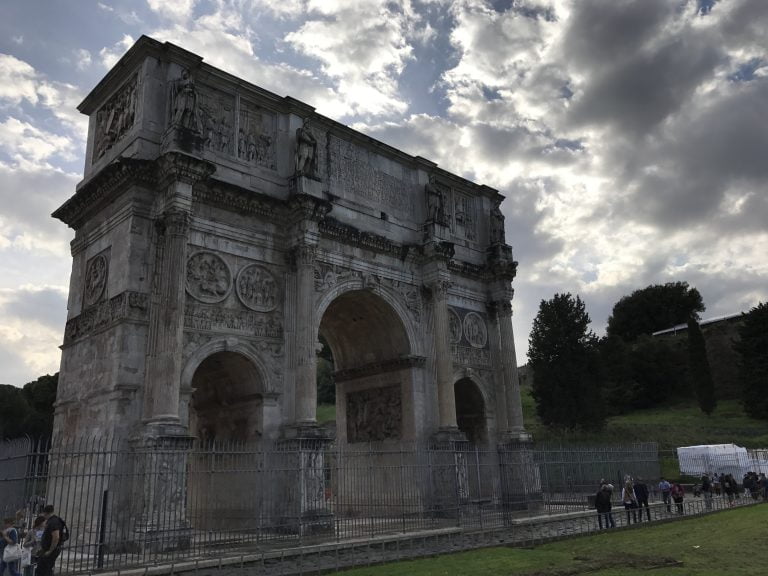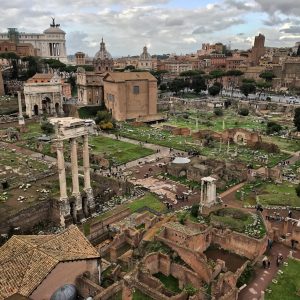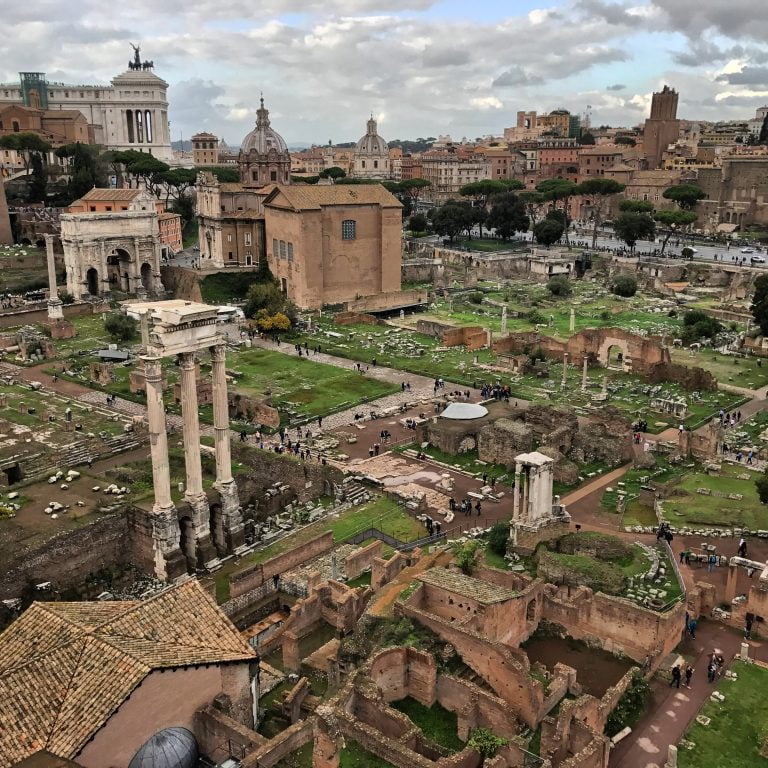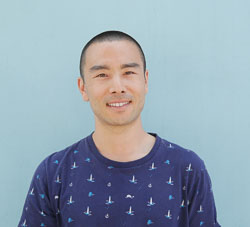 Konnichiwa! (Hello!) I'm Pat Tokuyama, a Japanese tofu cookbook author, who travels for music, food, and adventure. If you like Japanese tea, checkout some of the newestorganic japanese teas now in stock!!
** Curious about the Plant Based Japanese Cooking Club? ** Learn more here!

Summary
Overall, Rome was a great city to walk in. When traveling one of my favorite parts is just walking around. Plus you get to walk off some calories from whatever meal or dessert you just ate.
It had way more tourists and was a lot older looking than I had expected.
I don't know why but some part of me expected a very modern European city and that is the furthest from the reality of it.
Looking back, I am happy that I got a chance to visit and experience a bit of Roman cuisine and culture.
And I look forward to going back one of these days.
In case you missed them, here are my posts on the other parts of my trip to Europe-
Italy November 2016 Part 7 : Venice
Italy November 2016 Part 6 : Bologna
Italy November 2016 Part 5: Tuscany
Italy November 2016 Part 4: Florence
Italy November 2016 Part 3: Naples Day Trip
Italy November 2016 Part 2: Food in Rome
France October 2016 Part 2: Food in Paris
France October 2016 Part 1: Paris and Versailles
Italy Travel tips:
Rick Steve's has free audio tours complete with maps for many of the major cities in Italy.

If you like to do things on your own, they are a great way to learn about the history and culture while wandering around. We used them in Rome, Naples, Florence and Venice.

Buy a small bottle of water and bring it with you to restaurants.

I'm not saying leave it on the table and drink it openly. The staff might not appreciate it. Maybe take a swig before/after the meal.
In restaurants, they will charge you 2-4 EUR per bottle. Sometimes the bottles are small. And if you are eating out 2-3 times a day this adds up quite quickly.
We realized in the first 4 days we spent almost 40 EUR on water! Water!!!

Gelato

Almost all the gelato places that we went to allow you to taste the flavors prior to buying. I think about half let you combine two flavors in a single scoop
It doesn't hurt to try speaking a little Italian. I learned from Rick Steve's audio tour "posso assaggiare" means can I have a taste. Smile when you say it yo!
Save