First meal of the trip…. airplane food!
French Cuisine
Overall, the food we ate in Paris was overall very good. In short, there are 4 restaurants out of this post that I would recommend:
Crepe Avenue for crepes
Il Etait un Square for burgers/steak tartare
Le Petit Vendome for a quick and cheap lunch
Le Cinq for fine dining
Since we were only there for a few days. I got to try only a handful of the French dishes that I wanted to. You can only eat so much each day.
So, ready? Let's take a look at all the food I ate on the trip… First meal was on the plane. Yup! I make sure to request a vegan or vegetarian meal since they are supposed to be a little better than the regular food. I'm not so sure I would say that for Air Tahiti, but for other airlines I think it's true. For this meal, the fake 'chicken' was quite close to the real thing in terms of flavor and texture, but everything else was just meh.
Our Meals in Paris (links are blue/bold)
We arrived around 6 am at the airport. We took the train downtown and subway to the hotel. Immediately went out to get breakfast. Crepe Avenue was the closest and seemed the most appealing. When we got there it was just about full and were lucky to be seated right away. The clientele seemed mostly French from what I could hear being spoken.
We ordered two savory crepes and both were quite savory and filling. The top had steak and bottom was made with eggs and cheese.
I regret not ordering a sweet crepe because after that day, we never got crepes again! 🙁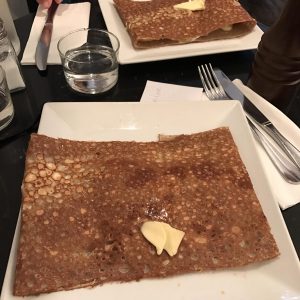 Cream puffs somewhere in Saint Germain. Vanilla, caramel, and chocolate. Very small shop in a residential neighborhood. Pretty tasty!!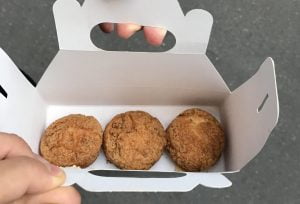 Somehow we managed to wait too long before trying to find a place for dinner our first night.
Before we knew it, it was already 8pm and the places we wanted to eat at had long waits or no reservations available.
We ended up settling for this mom and pop place. The place is tiny and it's like eating in someone's house really. Wife does the serving and husband does the cooking. Food was aight, I wasn't blown away and it wasn't bad either. I think people come here for the experience.
Below was beef bourguignon and coq au vin. We also had olives to start, house wine and two cakes to finish!! She gave everyone a few souvenirs to take home too. Read the reviews thoroughly if you are considering coming here. I didn't read them at all and was in for quite a surprise.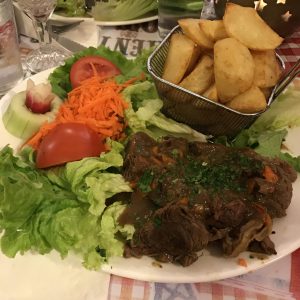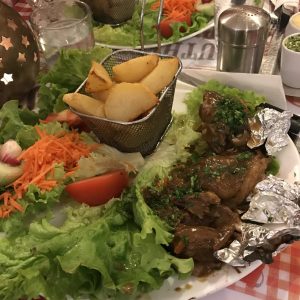 We made two attempts to eat here. The first time (Saturday night) we showed up with no reservation and were turned away, since it was full. But the next day we made a reservation for another night.
The day we ate there (Monday), we were the first to be seated. By the time we left the place was packed (again). We did notice that the crowd was very different. I heard only French being spoken the first time we visited. But the night we ate there, lots of American English! Go figure!! Anyways, the food was great and it's a family run place, so it has a cozy vibe.
Everyone that reviewed it said the portions are big, and they're weren't exaggerating. It was a lot of food.
Pate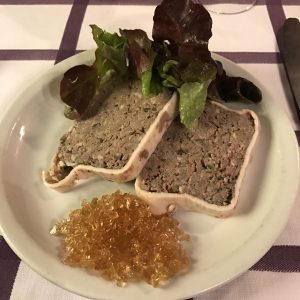 Foie gras salad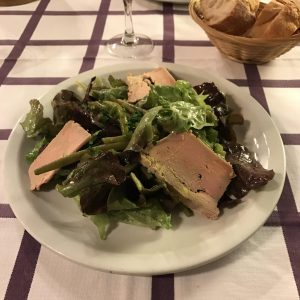 Mains- Sausage with potato salad (top) and Cassoulet (bottom). Very big portions and that mustard was bomb!
The cassoulet was rich, salty and full of meat. It's really enough for two people I think.
Also, if I were to return, not sure I would choose the sausage. To me, it didn't stand out as anything special. It did have pistachios in it, which is unique I guess.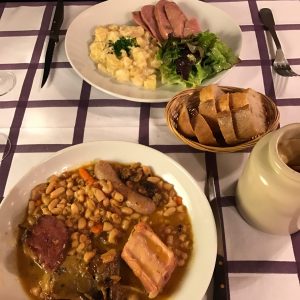 Tarte Tatin with a vanilla bean whipped cream and Creme brulee.
Both were extremely sweet and well done. The creme brulee was massive and again could have been enough for two-three people to share.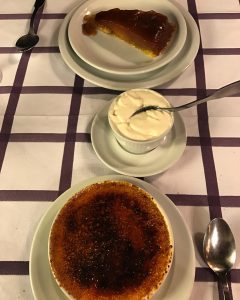 Macarons
Colorful and delicious. We tried 3 different places in this order. The last – Pierre Hermes was our favorite. Perfect textures and unique flavors.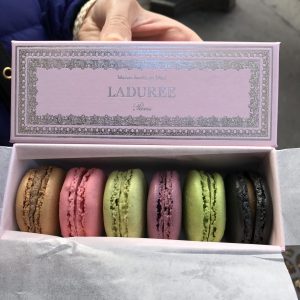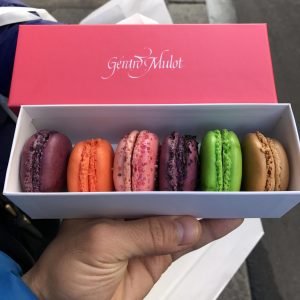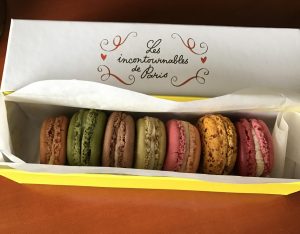 On our third day, we had been trying to go to this burger place Il Etait un Square , but it was always booked. I finally managed to get a reservation through the app The Fork. (This app is like OpenTable and let's you make reservations over your phone.)
We had one of their burger specials as well as their steak tartare. Both were extremely good.
It was my first time having steak tartare so can't compare it to anything, but if I was craving meat it's a nice alternative to a burger.
This place might be a good option if you are craving beef and if you are looking to get out of the touristy areas. It's located in a nice residential area and when we went for lunch it was filled predominantly with locals.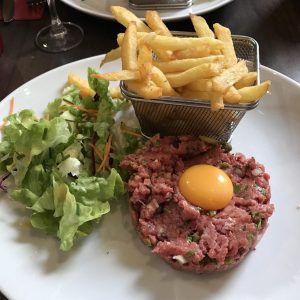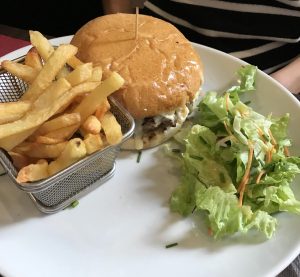 We got ice cream at one of the highest rated and most popular ice cream places in the city. The scoops were tiny.
Maybe about the size of a child scoop in the states. Flavor was okay. But I wouldn't seek out this place next time, even if I were really craving an ice cream. Not impressed, especially after all the great gelato we had in Italy.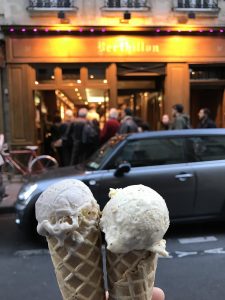 This was an okay meal. I picked this restaurant since the menu seemed interesting. Not sure that I would return. The food was average. Also, if you look in the pics you'll see a lot of space on the plates. My first impression when the entrees arrived was that the portions are small.
Would have been nice to have bigger servings or smaller plates. We did not leave completely full after eating here.
This was the amuse bouche. The left was a savory whipped cream with crackers that had little dots of sauce.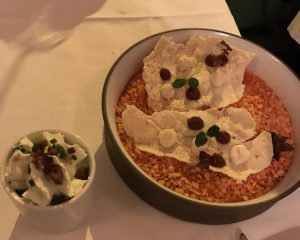 This was a chicken with squash puree and stuffing in the middle. I forgot what the black stuff was though.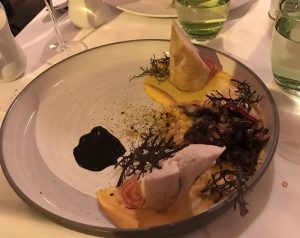 This was some sort of a white fish (might have been bass), with a cucumber cream sauce, fennel, and pickled onion. Almost like a fish taco but without the tortilla.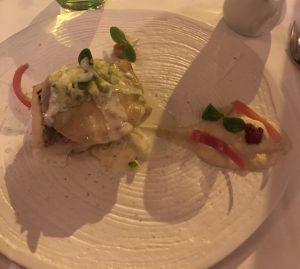 Complimentary cookies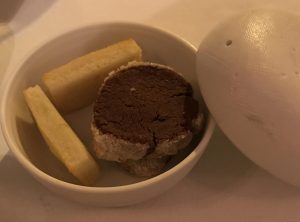 This was one of the highly rated places to get a sandwich on a baguette. We went here so we could avoid eating airport food before our flight to Italy. I went around (4pm) there was no line and got their special with country ham and one of their other sandwiches. They butter up the bread quite nicely and the bottom sandwich had some cheese. Two sandwiches for under 10 Euro makes for a tasty and economical lunch. If you want to eat a sandwich and are downtown I would recommend stopping by here. Bread was fresh, meat was good, and overall was satisfied with the experience 🙂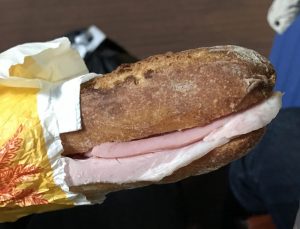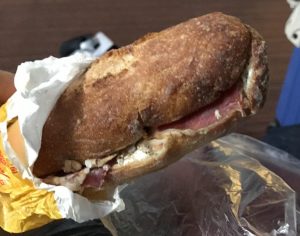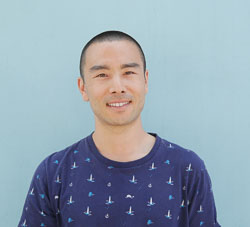 Konnichiwa! (Hello!) I'm Pat Tokuyama, a Japanese tofu cookbook author, who travels for music, food, and adventure. If you like Japanese tea, checkout some of the newestorganic japanese teas now in stock!!
** Curious about the Plant Based Japanese Cooking Club? ** Learn more here!

Our meal of the trip was at Le Cinq. We had their '4-course lunch' which in fact turned out to be over 10 with all the different pre/post dishes that came out. By the time we were done eating we were stuffed. The good thing is that they said it takes about 1.5 hours to finish eating and it did! Check out this post to read the details.
As always let me know if you have any questions or comments 😀
In case you missed them, here are my posts on the other parts of my trip to Europe-
Italy November 2016 Part 7 : Venice
Italy November 2016 Part 6 : Bologna
Italy November 2016 Part 5: Tuscany
Italy November 2016 Part 4: Florence
Italy November 2016 Part 3: Naples Day Trip
Italy November 2016 Part 2: Food in Rome
Italy November 2016 Part 1: Rome and First Impressions
France October 2016 Part 1: Paris and Versailles
Save