The Walled City of Cartagena
I've been wanting to visit Cartagena for many years. I was a little worried that it might be really touristy, especially since I read that cruise ships dock there.
But after visiting for 3 days, I can happily say that it was a very enjoyable place!
Cartagena has a lot of old world charm with a distinctly laidback atmosphere and colorful colonial architecture.
The weather while we were there was perfect, roughly 90-95 degrees without too much humidity. (I like warm weather 🙂
The streets weren't overrun with tourists like they were in Venice, Italy and the city is very walkable with plenty to see and do for several days.
We stayed outside the walled city at an Airbnb in the residential area of Manga.
It was a leisurely 20 minute walk to get into the center of the walled city from there.
Below are some pictures from our visit as well as a synopsis of each of the places we ate at. Scroll all the way down for the pictures
Cartagena Restaurants and Food
La Mulata – not recommended
Although ranked #1 on Tripadvisor, this was the absolute worst meal I've eaten in a long time.
Things got off to a bad start when we ordered a green mango smoothie which was basically water flavored with a few drops of mango juice.
We then got our main course (we only ordered one since we weren't that hungry and portions tend to be large). And it was terrible. The shrimp were definitely imported and probably frozen. The fish was some sort of white fish that also was probably frozen as it had no flavor with the texture of mush. And even the vegetables were frozen! We left our half-finished plate and set out to get another meal and dessert elsewhere.
Gelateria Tramonti – not recommended
We were in the mood for gelato after dinner one night and decided to try this place out. Unfortunately, it was pretty standard. Not good, not bad either.  I actually prefer the popsicle place (La Paleteria) just next door. The flavors there are more unique e.g. (tropical fruits) and ice cream better in my opinion.
Se Volvio Prispri Coffee Shop – recommended
We ended up stopping at this bakery twice. The first time we were going to get juice but the line was too long and we ended up going elsewhere. The second time was after our failed dinner at La Mulata. We were still hungry after not finishing our food and decided to order a 'Posta' lasagna. A fusion of Colombian and Italian.
Posta Negra or Posta Cartagenera is one of the beef dishes cooked over a long period of time and is one of the specialties from Cartagena. I saw it on some menus in Bogota, but decided to hold off eating it until we arrived in Cartagena. The lasagna here was a delicious and rich dish with a beef sauce slightly sweeter than what we ate at Restaurante 1533. I think I like my lasagnas on the savory side, so would probably try a different dish next time I come back here.
The funny thing we noticed here was that everyone wore facemasks for food hygiene. And there was even a diagram posted on the wall demonstrating how to wear the masks. Yet, each and every one of the employees (6 or 7 of them) were wearing them incorrectly. Picture a surgeon wearing a face mask, then picture them pulling it down so it rests on their chin with their nose and mouth completely exposed. That's how they wore them. 🙂
Pezetarian – recommended
Having been eating a good amount of meat on our trip we wanted to switch things up and eat some lighter fare with fish. We thought we'd give this Colombian sushi place a try and it was pretty good for non-traditional sushi.
We got two rolls and a ceviche and that was plenty for two people. The fish was fresh and the flavors were light.
Sierva Maria – recommended
This was our favorite place to get fresh fruit juice. The reviews say the service is bad and it's absolutely true.
The two times we went in there the cashier and the juice maker were both on their phone talking as they took our orders. They also took their time and didn't really seem to care about their job. I was worried the first time the juices might not taste good, but they did! We had guanabana, lulo, guava, and maracuya. Guanabana with milk was my favorite!
Refresqueria La Estrella de la India – recommended
This was the best meal of our visit in Cartagena. It's a locals place that I found when searching on google maps for fish.
It's like an open air liquor store with a tiny kitchen on the side. So you get a nice view of the street and fresh warm ocean breeze blowing through.
There are only about 10 small tables and they offer a small menu of 5-7 choices.
You get a 2 course set lunch which includes soup for 12,000-16,000 pesos ($3-4) and you will leave stuffed. The fish was fresh and food good! It came with coconut rice, a little salad and plantains. When I go back I will definitely make sure to eat here.
Restaurante 1533 – recommended
There are hundreds of restaurants to choose from in Cartagena and I read the reviews of the top 100. I was on the fence for this place, but what helped us to decide to eat here was the comments describing it on another blog – practicalwanderlust
We came here for a set lunch and made sure to try the Posta Negra. (We walked by the night before and asked when they serve it, and it turned out to be the next day for lunch!) So we made sure to return.
The lunch was similar to the Refresqueria above, with soup as a started and then rice/salad with the main.
The posta negra was good. Like any beef stew that has been cooked for a long time, the beef flavor will be rich, dense and concentrated. The flavor was slightly sweet and very savory. It reminded me of soy sauce almost. But I don't think they use soy sauce.
I read one recipe uses Coca Cola. Maybe that's it! Just kidding I really don't know what they put in it. I just know it tasted good and I would go back here if I wanted to eat it again!
Oh La La Bistrot – recommended
This is a French owned cafe that we passed each day and seemed to be promising based on the reviews and menu. We stopped by one morning to have breakfast.
We started with two fresh juices -tamarind and guava. Both were very good and naturally sweet.
Then came the arepas with egg. They were deep fried and crunch on the outside. Inside the corn shell was the egg. Although kind of heavy, it was very tasty. I wanted to come back for lunch/dinner, but as it was our last day we didn't have time. 🙁
Crepes and Waffles – recommended
This is one of the major chain restaurants in Colombia. They have locations outside too in Europe and Central America, but it was my first time eating there.
We ordered flambeed crepes (since I just made Crepes Suzette before leaving) and wanted to see how they tasted down here.
Well, they were quite different. In fact, they came with a thick 1/4 inch layer of caramelized sugar. The sugar wasn't exactly brown, but hard and clear.
The crepes were tender and vanilla ice cream not too sweet.
The alcohol flavor was still noticeable and overall brought everything together. Without the alcohol it might have been too sweet. Plus, I think I still like my Crepes Suzette more:)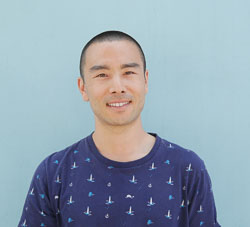 Konnichiwa! (Hello!) I'm Pat Tokuyama, a Japanese tofu cookbook author, who travels for music, food, and adventure. If you like Japanese tea, checkout some of the newestorganic japanese teas now in stock!!
** Curious about the Plant Based Japanese Cooking Club? ** Learn more here!

Cartagena in 3 days
Looking back I think 3 days was just enough time to explore the old city of Cartagena.
Overall, we had a great time in Colombia and look forward to going back sometime in the next few years!
click pictures to enlarge
Let me know if you have any questions and thanks for stopping by!