Colombia Trip March 2017 Part 1: Bogota Sights
Colombia is one of my favorite countries to visit
What's yours?!
The first time I visited Colombia was back in 2009, I was there just before their annual flower festival which is hosted in Medellin, Colombia.
I'd say there were three main factors that contributed to my decision to visit back then-
While on a different trip in Ecuador, on a long bus ride to the rainforest I sat next to a Colombian. We had some small talk and told me for my next trip I must visit Colombia. The way he described it I was sold.
After I got home from Ecuador, I ended up doing some research and saw a picture of the Valle de Cocora and knew I would be making my way there soon. Especially since it was in the heart of coffee country. And you know how much I love coffee!! Not many places do that to me. Have you ever seen a picture of a place and you just know you need to visit?
Third, I've always wanted to try hang-gliding and para-gliding. When I was an undergraduate in San Diego, I always saw the hang-gliders and para-gliders flying around in the air. They have a school there, I think it's called Gliderport and that's probably what got me started! Medellin offered the chance to paraglide at a fraction of the cost.
Roughly 8 years later, another opportunity arose.
I've been wanting to go to Cartagena ever since my first visit.
I didn't get a chance to go on my first visit, since I didn't have time.
And some of the people that I met while in Colombia, ended up visiting and just said I have to go! See a trend? I'm not normally this easily swayed, but it's been on my must-go-to list ever since!
So in short, we wanted to go to Miami for an event during Miami Music Week. Rather than just going to and from Miami, we thought we should try to use a little more miles and make a loop through South or Central America.
The alternatives were: Guatemala City or Panama City.
For the amount of miles required and the award availability we thought we should take advantage and head down to Colombia and save Central America for another time.
So off we went!
For the flight
I booked a somewhat complex itinerary. Two one-ways with open-jaws as well as stopovers. I normally don't fly business, but the business award ticket was actually cheaper than the economy ticket. So definitely took advantage of that! Here are each of the legs-
Here are each of the legs-
United Award ticket- 65,000 United miles per person with $90 in fees and taxes

LAX-SAL-BOG in business
AMS-LIS in business (future trip)
LIS-ZRH-LAX in coach (future trip)

BOG-CTG paid coach fare via a saver promo ticket at $30 per person on Avianca
CTG-MIA 17,500 Citi Thank you points per person, zero fees/taxes
MIA-LAX – 12,450 Citi Thank you points per person, zero fees/taxes
For the hotel
We spent 3 nights for 30,000 points total at the Hampton Inn Usaquen. Usaquen is one of the neighborhoods in the northern part of the city. The hotel was a relatively new hotel and rooms were nice, clean and bright. The only negative was that the walls were super thin so it sounded as if your door/window was open when in fact it was not…
Second Impressions
Bogota is a lot more modern and sprawling than I remember. The traffic getting to our hotel from the airport was pretty bad. What should have taken 30 minutes took almost 1 hour and 20 minutes. But that's just part of traveling.
Getting Around
Is super easy. Last time I visited, there was no Uber and I didn't have an iPhone or GPS. I used either a paper map or Lonely Planet Guidebook to get around. Yes. Those were the days.
With taxis, you would call and request one and then give a password to your drive before you went anywhere. (For security reasons). The taxi procedure is still in place, but now they also have Uber.
So if you're visiting from abroad you don't have to worry about getting into a shady taxi that runs the meter!
Keep in mind that though they have Uber, it's illegal. So, when you request one, one of you has to sit in the front seat and pretend that you are friends if you get pulled over. Yup!
We made it through without incident and there are many people using it there.
The rest of the time we were on foot.
With the exception of the Ciclovia. A city-wide event held on Sundays and holidays where they close several of the major roads in the city to bikes and pedestrians.
It was one of the most fun things I've done in a major city in a long time.
Would be a lot of fun to see that happen in Los Angeles or any other large American city yeah?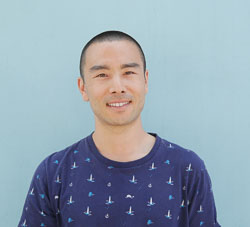 Konnichiwa! (Hello!) I'm Pat Tokuyama, a Japanese tofu cookbook author, who travels for music, food, and adventure. If you like Japanese food and it's your first time here, consider joining the new plant based japanese made simple community - to cook and be healthier today - with japanese food!!
** Plant Based Japanese Cooking Club ** Get your free mini ecookbook to get started!

Sights
I didn't get a chance to see Usaquen the first time I visited, but it was in line with my expectations based on what I had read.
It's a nice quiet residential neighborhood with many good restaurants scattered about.
Usaquen has a Sunday market, which also takes place on holidays. (We happened to be there during mens day, El dia del Hombres)
It's a pretty small market which you can probably cover in about an hour or two, with lots of arts and crafts and some food stalls.
For the rest of the time, we explored the following neighborhoods (North to South)- Chico/El Retiro, Chapinero, and La Candelaria. Mostly for the purpose of food and walking off all the food we ate.
The only real sightseeing we did was in La Candelaria, which is the historic district.
We did a free tour for a couple of hours which walked through the major attractions and is something I would recommend if you are in the area.
Other things I especially found enjoyable was the Botero museum and the Museo del Oro (gold museum).
Apparently, Botero is working on a kama sutra series of paintings so will be interesting to see how that looks.
The Museo del Oro has lots and lots of gold pieces, my favorites are the ones that look like insects or miniature planes.
The show Ancient Aliens theorizes that the gold pieces were in fact flying machines, not insects. Maybe when you visit, you can see them up close and decide yourself. 🙂
The last group of pictures are from the Ciclovia bike ride.
That will be it for now, next I will be sharing some of the food we ate while in Bogota!!
Click to enlarge
Let me know if you have any questions and thanks for stopping by!