Vegan Turkish Menemen (tofu scramble) with Shishito Peppers and Urfa Chile
Happy Meatless Monday! This is one of my favorite tofu scrambles ever! And because of that I'm excited to share it with you.
Turkish Menemen is traditionally made with eggs, but silky soft tofu makes a very suitable substitute.
This is a dish that actually tastes very complex despite having only a handful of ingredients.
I would easily eat this over the egg version should I have the choice.
Urfa Chile
The main source of spice and flavor, is the Urfa Chile, also called Isot biber.
Urfa chile is a really spicy chile native to Turkey. It has a distinct smoky and grape-like flavor and packs a punch.
The first time I made this recipe it was almost too hot since I doubled the amount of Urfa thinking it wasn't going to be spicy enough. Learned my lesson there…
For the other ingredients, however, I do like to double the amount of tomato, onion and pepper. I think those are the tastiest parts of the dish. I think the tofu is really more of a filler, like a rice if you will, but more nutritious.
For the video below, I didn't have enough tomato, so I left it at the original ratio.
I usually eat it with a whole wheat flat bread and labneh yogurt.
Labneh yogurt, is similar to cream cheese, but healthier in that it has less fat.
It's a very good savory condiment you can add to take this dish to the next level. And I'm all about taking things to the next level 🙂 Yum!
Not having been to Turkey yet, I can't compare how this tastes versus the real authentic Turkish Menemen, but if it is anywhere near, I am sure the real thing is just as good if not better.
One day I hope to try the real thing.
If you liked this post, please share or leave a comment. Thanks for reading
Watch me cook up the dish here and let me know what you think!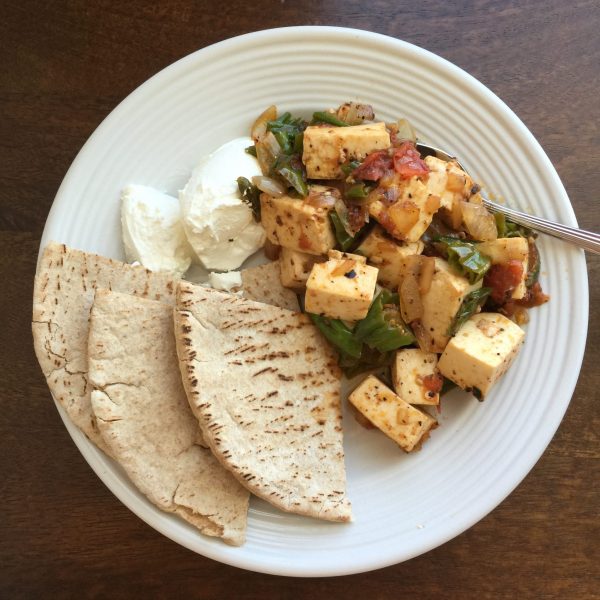 | | |
| --- | --- |
| | |
In cast iron skillet, heat olive oil on medium heat and add Urfa chili powder, oregano, onion, and peppers.

Cook, stirring frequently, until soft, about 8 minutes.

Add tomatoes and cook another about 3 minutes.

Add salt and black pepper.

Add tofu and incorporate into peppers, tomatoes, and onions.

Cook until tofu is heated through

Serve with labneh and flat bread
If you like your veggies, double the tomato, onion and shishito. May need to add a dash or two of urfa chile/salt to ensure the flavor is still there.