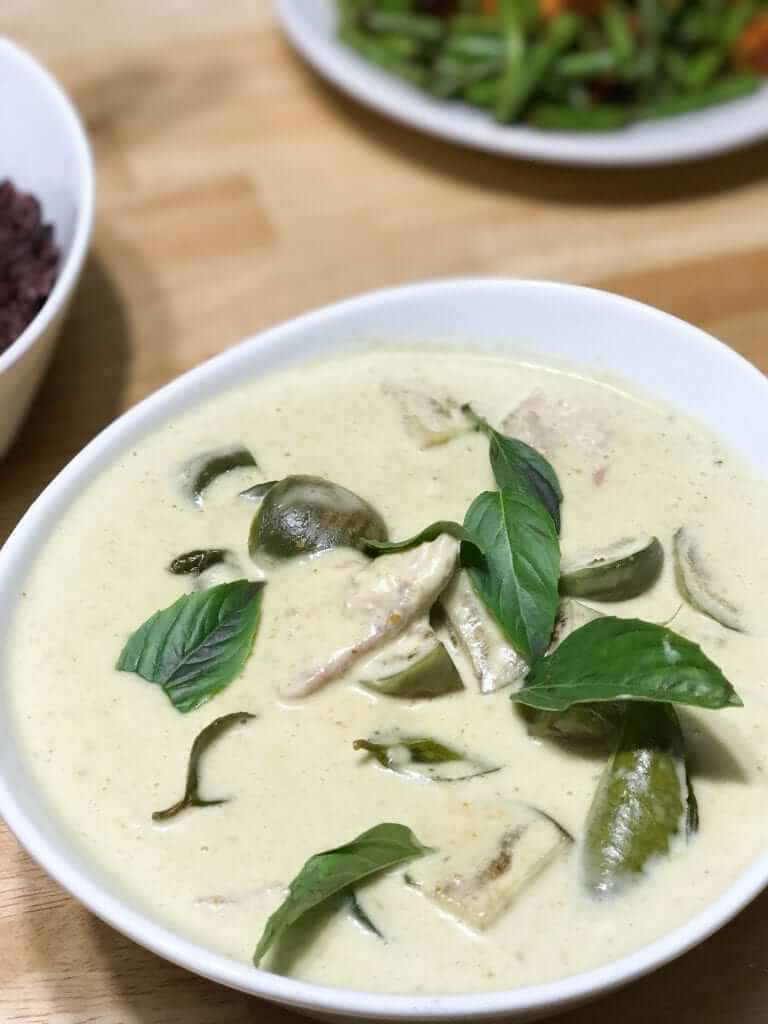 Did you know? On some tropical islands, falling coconuts are a leading cause of death?
That is why when I dream of visiting a tropical paradise, I find myself wearing a helmet. I also put on my knee pads and wrist guards, because hey. You never know when you might have a hard fall running across the beach because the sand is too hot.
I'm kidding.
But, I have seen coconuts fall from trees with people nearby walking under them.  And I could easily see a heavy coconut landing on someone and causing serious injury. So next time you're in a place where coconuts grow… You might want to look up before you cool off in the shade of a coconut tree.
Coconuts are like what corn is to the Americas, but for tropical climates
They are used for everything. You can even use the oil on your skin as a moisturizer.
I first used coconut milk when I first attempted to replicate Thai curry at home. I thought it turned out pretty good, but I knew it was missing one key ingredient.
I found that ingredient was kaffir lime leaves. Ever since I started using these, the Thai curries I made tasted like what you find in Thailand. Finally I found the key !!!
I also started using the Maesri brand of curry paste, instead of Mae Ploy. I just find the flavor profile to be better.
It may have to do with the packaging, Maesri comes in a metal can. While Mae Ploy comes in a large plastic tub wrapped in plastic wrap. Or, it might just be me!
Regardless, as of today, the Maesri pastes are my curry pastes of choice. Over the years, I also discovered I like red curry and green curry the most.
So naturally, I ended up making a green curry this past weekend.
This Thai green curry with chicken and eggplant is a solid dish. You can substitute the meat with beef, pork or ground chicken if you wanted to. I like my curries to have a lot of sauce so I don't put too many of the fillers like eggplant and meat. I've made the mistake before of using too much eggplant and meat, and you end up with barely any sauce!!
The best thing about this green curry is that it comes together so easily and quickly! If you are just getting started with Thai food, this would be the perfect dish to try.
If you were wondering, I ate it with purple rice and Thai Stir Fried Tofu with Green Beans and Red Curry Paste a.k.a Phat Phrik Khing
Heres a quick video of me throwing this together
Curious about the condiments I use? Read about them here – Thai food Supplies 
In case you missed them, here are some of my other Thai recipes!
[display-posts tag="thai"]
Save
Print
Thai Green Curry with Chicken & Eggplant, 'Gaeng Khiao Wan Gai'
Prep Time:

10 minutes

Cook Time:

20 minutes

Total Time:

30 minutes

Yield:

6

people

1

x
Category:

Main Dish

Cuisine:

Thai
2 ounces

green curry paste

2 tablespoons

olive oil

26 oz

coconut milk (~

2

cans)

1.5 cups

cooked chicken meat

3 cups

Thai eggplant (quartered, use less if you like it saucy)

12

whole kaffir lime leaves (i used dried)

2 tablespoons

fish sauce (i used

3

crabs brand)

1/2 tablespoon

sugar

5

whole Thai chile peppers (sliced)
In a pot heat the oil and fry the curry paste for 45 seconds on high heat.
Add coconut milk and bring to a boil.
Add cooked chicken, eggplant, kaffir lime leaves, fish sauce and sugar. Simmer for at least 15 minutes
Serve with jasmine rice and garnish with thai chile peppers.
Notes
For the chicken I cheated and used rotisserie. If starting with raw, ensure the meat is cooked before removing from heat.