Thai Crab Fried Rice with Cucumber and Chile Shallot Sauce
Thai Crab Fried Rice is a classic dish.  I have been on a Thai kick recently decided to try making it. I looked at several different recipes online and most had several important base ingredients – white pepper, fish sauce and garlic.  
I made a few modifications to what I thought might take this dish to the next level. Fortunately, on the first try I came out with a winner!
I wish I had doubled the recipe!! Lime and cilantro keeps the dish fresh while the crab and fish sauce add that seafood flavor. All together, this concoction of ingredients teleports my mouth back to Thailand. 
This was a quick meal, about 5 minutes of prep with 10 minutes cooking. In conclusion, this is a perfect for an easy weeknight meal and not that oily for a fried rice!!! Goes very nice with Tofu and Green bean stir fry if you are looking for another Thai dish to pair the Thai Crab Fried Rice.
If you liked this post, please share or leave a comment. Thanks for reading!
If you are interested in cooking other Thai recipes, have a look below to see what ingredients you will need-
Print Recipe
Thai Crab Fried Rice with Cucumber and Chile Shallot Sauce
Yum
Quick fried rice that is relatively healthy (olive oil) and not that oily!!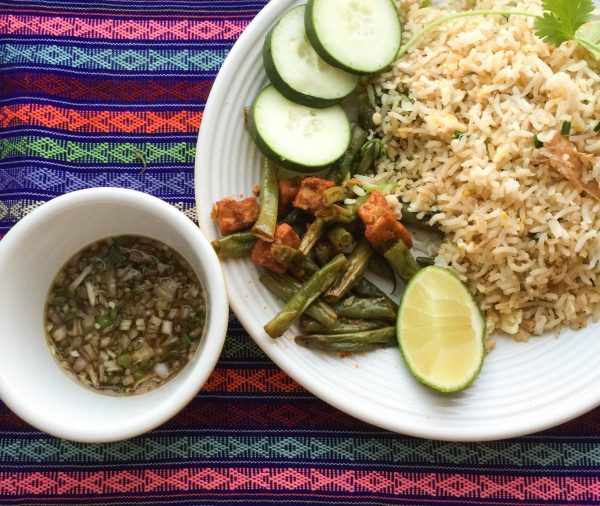 Start with 4 cups cooked jasmine rice. I took mine out of the fridge and microwaved for 3 minutes so it was hot for the pan.

Using high heat, add oil to a wok or a large iron skillet. Add garlic and sautee for 20-30 seconds, then add rice mix for a minute or two then add crab meat and mix thoroughly for another 1-2 minutes.

Push rice to the side and crack the egg onto the pan and scramble and mix into rice with green onion, cilantro and white pepper.

Add fish sauce mix and taste, if not enough flavor add more fish sauce

Serve with sliced cucumber and chile shallot sauce