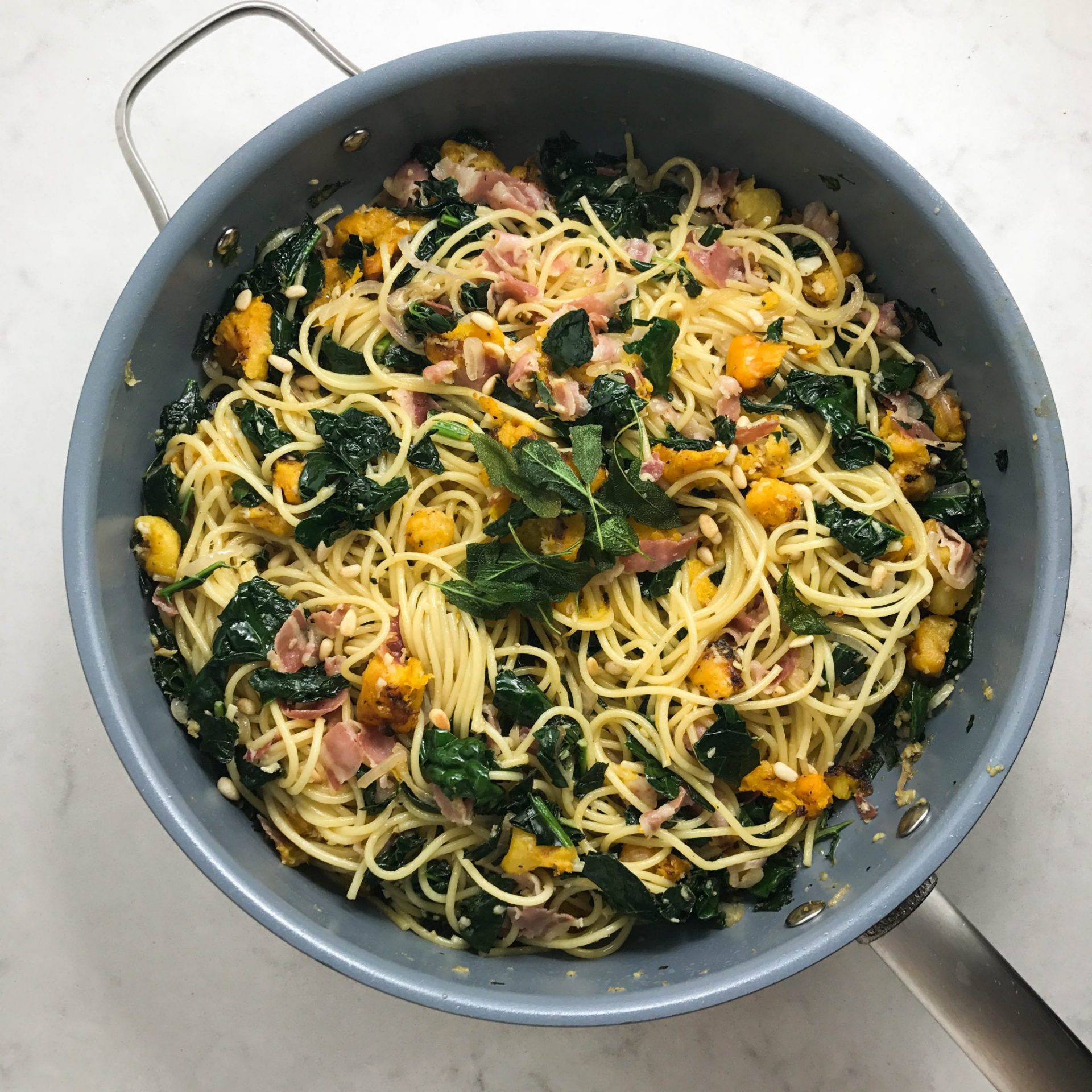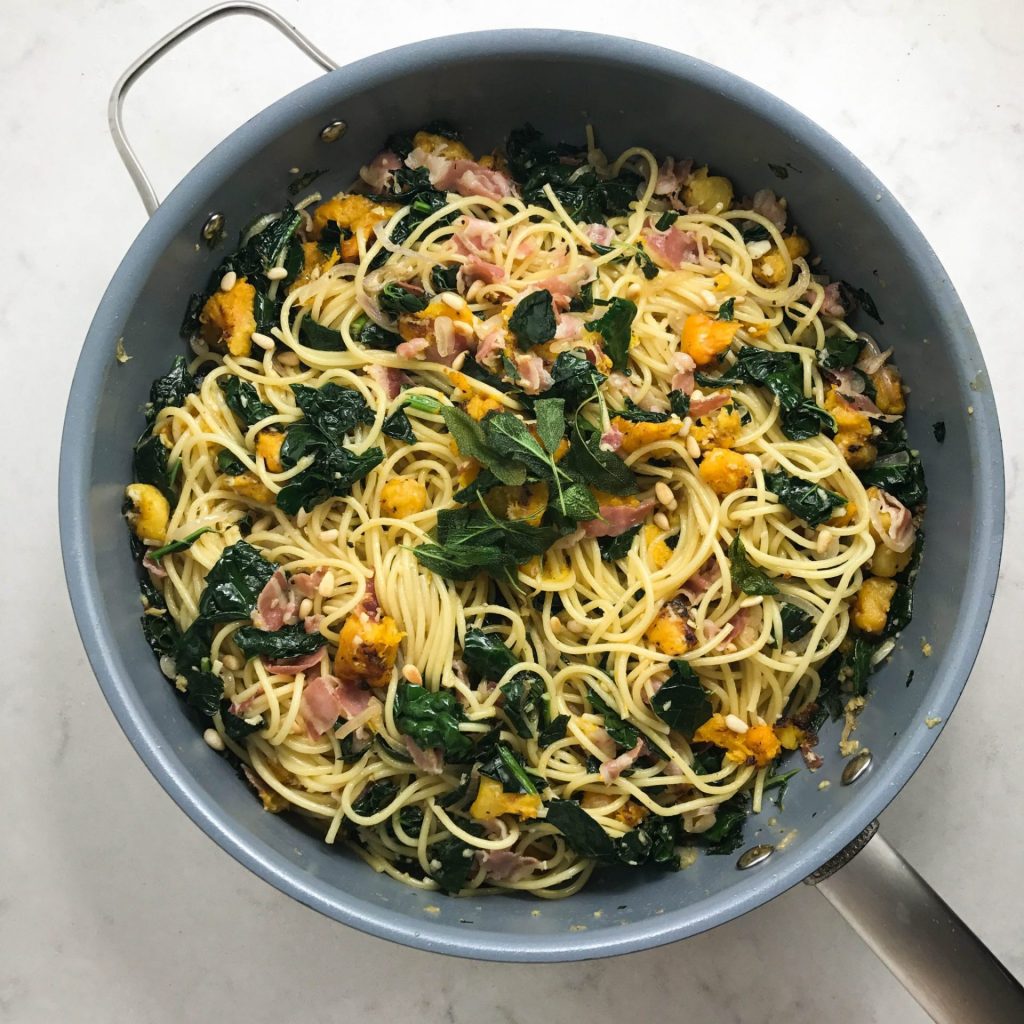 Spaghetti with Pancetta, Kale, and Butternut Squash
I killed my taste buds with this pasta.
Figuratively.
They came back reincarnated and things just don't taste the same anymore.
The lethal combo was a complex mixture of slightly sweet and mostly savory flavors.  It started with unsalted butter, garlic, and shallots. Then add white wine and take it to the next level with cream, pancetta, sage, pine nuts, and butternut squash.
Killer.
This is one of the more complex pastas that I've made and it was well worth the effort. Because of all the ingredients, it does require work. But sometimes, that's what makes certain dishes special!
I also include a time lapse of me making the sauce and finishing it up. Have a look below and let me know what you think!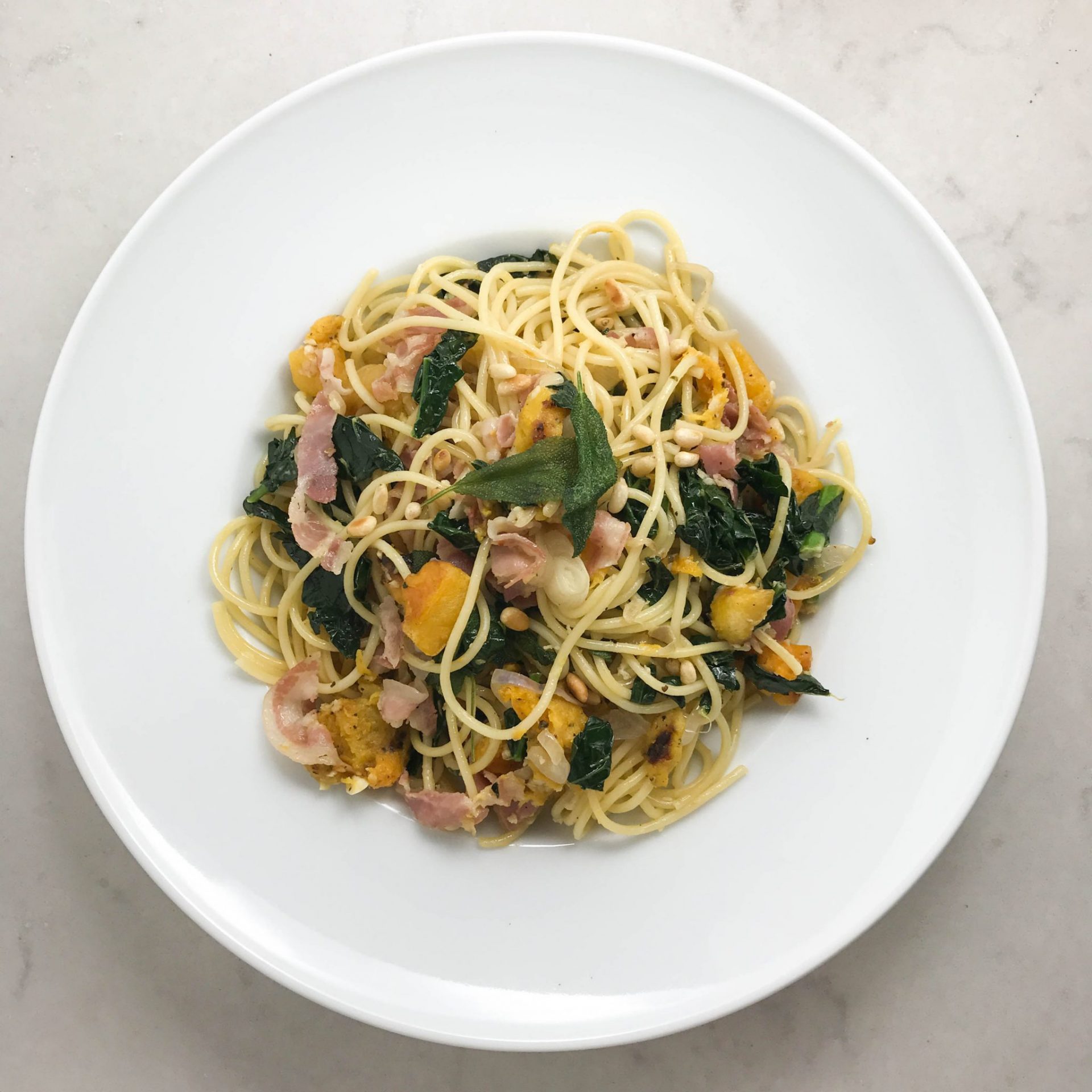 As I would consider this to be on the more challenging side, you may want to save this for a special occasion. You know, like a birthday, Valentine's day, or a day you want to treat yourself (any day!).
Let me know what you think of this. Have you made anything like it before?
In case you missed them, here are some of my other pasta recipes!
Save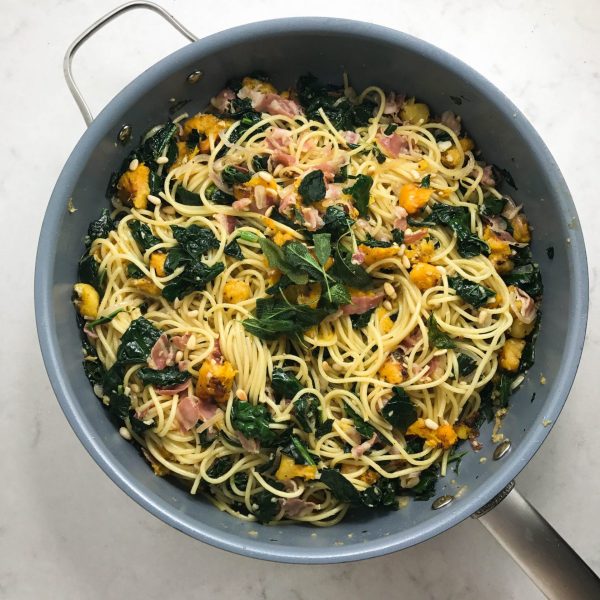 | | |
| --- | --- |
| | |
Preheat your oven to 400 degrees. In a glass baking dish, toss the squash with the olive oil and fresh cracked black pepper. Spread the squash in a single layer and roast until slightly browned. Roughly 25 minutes. When done, set aside.

In a large sauté pan, cook the pancetta on medium heat, stirring occasionally, until crispy, about 2 minutes. Remove from pan and place on to a paper towel lined plate to soak oil.

Add the shallots and cook until translucent ~ 4 minutes. Then, add the kale and 2 Tablespoons of water. Stir a few times and ensure the kale is evenly wilted and water evaporated. Remove and set aside in a small bowl.

In the same pan, on medium heat, melt butter and saute garlic with 1/2 teaspoon salt and 1/2 teaspoon fresh cracked pepper. Cook for 1-2 minutes until starting to brown, then add wine and fresh sage leaves and cook for another 5 minutes to reduce the liquid. Once reduced, add back kale and pancetta. Keep on low heat until pasta is ready.

Cook the pasta in salted water until al dente and drain once complete.

Transfer the cooked pasta, either in two batches or if your pan is big enough or all at once. Mix in the pasta with the sauce to ensure the pasta is evenly coated.

Stir squash and add the cream. Fold gently and heat on medium until heated through.

Garnish with the fried sage and pine nuts and serve!

Optional: receive hugs from those who get to enjoy this dish with you! (show recipe to those you cooked for 😉 )
To fry the sage leaves, in a small fry pan over medium heat, warm the olive oil until shimmering. Carefully drop the sage leaves, a few at a time, into the oil. They will sizzle and crisp very quickly, in 15 to 30 seconds. Using a fork or small skimmer, transfer the fried sage leaves to a paper towel–lined plate.
If you are not using fresh pasta, you may want to cook your pasta as the first step. Fresh pasta cooks very quickly (~50-60 seconds), thus I moved it toward the end.