Mejadra – Green lentils, Basmati rice and Fried Onions (vegan)
I originally found this dish on Instagram of all places. Never though I would be making food from Instagram, but I did!  I didn't know what Mejadra was at the time I first saw it. So, I looked it up on google.
It seems like there are many variations on Mejadra depending on the region/country. But in essence, the main ingredients were rice, green lentils and fried onions. It doesn't sound like anything special, but this is one of those dishes that magically elevates simple ingredients to a whole new level. Like take your tongue on a magic carpet ride level.
After doing a bit more digging,  I found there were many variations on the dish. I ultimately settled on one that seemed the most popular- by Yotam Ottolenghi.  Yotam Ottolenghi has a cookbook called Jerusalem, as well as several restaurants in London. You can't go wrong with a professional chef's recipe, so, I decided to try his version. And it came out a solid winner. I would give this a gold medal.
The cinnamon and cumin shine through, like the sun rays on a partly cloudy day. The caramelized fried onions give you that familiar sweet and salty flavor that only comes from fried onions.
They do take a while to cook so I would recommend you start frying those onions immediately after prepping the lentils on the stove. I think the onions are what brings the dish together. Without them, it just wouldn't be anything special. Another rice and lentils recipe.
I used olive oil to make it a little healthier and served it with labneh. Labneh is similar to cream cheese, in that it is thick and savory. I could also see the Mejadra being eaten with yogurt or as a side for a meat or fish. I think it's flexible in that regard.
In summary, the dish came together relatively easily and tasted very good. Aside from the fried onions, I would also say this would be a pretty healthy dish. It wasn't too heavy either, which I liked.  This would be perfect for a weeknight dinner and for someone looking for exotic flavors without a ton of obscure ingredients!
In case you missed them, here are some of my other recipes!
Save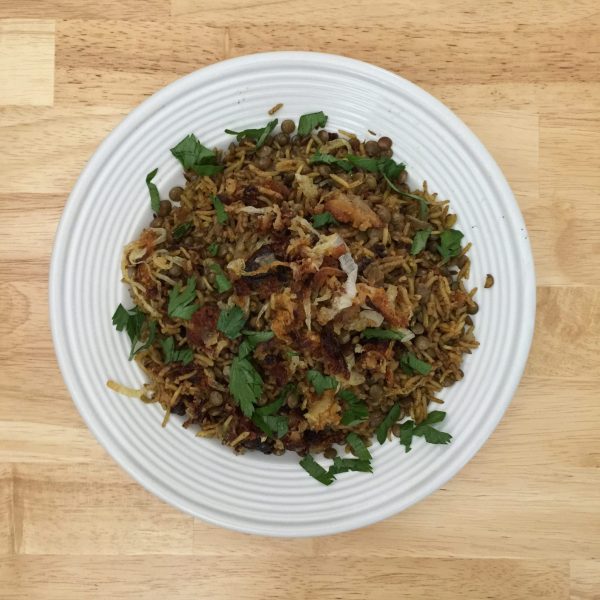 | | |
| --- | --- |
| | |
Peel and slice onion as thin as possible. Then mix with flour and salt.

Heat the oil in a fryer or skillet and fry the onions, until they are caramelized and change to a nice brown color. (I used my cast iron skillet on medium heat). Once done set aside.

Meanwhile, cook lentils. Follow package directions, but try to leave slightly undercooked Remove from heat and drain 1-2 minutes early. Once done set aside.

In a large pan or pot, briefly toast all the spices 30-45 seconds. Increase heat to medium high and add the rice, oil, sugar, and pepper. Mix well.

Add the water and the lentils, bring to a boil, and reduce heat to a simmer for 12-15 minutes.

Remove from heat and mix in fried onions, serve with parseley and or labneh!
If you really like onions,  I would recommend frying up double the quantity. You will be glad that you did!!