Fennel Crusted Pork Chops with Hot Paprika, Garlic and Shallots
Happy Friday!! I wanted to share this pork chop recipe I found in my BonAppetit magazine. As usual, I got excited and ripped it out of my to save for later! It looked that good and it was that good!!! That was quite a while ago, but that day finally came. I got around to cooking it.
I was craving some meat as I always am after being vegan/vegetarian for a while. So I went through my saved recipes on Evernote and rediscovered this gem.
I haven't had porkchops in years, so it was a warm welcome. Back into my mouth.
I followed the recipe for the most part, except I skipped the potatoes completely. I didn't have Yukon Gold and instead just baked some wedges that I had to save time.
I also let the pork sit for about 3 hours after I toasted and mixed up the spices/garlic. I ate this together with some sauteed green beans which are another winning recipe all together. Read more about them in this post.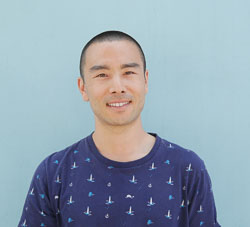 Konnichiwa! (Hello!) I'm Pat Tokuyama, a Japanese tofu cookbook author, who travels for music, food, and adventure. If you like Japanese food and it's your first time here, consider joining the new plant based japanese made simple community - to cook and be healthier today - with japanese food!!
** Plant Based Japanese Cooking Club ** Get your free mini ecookbook to get started!

This is probably one of the best pork chops I've ever eaten.
Really bold fennel and paprika flavors. The vinegar makes the magic happen, providing that acidic contrast against the spices and meat.
Other keys to this winner dish are searing it in a cast iron pan on both sides and finishing it in the oven. Make sure you get that sear, otherwise you'll be missing out on that crunch texture and flavor from the browned meat.
I really like this dish. I'm thinking you might even be able to do this with chicken breast… Next time I think I will triple the amount of shallots that I used, since those were quite good after going in the oven.
In summary, I would like to reiterate how good this was. Plus it made my house smell good while cooking too. I love fennel. And if that's something you like too, this is a solid recipe to try.
If you think these pork chops sounded good, please share or leave a comment. Thanks for reading!
In case you missed them, here are some of my other New American recipes!
Save

| | |
| --- | --- |
| | |
Preheat oven to 450°F. Toast fennel seeds in a small dry skillet over medium heat, tossing often, until fragrant, about 4 minutes. Let cool.

Combine fennel seeds, garlic, paprika, and 2 tablespoons oil in a small bowl. Season pork with salt and pepper and place in a resealable plastic bag. Add spice mixture; seal bag and turn to coat. Let sit at least 30 minutes.

Heat remaining 1 tablespoon oil in a large ovenproof skillet, preferably cast iron, over medium-high heat. Cook pork chops until golden brown on 1 side, about 4 minutes; turn. Add potatoes and shallots to skillet; season with salt and pepper and toss to coat in pan drippings. Cook, tossing potatoes and shallots occasionally, until pork is golden brown on second side, about 4 minutes.

Transfer to oven and roast until potatoes are tender and an instant-read thermometer inserted into thickest part of chops registers 135°F, 10–15 minutes. (If potatoes need more time, transfer chops to a plate and continue to roast potatoes until tender; transfer chops back to skillet when potatoes are done.) Remove skillet from oven and mix in parsley and vinegar. Let pork chops rest 5 minutes in skillet.

Transfer chops to a cutting board; cut meat from bones and slice against the grain. Serve with potatoes, shallots, and any pan juices.