Dak bokkeum – Spicy stewed chicken with spinach
Hello hello. Happy wednesday! Given it is the middle of the week, thought I would share this easy Korean style chicken recipe I came across – Dak bokkeum – Spicy stewed chicken with spinach.
The other week, I was in the mood for some Korean food. As I am always looking for something new to try, I went through my list of 'to try' recipes and came across this gem. This one stood out since A. it had chicken, B. it had spinach and C. seemed relatively simple.
The Korean dishes I usually make like braised meat or a stew definitely require more work than this. Since it was a weeknight, I was trying to keep it simple and fast. I also got to cheat since I had a my ginger garlic paste already ready from when I last made Indian food.
Dakbokkeumtang is a spicy Korean chicken stew usually made with potatoes. It is warm, hearty and comforting. I think this recipe takes that dish and replaces the potatoes with spinach, giving it a different character. I really liked how the spinach adds a soft healthy aspect to the stew. It really lightens up the dish as compared to potatoes.
I found this recipe on myrecipes and though it may not be authentic, it was quite tasty. Next time I make this I might just add in a few potatoes to make it a more filling plate. Have you made anything like this before? If so how did it turn out?
In case you missed them, here are some of my other Korean recipes!
Save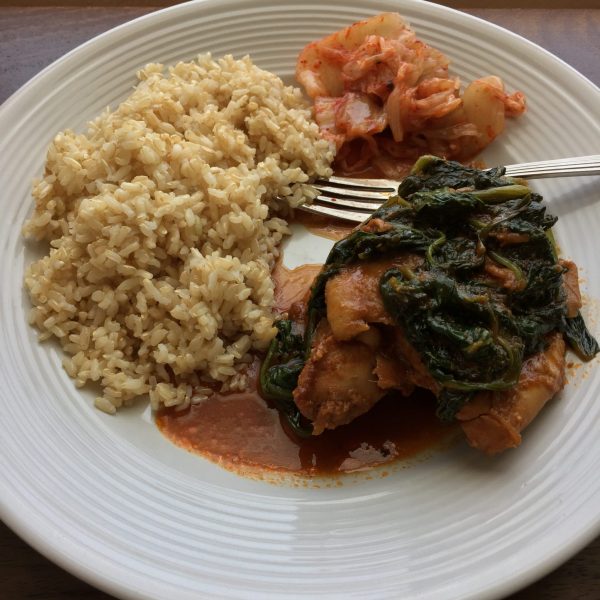 | | |
| --- | --- |
| | |
Combine the first 8 ingredients in a large bowl and mix well. Stir in chicken pieces and marinate for at least 2 hours minutes.

Add 2/3 cup water to a Dutch oven and bring to a boil.

Add chicken mixture and cook for 10 minutes on medium heat stirring occasionally. Add in spinach and green onions

Cover and reduce heat to a simmer. Cook for another 20 minutes.

After 20 minutes have elapsed, remove lid and and simmer for another 10 minutes or until mixture thickens to your liking. Serve with rice!!
I used whole chicken thighs with bone and skin. I also poked holes in the meat to assist the marinating process. I served it with brown rice and some kimchi.
Dont worry about the spinach covering the entire pot, it will wilt and shrink!