Chia Seed Pudding with Whole Milk Yogurt
Ch Ch Ch Chia!! When I first got my Chia Pet and grew the grass I had no idea the seeds were edible. But these days, they've gained a lot of popularity for their health benefits. So, I eventually got to eating them and haven't grown them since. Funny how that works out.
I discovered this Chia Seed Pudding with Whole Milk Yogurt recipe while looking for breakfast ideas. Though this is for breakfast, this pudding can be eaten any time of the day ! It makes a good dessert or snack.
Chia seeds pack protein and good fats and give a nice thick texture and consistency when wet. Furthermore, this Chia Seed Pudding pairs well with all kinds of fruit. As you can see below, I've had it several times and even with nuts too.
If you haven't had chia seeds before, they don't really have any flavor. Most of the flavor in the pudding is coming from the almond milk, vanilla, and the yogurt. The yogurt also adds a little bit of tang and additional protein. So that is really what you are tasting here. Like oatmeal this is just a vehicle for your toppings. The nice thing about the chia seed pudding is you can make it the night before, and it will be ready the next day for breakfast.
It takes 30-45 minutes for the pudding to starts to thicken, so if you were really impatient you could probably eat it at that point. But I would recommend letting it sit longer so it has a thicker pudding-like consistency.
Finally, if you don't have plain yogurt, you can still make this. Use the equivalent amount of almond milk and the consistency would be a bit more fluid. Still edible and still delicious. I have even seen recipes where the seeds are blended up, but I like to eat them whole.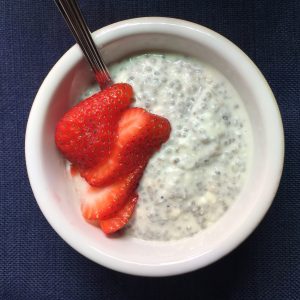 In case you missed them, here are some of my other breakfast recipes!
Save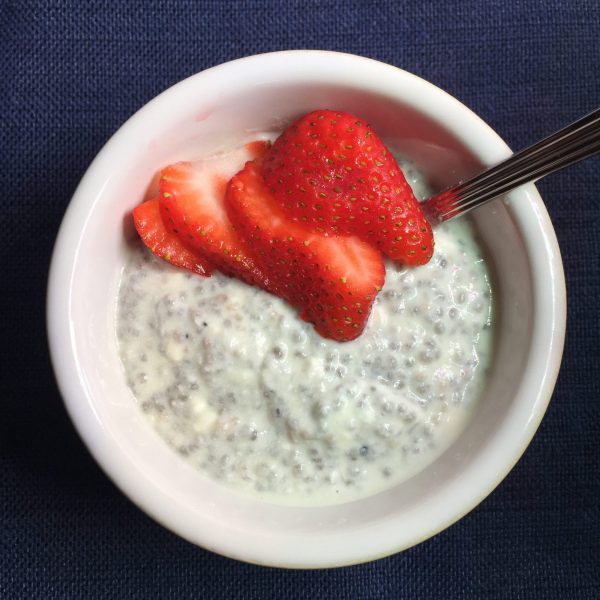 | | |
| --- | --- |
| | |
In a medium bowl or quart canning jar, gently whisk all ingredients, cover and refrigerate overnight.