On our last night we decided to try Model Milk in downtown Calgary. The reviews were good and the prix fixe menu seemed like a pretty good deal. We were again choosing between here and Notable, but when I called Notable, there was a 30 to 45 minute wait. We also didn't feel like eating too much meat, so decided to go to Model Milk.
Inside Model Milk, the dining area is a lot bigger than I expected based off the pictures I saw. It is true, however, that the tables are very close together and the restaurant is noisy.
This is what our experience-
We started with an heirloom tomato bruschetta came with slightly charred bread and very ripe and sweet tomatoes. A little olive oil and basil. This was a good start!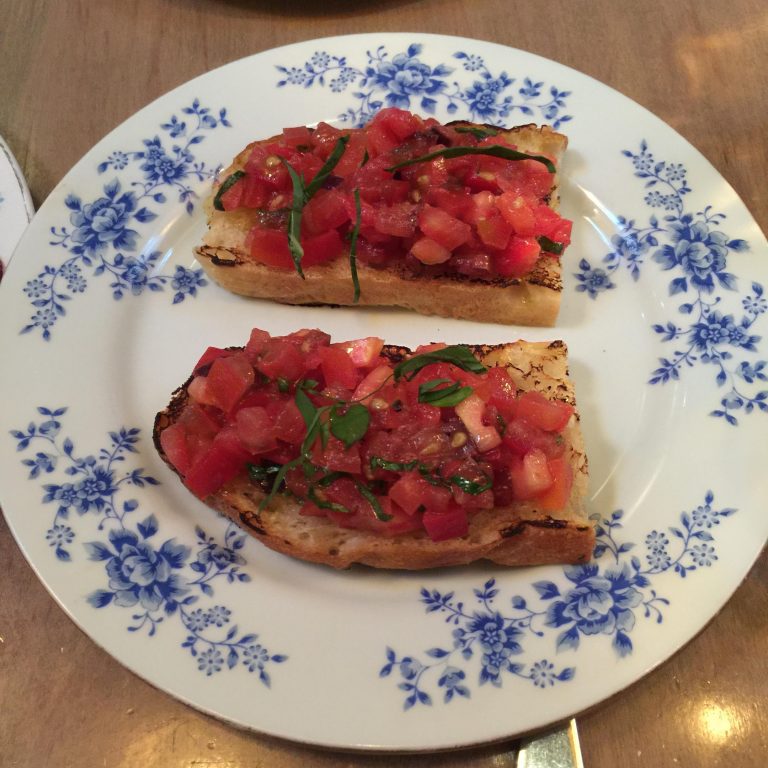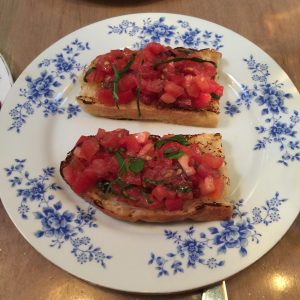 Next was bresaola, spinach, and goat curd. The bresaola is almost like a cross between pastrami and roast beef. Haven't seen this kind of spinach before, but the flavor was a little different in a good way. I also liked how firm the stalks and leaves were. Overall, the this was a good combo with the meat and goat cheese (hidden).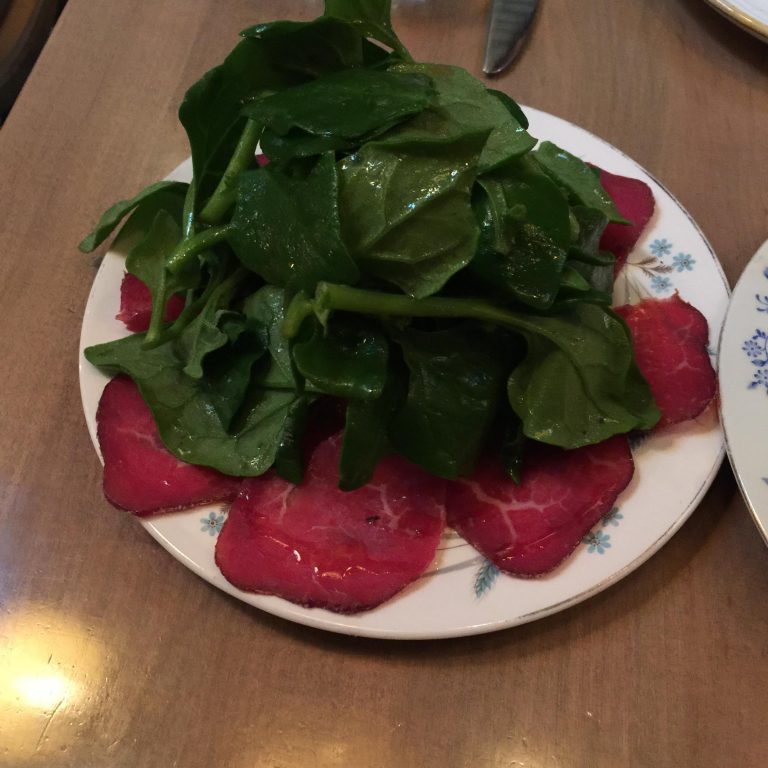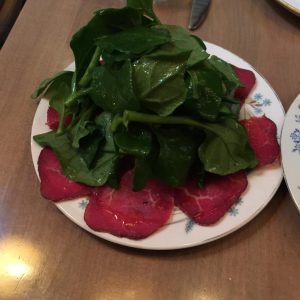 The next dish was one of my favorites – zucchini flower friti with shishito aioli. The crunchy textures and delicate flavor of the squash and whatever leaves they fried with it were very good. The aioli provided a nice spicy contrast to the delicate fried flavors of the components.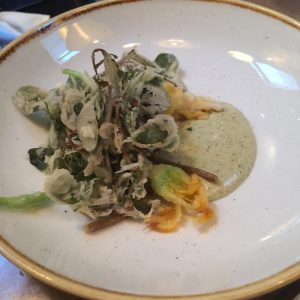 One of the main dishes was spaghetti Pomodoro. The pasta was slightly overcooked and came with plenty of tomato sauce. Overall pretty decent, but would have liked the past a more al dente. The good thing is that it wasn't overly salty.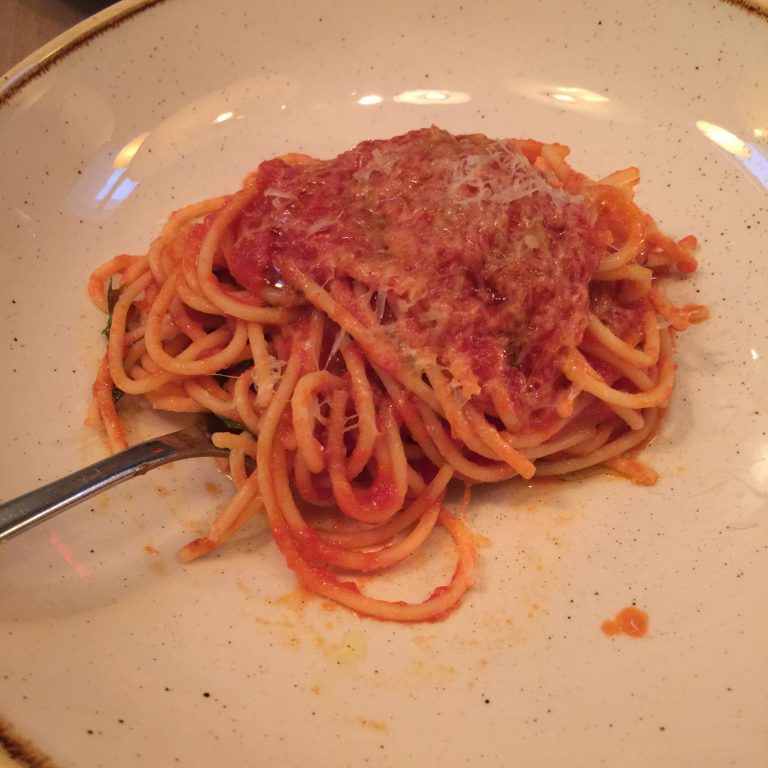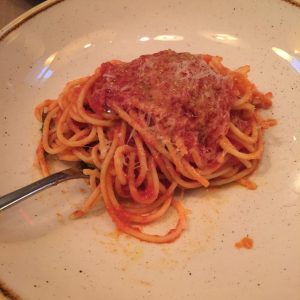 The other main was Pork Milanese with brown butter. The capers it came with were the best part of the dish. The flavors were ok, nothing really jumped out at me on this dish.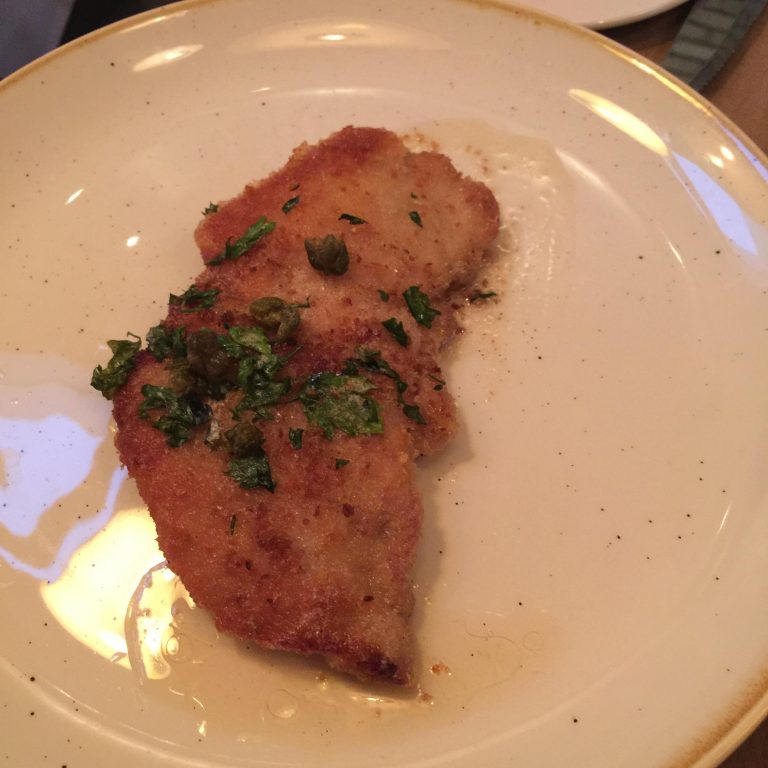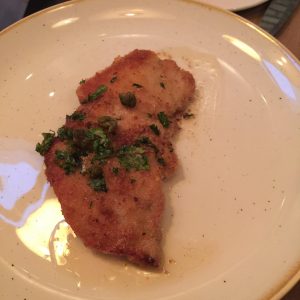 Canataloupe with lardo. Salty and sweet pretty good!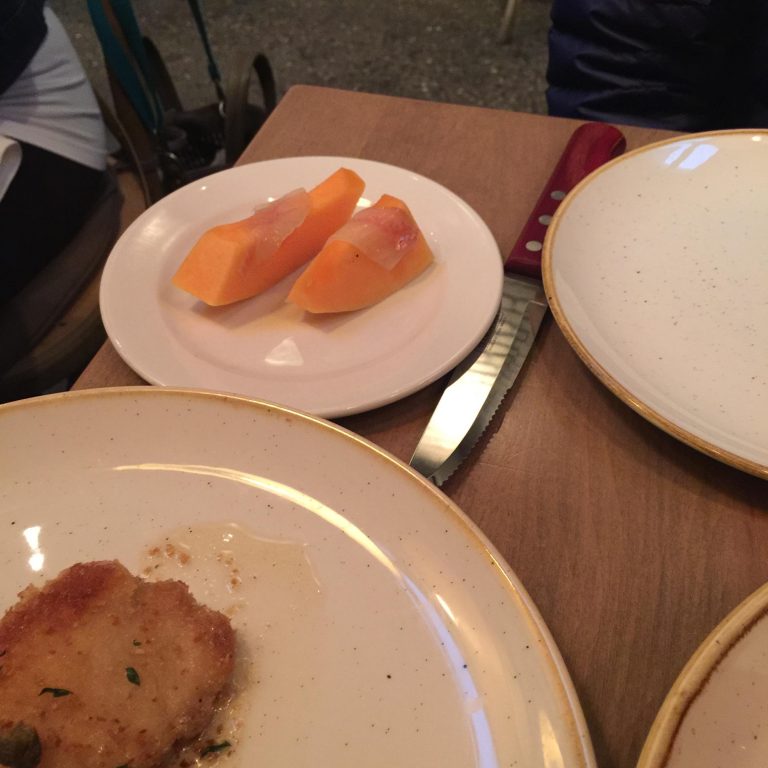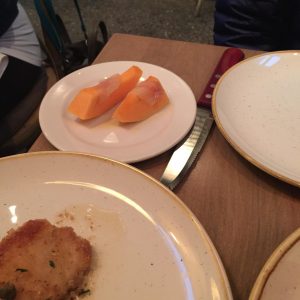 Potato, caper, artichokes. This potato salad was good. Probably my favorite part of the meal, it was oily and salty from the capers. The capers were the same that were used on the pork. The pork and the potato could have been a solid entree on their own. Artichokes provided an additional flavor and texture to the salad.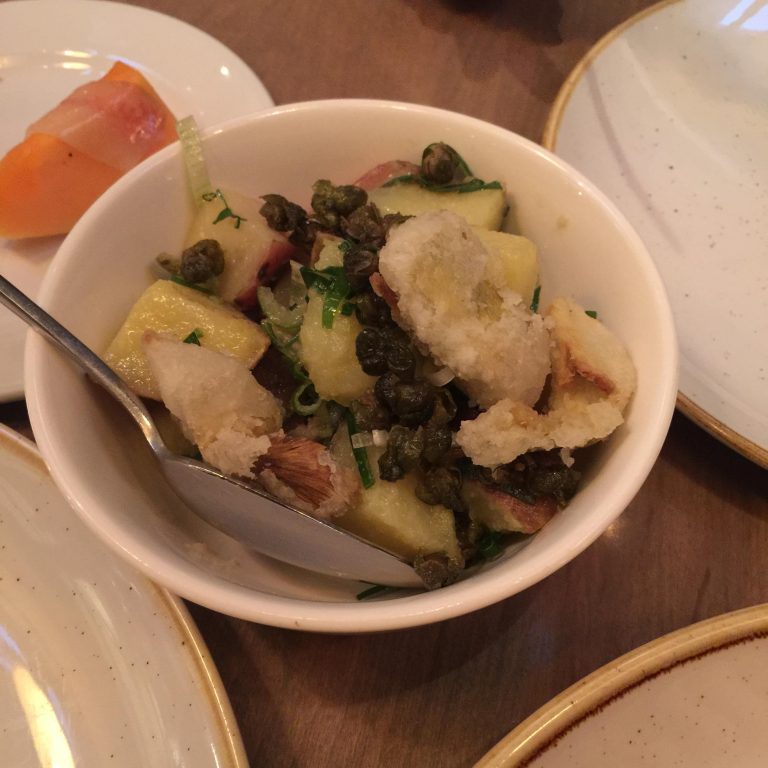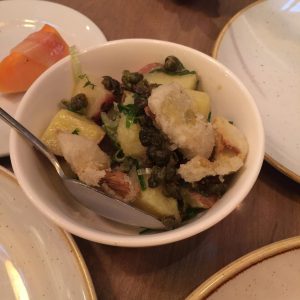 Our salad came with scallops, little gem lettuce, radish, and mint. I'm not really a fan of scallops, but the dressing it came with was light and fitting for the components.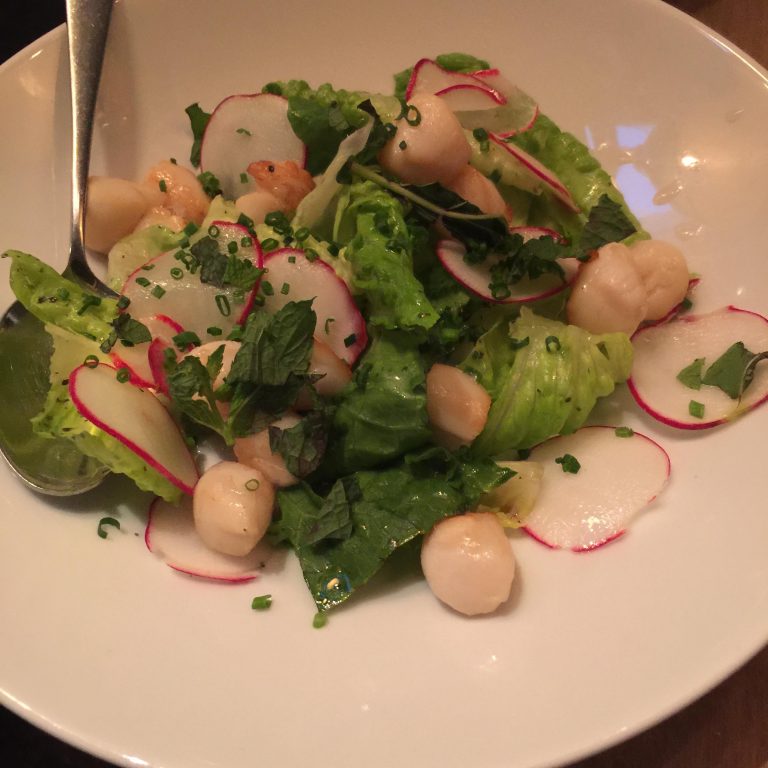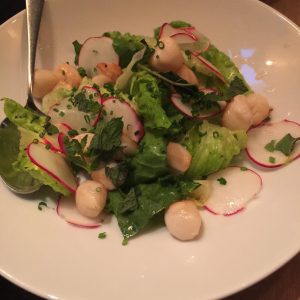 For dessert we had Ricotta doughnuts with cinnamon sugar and strawberry jam. Nice way to end the meal, not overly heavy or overly sweet.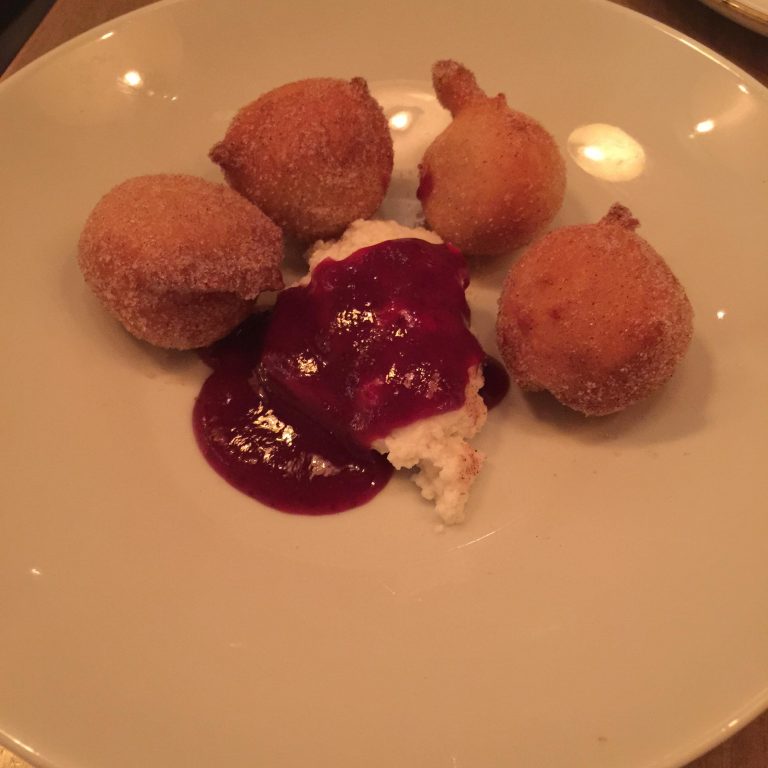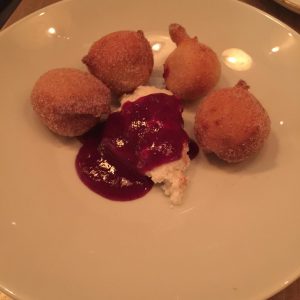 Looking back, the food was pretty good. I did expect the portions to be a bit bigger and flavors a little bolder than they were. However, I would be willing to give their Sunday supper another try if different on my next visit.
In case you missed them, here are some of my other restaurant reviews!
Save