The Search – Restaurant Reviews
I don't know how much time I spent researching where to eat, but it was a lot. At least 5 or 6 hours.
Basically, what I did was sort Tripadvisor/Yelp reviews by highest rating. I then skimmed menus and reviews to look for anything that stood out.
I was looking at all of the major cities on our itinerary. When it came to fine dining, Paris seemed more promising than the Italian cities we were going to.
What I also noticed was a very common theme. A lot of people (tourists) complain about service being poor in Paris and Italy.
And due to that, they give the restaurant a 1 or 2-star rating. Even if the food was good. I found this trend very common on both Tripadvisor and Yelp. It was super annoying to have to weed those out. So if you find yourself traveling to those destinations, that's something to keep in mind.
In addition to that, the other barrier I had to overcome was the sheer number of restaurants in each country. I must have read hundreds and hundreds of reviews over the course of my trip. But it was all worth it as almost all the food we ate was fantastic.
The final choice for our meal of the trip was between here and another restaurant called Le Epicure, which was located just down the street.
Ultimately, the reviews seemed to be better here and the menu a lot more unique. So this is where we went…
We arrived right on time and were promptly seated. We were part of the first seating and by the time we left, the restaurant was full.
For men, they say a jacket is required. When I sat down I was about to take mine off, but they stopped me, saying I must keep it on.
I saw another group come in while we were eating and not all were wearing jackets. So, it's interesting to see how the don't exactly enforce that policy for everyone…
Anyways, let's get into it!
Le Cinq 4 Course Lunch
Menu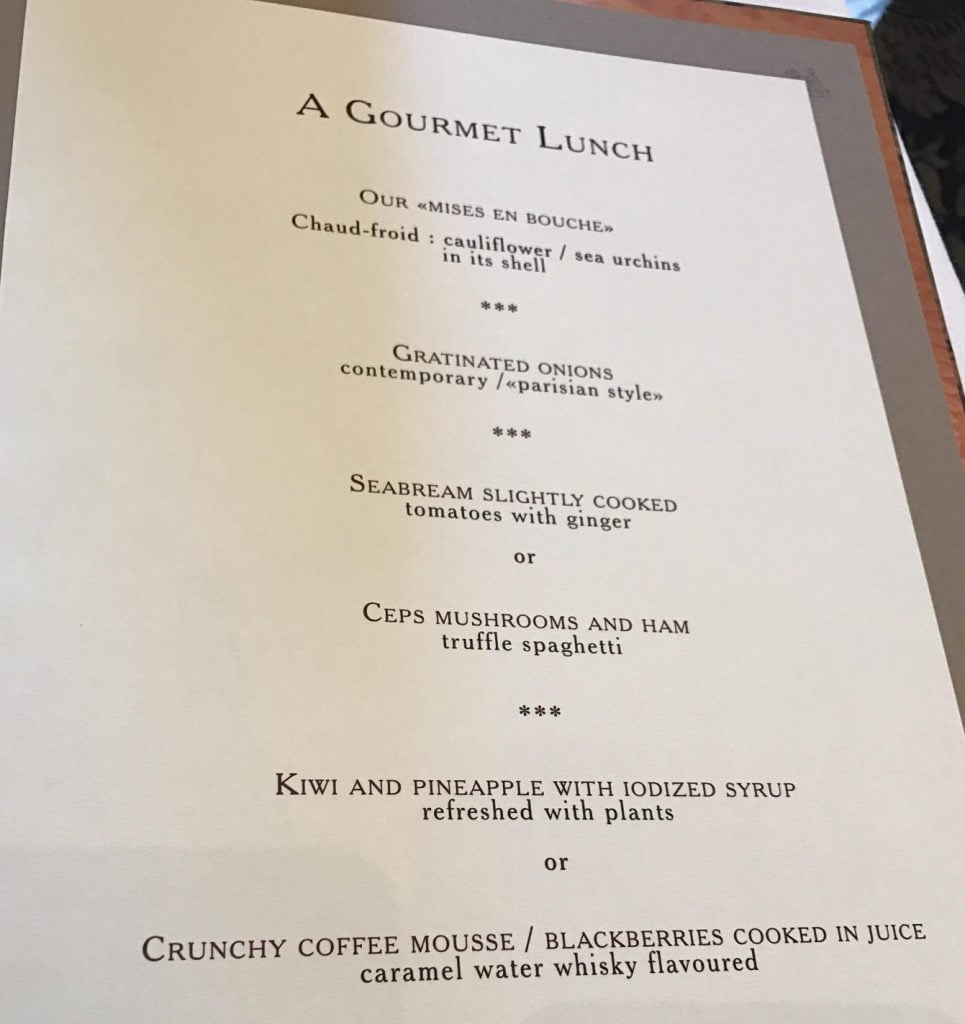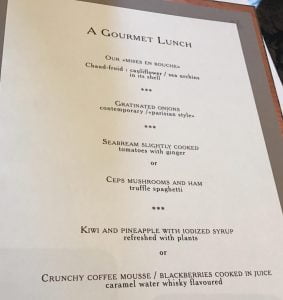 Amuse bouche
Scallops with lime and some sort of crunchy fried croutons. Very fresh, light, and tasty. The scallops just melted in my mouth.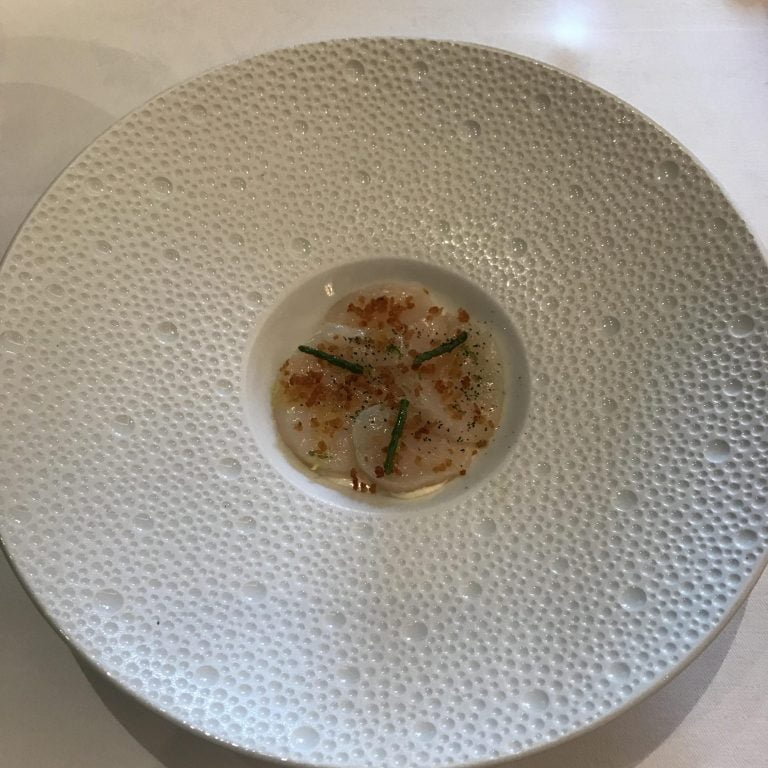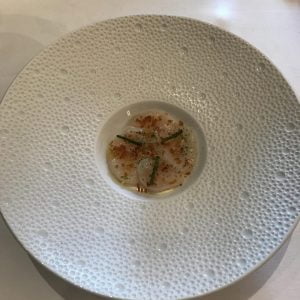 First course- Sea urchin
I've had a decent amount of foams and they are not my favorite. The uni hiding underneath was fresh and sweet, as it should be.
There was a hole at the bottom of the shell and that black sand underneath got inside. I ended up with a couple grains in my mouth. Dug too deep.
But luckily no chipped teeth. During my trip to Padang, Indonesia a few years ago, I chipped my tooth while eating in a restaurant. There was a small rock in my food. That was not fun.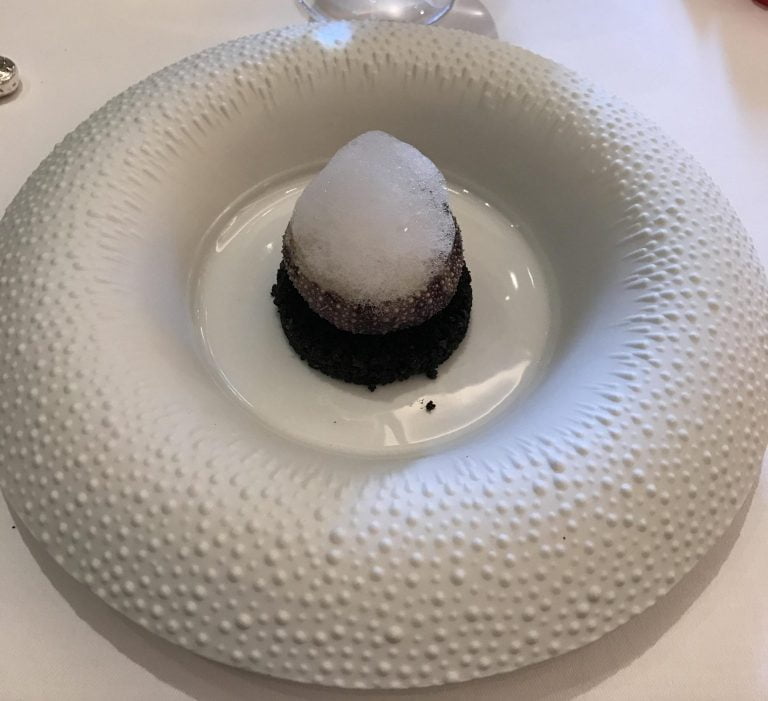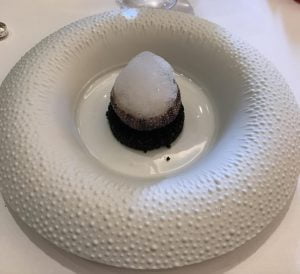 Bread and butter
When they bring around the assortments, I always ask to try them all. I love bread. I hope it loves me too!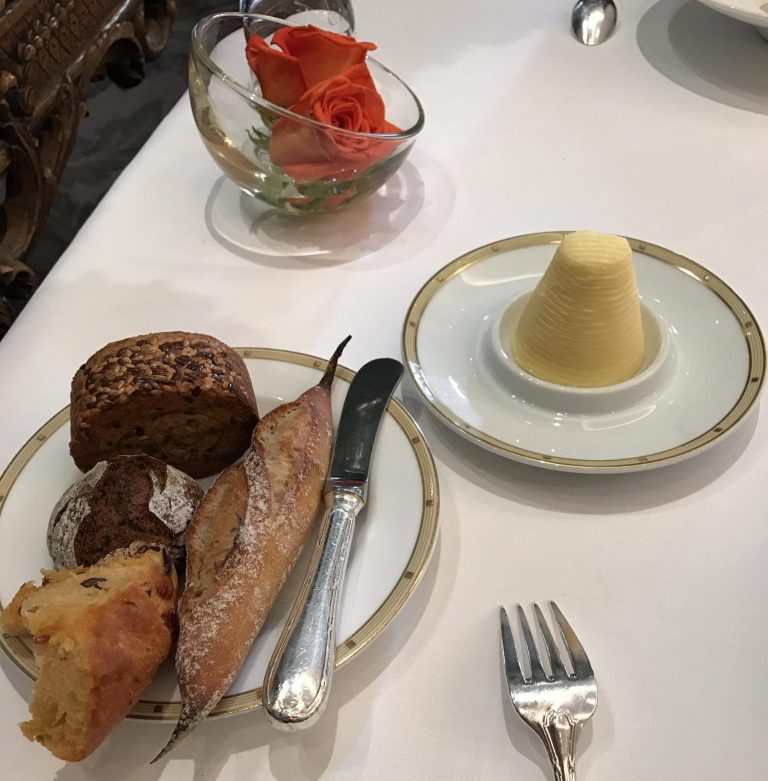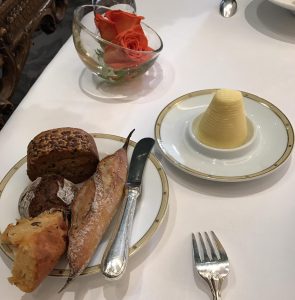 Second course – Deconstructed French Onion Soup
Those dark brown puddles were some sort of caramelized onion reduction. The brown balls actually were filled with the soup. The skin was probably 1/8 of an inch thick, but thick enough to hold the liquid inside. The soup inside was warm and savory. Just like the real thing!
So far so good!!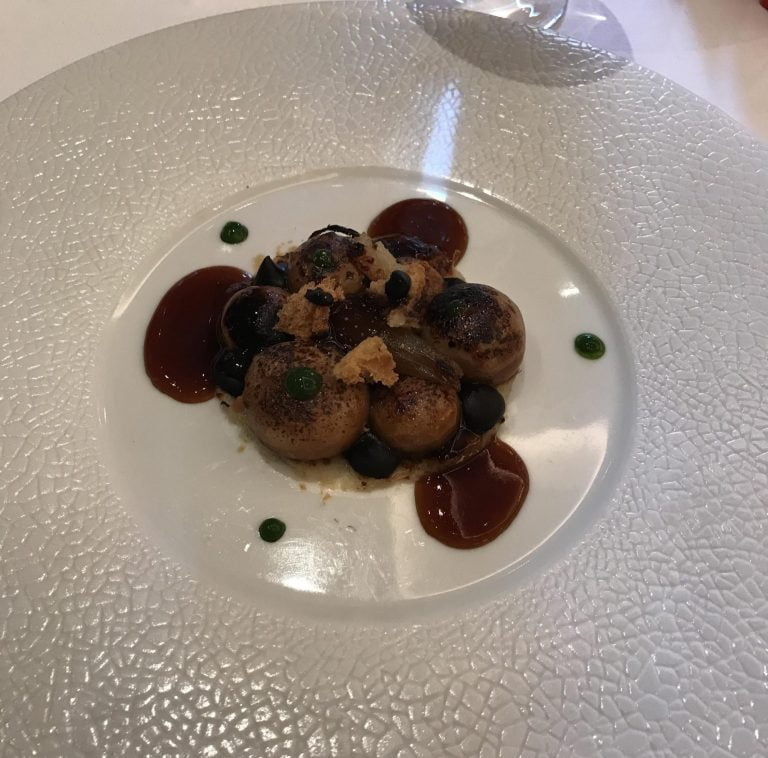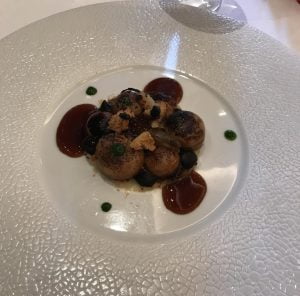 Third (Main) Course – Spaghetti with Truffles and Ham
This was one of the most impressive and creative things I've ever eaten.
What you see below is a shipping container shaped box of spaghetti. Inside, were mushrooms and a truffle cream sauce.  This was epic and very memorable in terms of taste and presentation!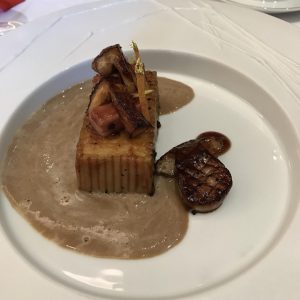 The picture below shows what it looked like after I knocked down one of the walls. The house of tiny spaghetti noodles!!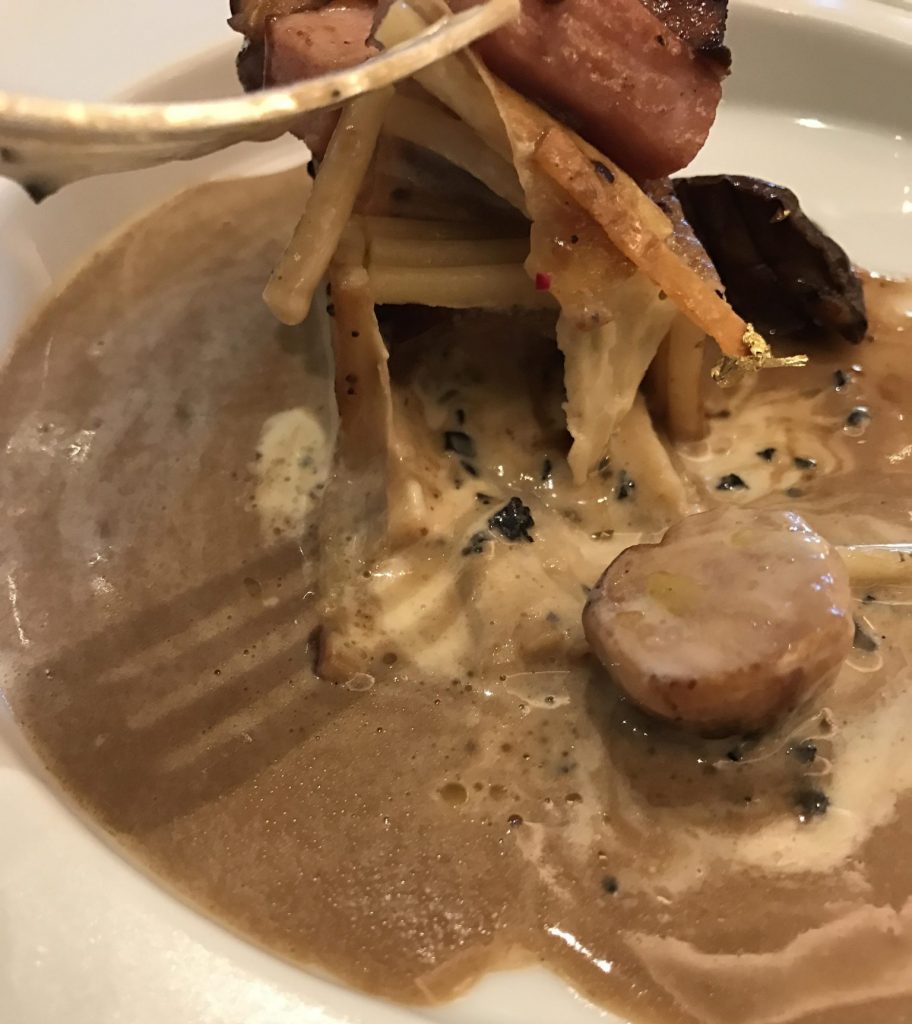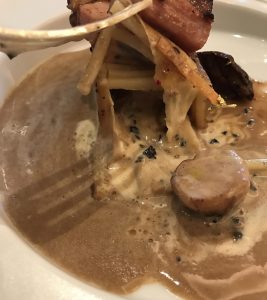 Third (Main) Course – Sea Bream
This fish was a good contrast to the rich spaghetti. It was light and fresh.
The fish was cooked perfectly, with a crispy skin and soft moist flesh.
The heirloom tomatoes tasted fantastic and the olive oil brought all of it together.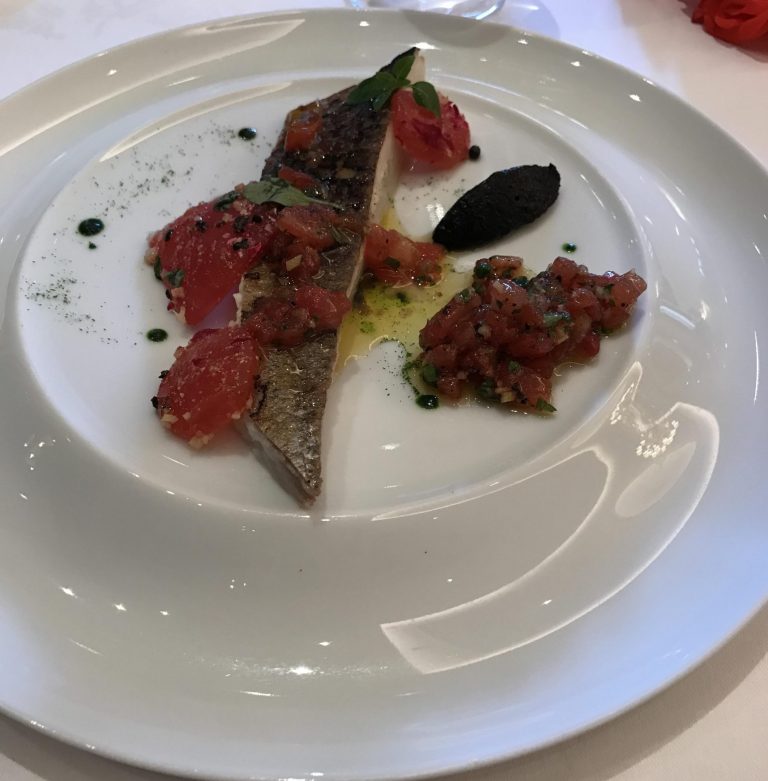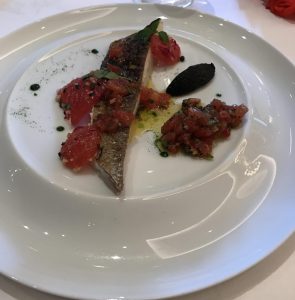 Pre-Dessert – Candied lemons with chocolate truffles
The truffles were very light. Two had some sort of wafer or crunchy candy filling on the inside while the other had a ganache.
The candied lemon was a good contrast to the chocolate. It was sweet, but extremely sour. It was about 1/2 inch thick slice of lemon with a sugar coating on top. The rind was probably about 1/4 inch thick. I don't know how they got that lemon flavor as concentrated as it was.
Just thinking about it made me salivate!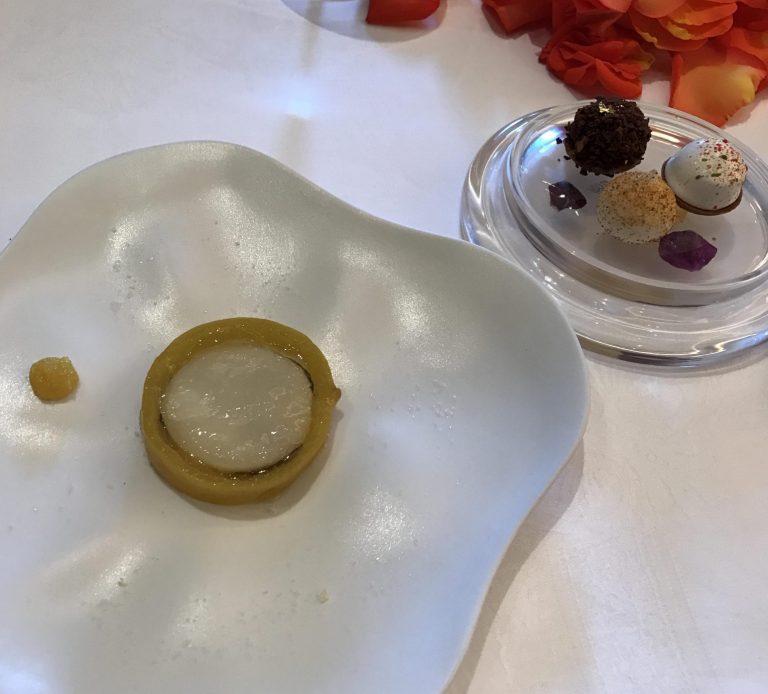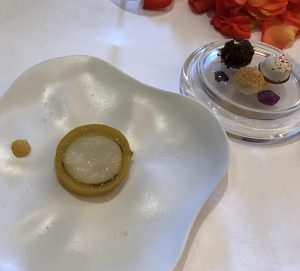 Dessert – Crunchy Coffee Mousse
This was the crunchy coffee dessert with Whisky caramel. I was actually a bit underwhelmed by this dish.
The coffee mouse was soft and light. The whipped cream was just a normal whipped cream and the caramel was crunchy. That was about it. Now that I think of it, it was kind of disappointing.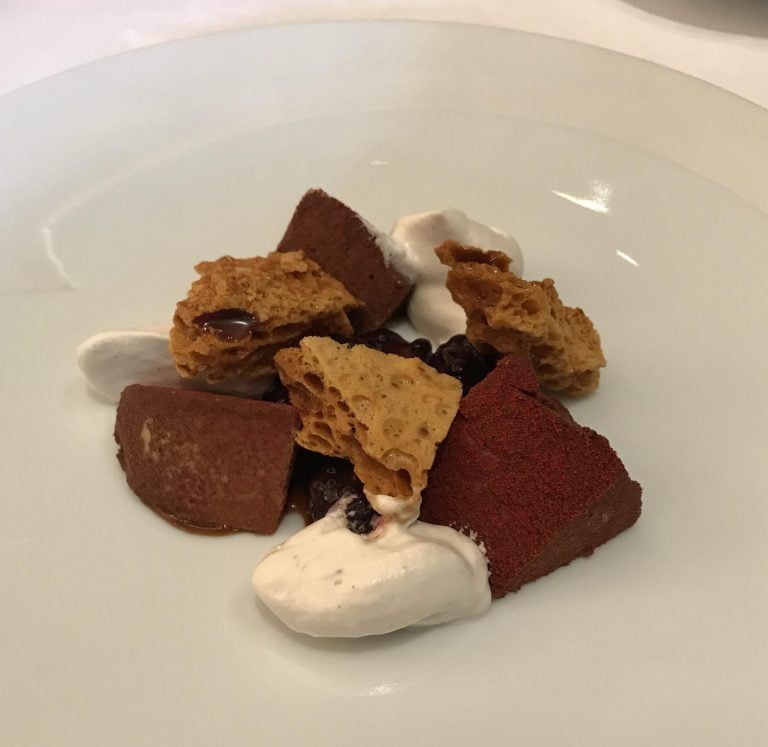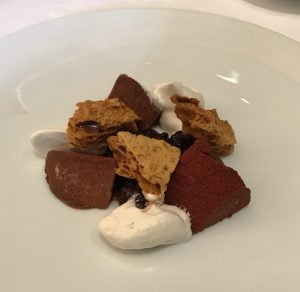 Dessert – Kiwi Pineapple Sorbet
This was awesome. It was very fruity and tropical. Not overly sweet, with a bit of sour, a bit of tartness and lots of crunchy bits in each bite.
All those flat discs you see sticking out of the kiwi sorbet are dried candied fruit and wafers.
The flavors and textures of the fruit really worked well together. Never had anything like it.
The little mango blob at the bottom just added to the complexity.
Another dish very well done!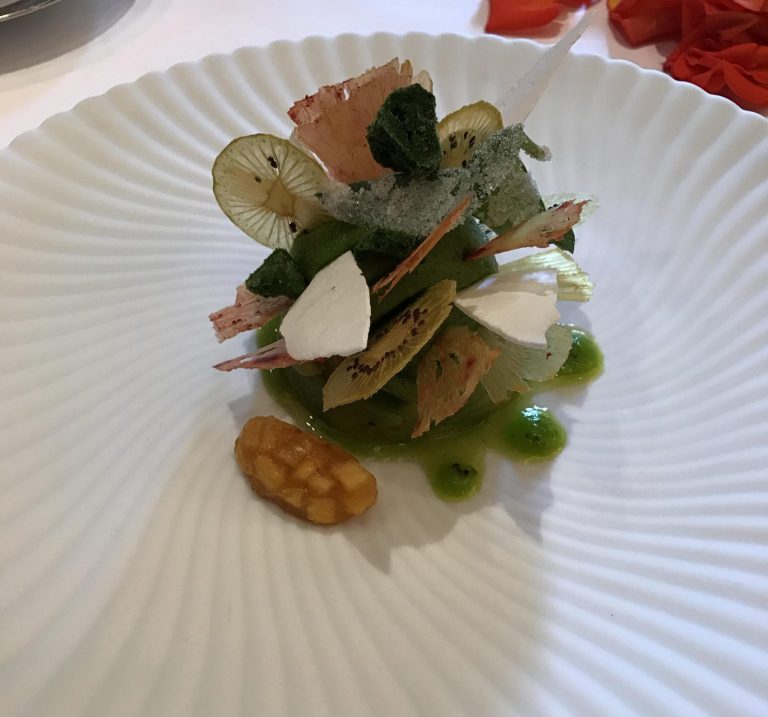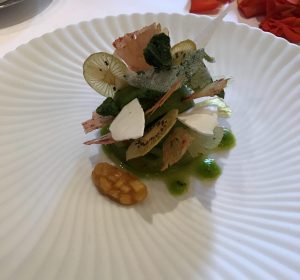 Vanilla bean anniversary ice cream 🙂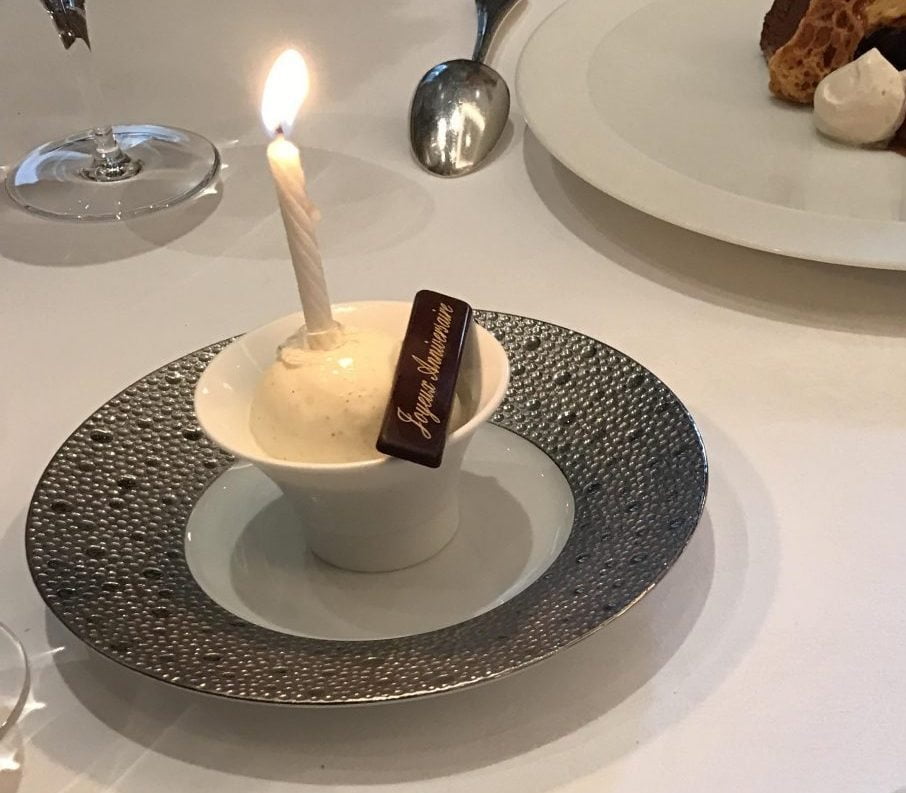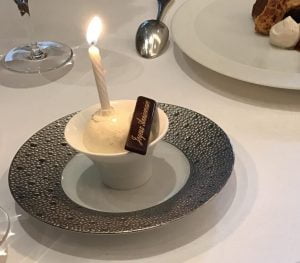 Post-Dessert One – Kouign-amann
With candied almonds on the side. This is a specialty of Brittany and was a buttery and sugary pastry.  By the time we got this we were starting to feel quite full. But we powered through it.
The Kouign-amann was very very very flaky and crunchy. And despite the butter and sugar, it was very light. Much lighter than a croissant.
I would love to eat this for breakfast with a black coffee. I never thought I would find something better than a hot Krispy Kreme, but this is it.
Next time I go to France I'm going to seek this out for sure.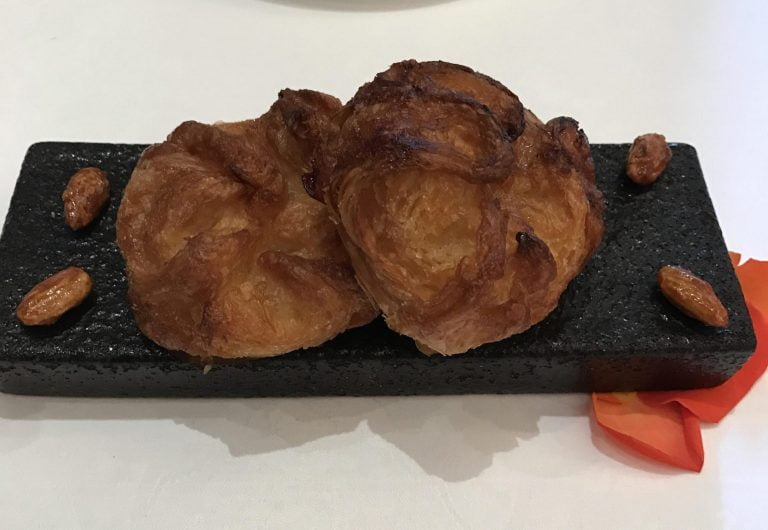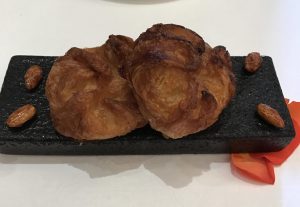 Post-Dessert Two – Mint Marshmallow, Chocolates, and Toffee
They brought around the candy cart and we got to choose what we wanted.
On my plate, I got almost one of everything. And yes, we were super-stuffed at this point. Had to unbuckle the belt a couple notches.
On top was the parting gift box.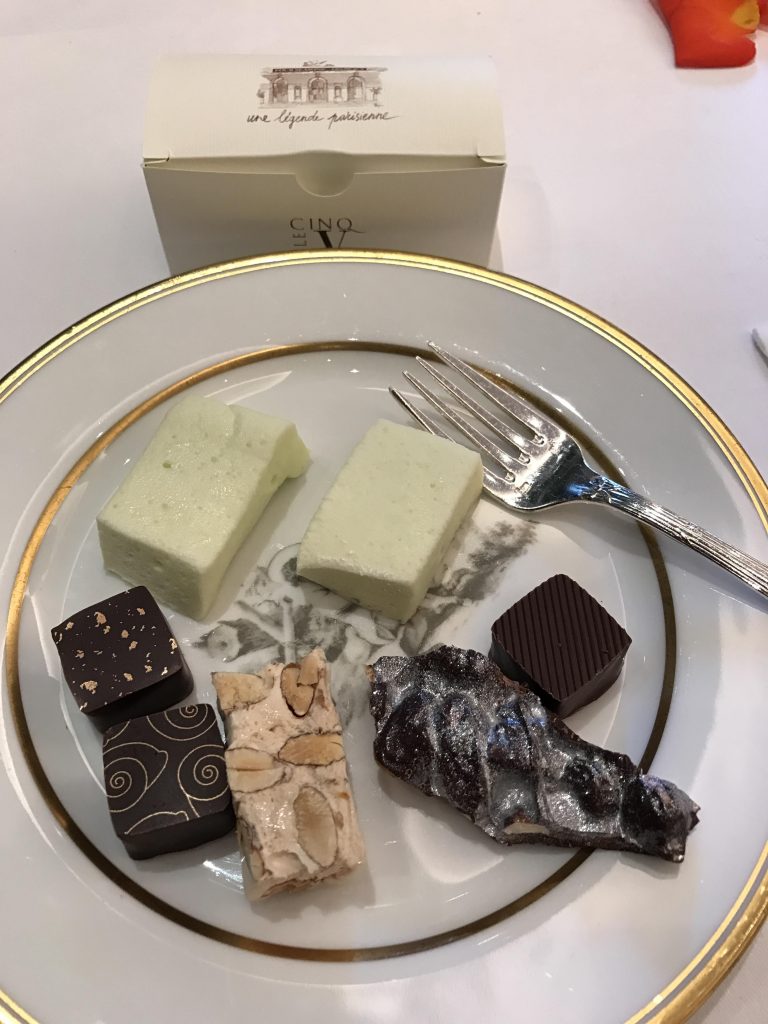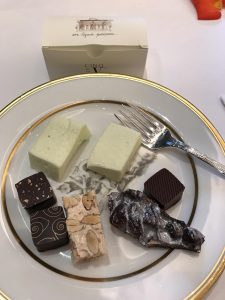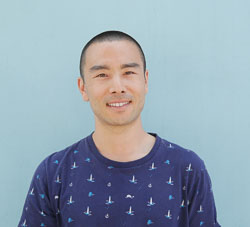 Konnichiwa! (Hello!) I'm Pat Tokuyama, a Japanese tofu cookbook author, who travels for music, food, and adventure. If you like Japanese food and it's your first time here, consider joining the new plant based japanese made simple community - to cook and be healthier today - with japanese food!!
** Curious about the Plant Based Japanese Cooking Club? ** Learn more here!

Caramels
Inside the gift box was an assortment of caramels- Mango, Raspberry, Strawberry, Chocolate, and Caramel
Very good flavors and very rich, but not overly sweet. In other words, perfect.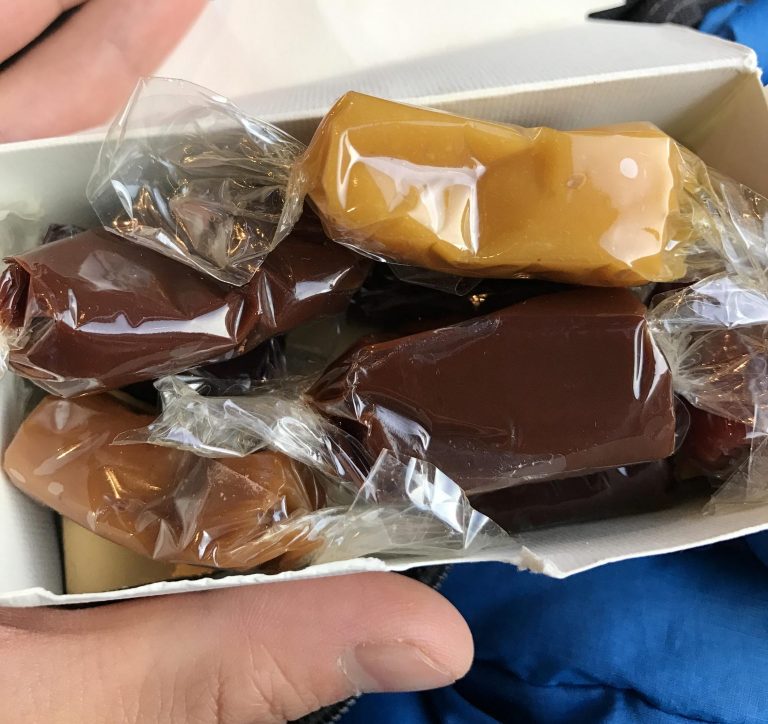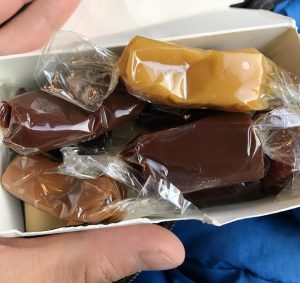 So there you have it. That was what I got to eat at Le Cinq. This was definitely one of the highlights of the trip.
If you are looking for a fine dining experience in Paris, I would definitely recommend considering this restaurant.
Thanks for reading and let me know if you have any questions or comments!
In case you missed them, here are some of my other restaurant reviews!
Save
Save