During our trip up to Banff and Jasper National Park, we had to go back into Calgary to drop off my mom and sister. So the plan was to eat dinner in the city before dropping them off. After reading through countless restaurant reviews and menus, the decision was between Blink and Notable.
Blink seemed to offer a unique set of dishes and had more consistent reviews. So, we ended up eating at Blink.
Blink is a New Canadian restaurant in downtown Calgary and these are the dishes and my impressions from that experience.
We started with bread and butter. They had the option of sparkling water or tap. Nothing extraordinary yet.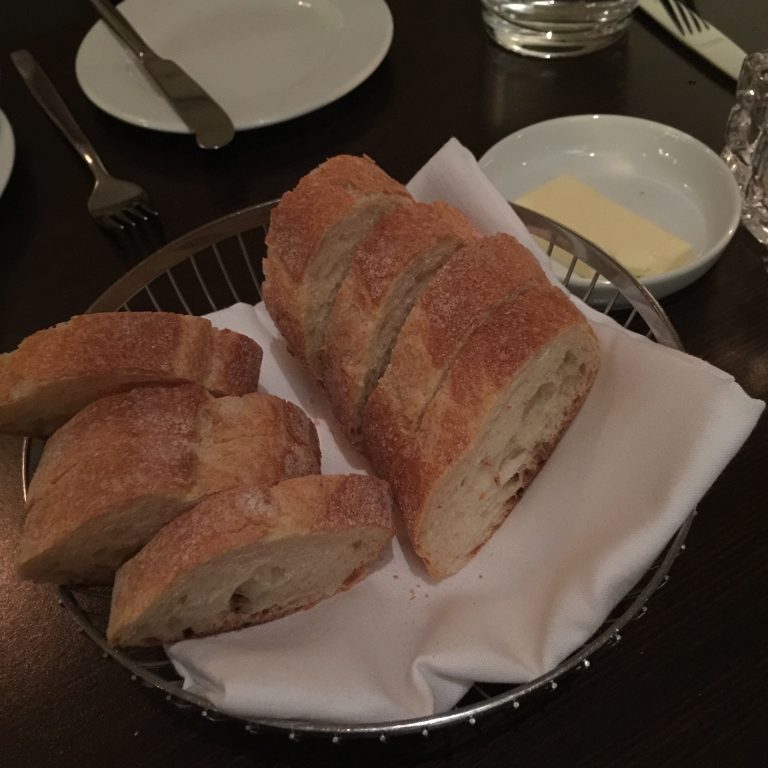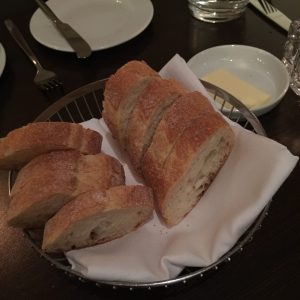 Next was an appetizer of Elk carpaccio. This tasted very similar to roast beef, and came with corn, pea sprouts, truffle shavings and Parmesan cheese shavings. It definitely had an off flavor and isn't something that I would seek out again. Good to try though.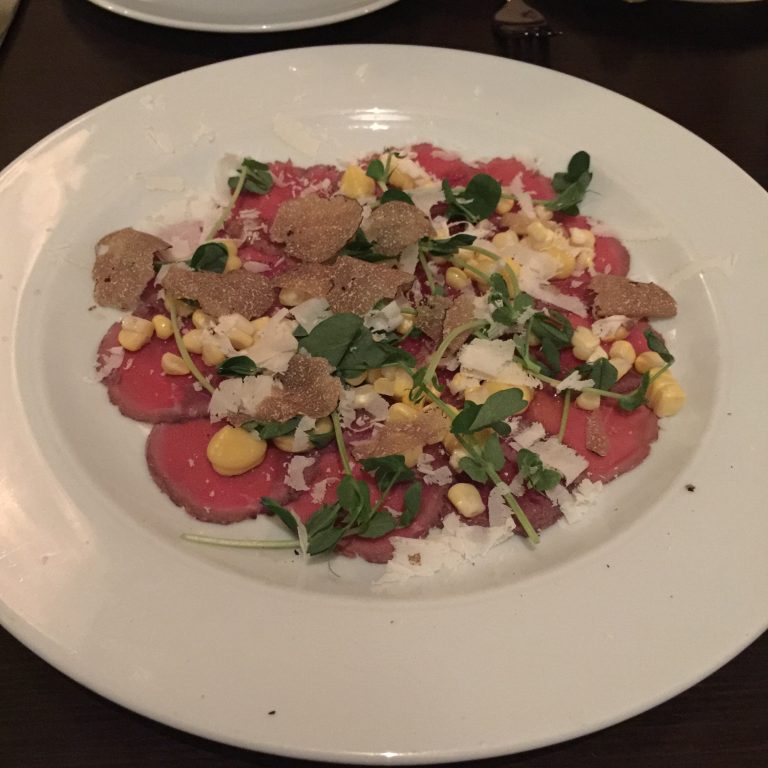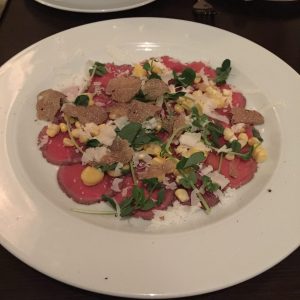 The next dish was a peach arugula salad with peaches. This was pretty good actually, but disappointing in the way it was presented. The pic is a bit zoomed in but they positioned the entire salad to one side of the dish, so it looks like you were getting jipped with a half portion. Flavor however was good, peaches were ripe and the prosciutto provided a nice salty contrast to the sweet peaches and peppery arugula.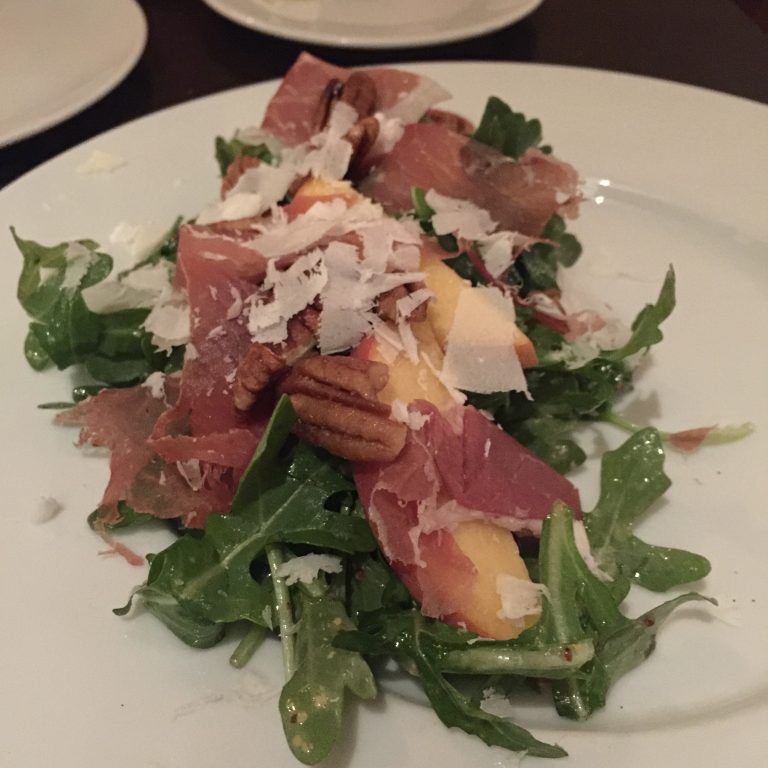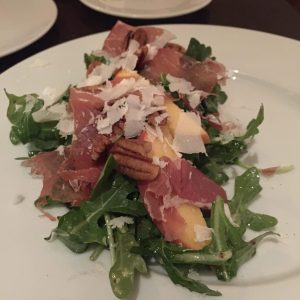 On to main dishes, I ordered the risotto with fresh herbs. This dish was fresh, complex and light. Despite all of the cheese and butter, it tasted very unique thanks to the herbs, corn and peas.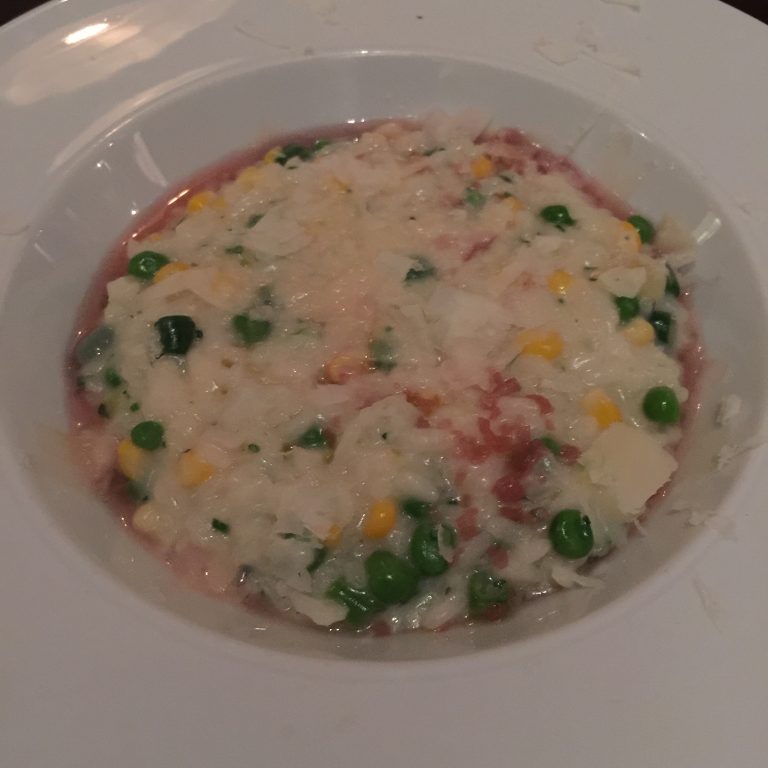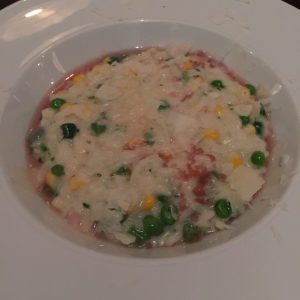 The next dish was the Alberta hangar steak. We agreed this was by far the best dish of the night. The meat was very tender and flavorful. The red wine sauce it came with and the potato were perfect complements to the meat. There was also an arugula pesto and large pieces of bacon. Would have liked to have seen double the potato since I like my potatoes and meat. Had it not been for this dish, it may have been a disappointing night.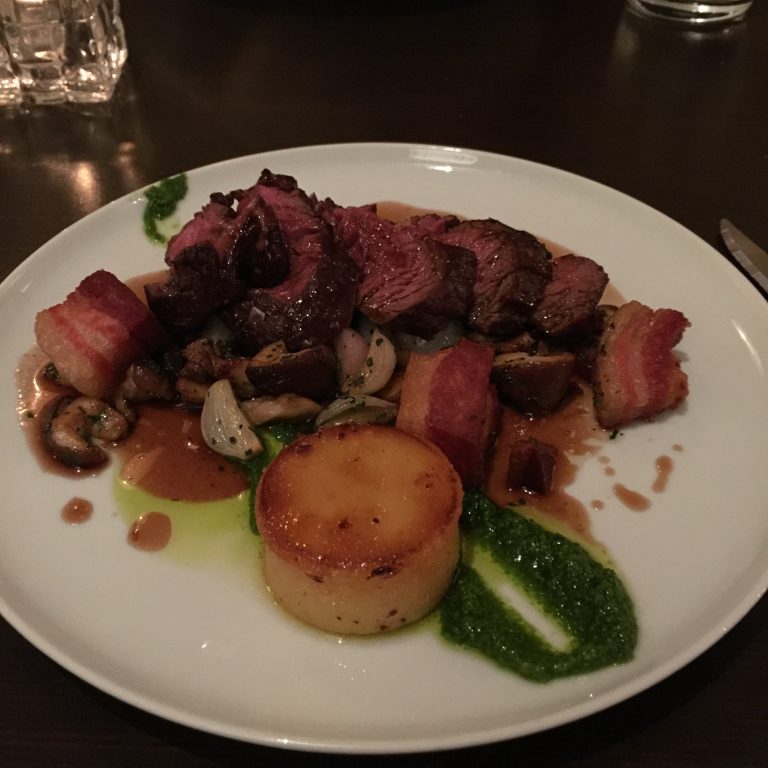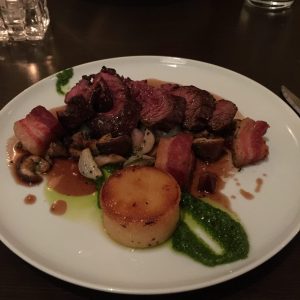 Next was the spring salmon which came with a green sauce and some vegetables. The salmon came totally raw in the middle and we had to send it back. What we did taste however, was not anything special.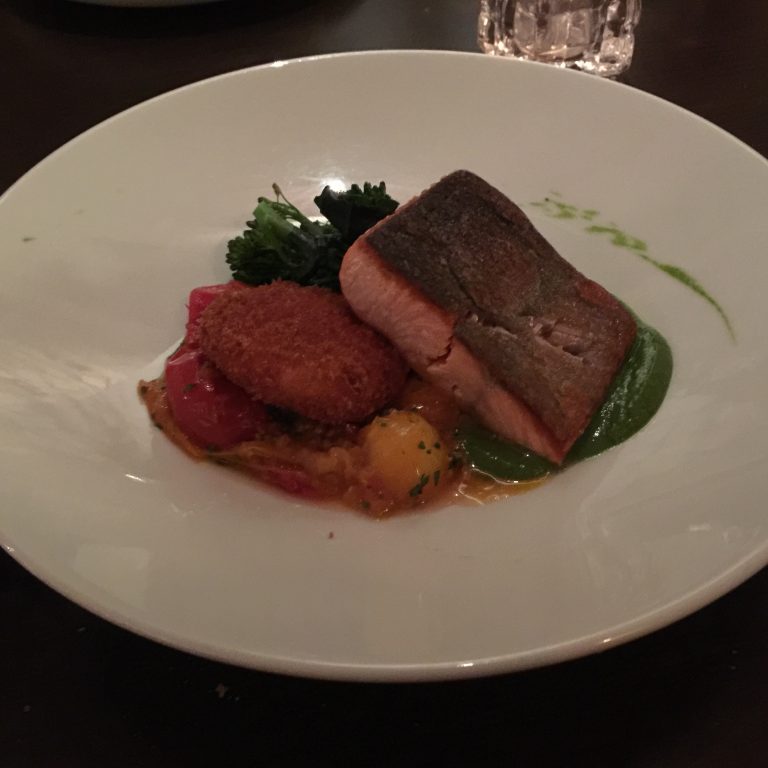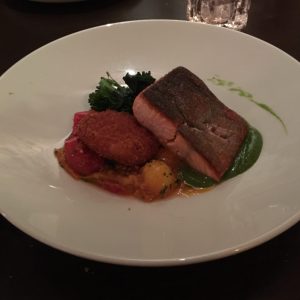 The last main that we got to try was the halibut. This came with fried chicken skin on top with a mushroom sauce. This was a very well done dish and I liked how the mushrooms, glaze and chicken skin all complemented each other in terms of flavor and texture. There were also truffle shavings, which added another layer of flavor. It was a good dish!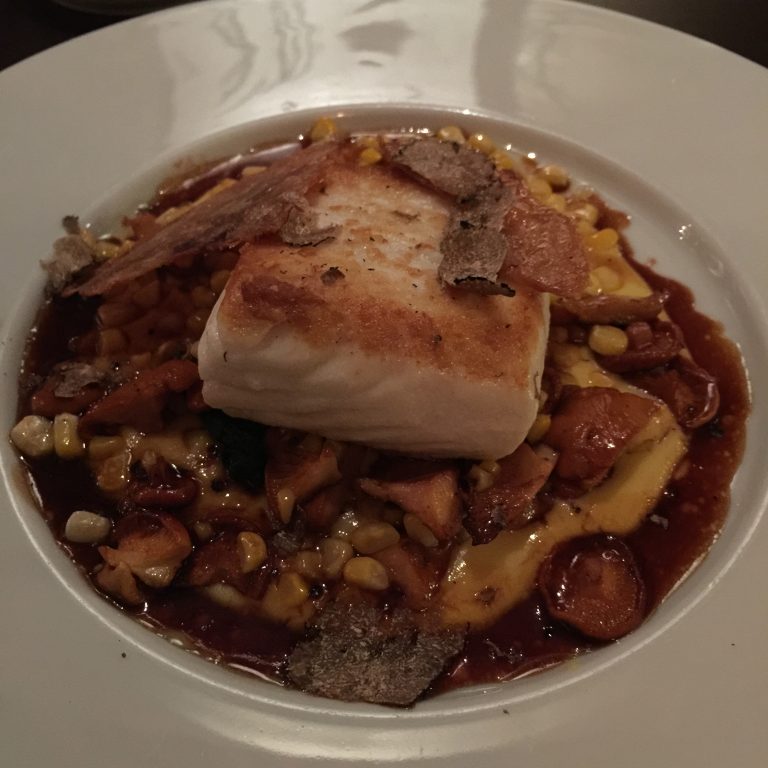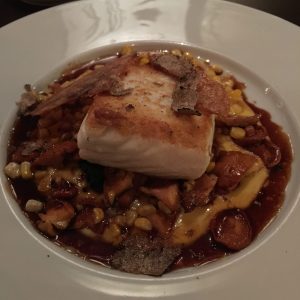 We finished with their version of bread pudding which came deconstructed as you can see. The sorbet on top was a really strong citrus flavor, which provided a sharp contrast to the peaches, candied pecan, rosemary cake and the creme fraiche to the side. Overall, good dessert!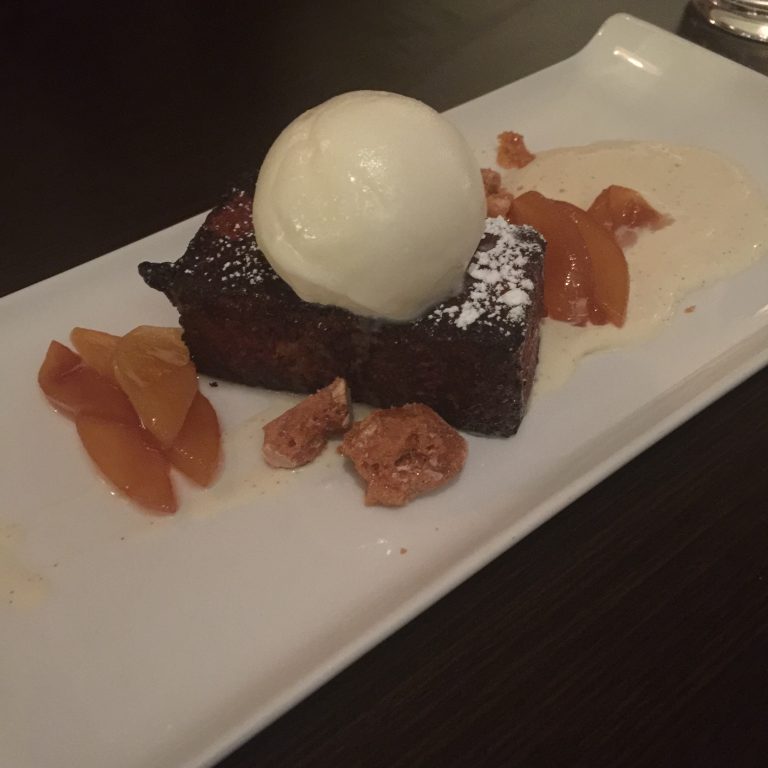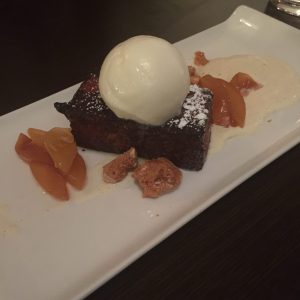 So there was my review of Blink restaurant! Looking back not sure if I would return, as the food was good, but not extraordinary. We shall see, if they update their menu I may be back.
In case you missed them, here are some of my other restaurant reviews!
Save