Lessons Learned from One Year of Blogging Part 2: Photography and 5 Regrets
Regret #1 My biggest regret
Not getting a proper camera to take pictures of my recipes!!! Ughh!!!!!
I thought I could just do it with my iPhone.
And I did. It works. It can be done. BUT!
After I got my real camera a few months ago, I don't know if you noticed but the pictures got a lot better.
In terms of quality and also with the depth of field.
You cannot blur the background with a phone camera.
Even though the iPhone Plus has that functionality it's just not comparable to a real camera.
Blurring the background is important so you can draw the viewers eye to a certain point. (Front of ice cream scoop is in focus while, behind is slightly blurred)
Example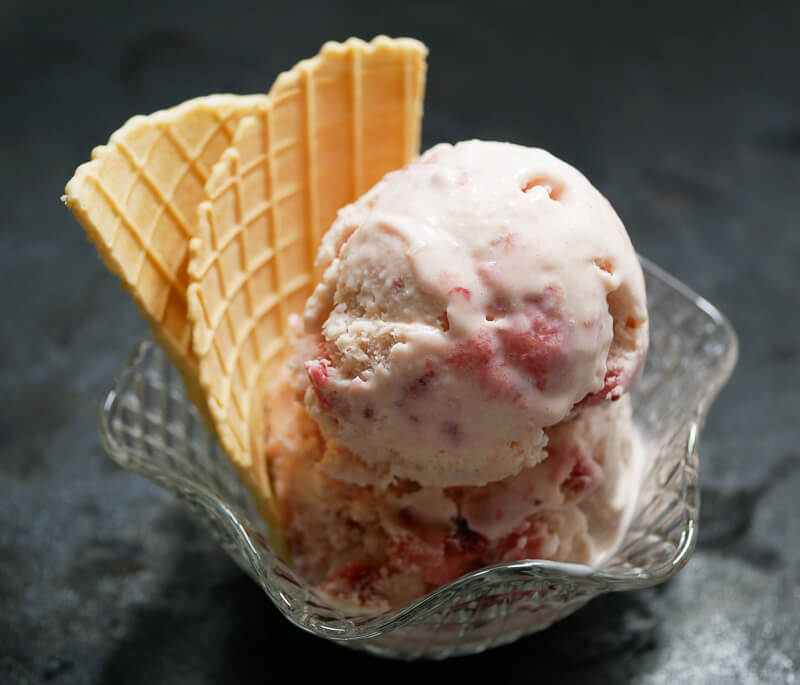 Also, if your lighting is not the best, a camera phone can't hide it as well as a stand alone camera.
The sensor on a phone camera just isn't big enough to gather the image in low light settings!
Lesson learned? Get a real camera! 
Regret #2 Not taking enough pictures 
One of the worst feelings is cooking up something delicious and making it look nice, taking the photo and discovering a few days later the photo didn't do the dish justice.
After this happened a few times, I made sure to both review and also take more pictures than I think I'll need and from different angles too!
By taking more pictures, I would have more to choose from when going through and deciding what to post.
When I first started, I took literally 2 pictures of a dish and that was it.
If it was blurry or dark, it could not be used!!
Some of these things can be fixed in Lightroom, but sometimes they can't.
Lesson learned? Take lots of photos!! 
Regret #3 Not submitting to Foodgawker right away
I started posting recipes here in early August 2016.
I didn't submit any posts to Foodgawker until November 2016.
I was rejected many many many times, see screenshot from my profile. My reject list is limited to the last 6 months, so you won't see any from before February 2017.
It took a good 6 months of practicing and resubmitting and learning from their feedback before I started to get accepted on the first submission.
You can see I haven't had any rejects since May so I've made some progress!! 🙂
I originally submitted my recipes to Foodgawker to grow my following.
But the unexpected consequence of that was improving and learning about food photography.
They even have a submission guide that explains what they are looking for in your photos.
Some recipes remain off Foodgawker because I never went back to rephotograph and update the recipes. One of these days…. I will get around to it!
Lesson learned? Get feedback on pictures ASAP!
Regret #4 Use Lightroom to edit your Photos!!
I ended up starting to use Lightroom after I went to a local meetup on food photography.
They went over some photography basics and walked through how to edit photos in Lightroom.
At that moment, I had the realization how important it is to edit you photos.
From that point on, I began editing everything before posting here and especially on Instagram.
No more taking pictures and uploading directly to WordPress!!
I don't know why but I must have been hard headed that I didn't need to edit my pictures.
Lesson learned? Edit photos!! 
Regret #5 Not using Artificial Lighting
Foodgawker did a good job letting me know my photos were underexposed.
My ceiling has recessed fluorescent lights that are not bright.
They are warm (lighting temperature) and work just fine for the purpose of lighting a dark room.
But for my indoor food photography, they impart a yellow color to pictures (due to the temperature).
They also are not bright enough (not daylight).
So in my situation, a lot of my pictures were underexposed and needed to be corrected in Lightroom.
I'm often cooking in the evening when the sun has set or is setting so bright natural light isn't available.
This is my setup. I use two daylight (6500k) LED bulbs stuck into a poster board.
It's cheap and it works.
Ever since making this little contraption, lighting wasn't much of an issue.
As of now, the only real changes I make in Lightroom are minor. (mostly for the temperature, exposure, and contrast)
Composition and styling remains my ongoing challenge.
Lesson learned? Use artificial lighting!! 
Conclusion: 5 lessons learned about food photography
Use a real camera You don't need a top of the line full frame DSLR, in fact, I started with a compact mirrorless Panasonic GX85, which I bought so it would be easy to travel with and could record 4k video!
Take lot's of pictures Just when you think you took enough, take 5 or 10 more. You can always delete, but you can never retake (unless you have leftovers. But even that's not the same!!)
Get feedback on your pictures If you are looking to improve your food photography, I would recommend that you try to submit your photos to Foodgawker or other similar websites. They helped me to get my skills to some sort of a base level and can help you too.
Edit your photos If you've never used Lightroom just watch a few tutorials on YouTube to learn the basics. Even with basic changes, you may see a drastic improvement in the quality!
Use artificial lights Here are the DIY instructions that I used to make my lighting setup.
I feel as though I'm at a plateau now food photography wise and have been messing around with different techniques and presentations.
Food styling isn't really something that makes me excited, hence, the somewhat minimalist presentation of my food.
I don't anticipate styling my food anymore in the future, but I also didn't anticipate getting a camera or making videos.
We shall see….
If you liked this post or have any questions, let me know by leaving a comment!