Siteground as a Wordpress host
I first started with Wordpress.com, but decided that switching to a self-hosted site would offer more flexibility and functionality. The main factor for me making the switch was the ability to add plugins.
Plugins make it so much easier to add, organize, and maintain content on your site. Wordpress.com doesn't have that functionality. Each has it's pros and cons. You'll need to read about each and decide what's best for you and what you are trying to achieve.
Also, I did some research by reading reviews and forum comments and was choosing between Siteground and Bluehost.
Siteground seemed to have slightly better comments and that was how I made my decision. So far, they have been very helpful and haven't had any major complaints!
If you are looking for a host or have any questions let me know! You can reach me here: contact me.
Plugins and Tools
Grammarly One of my most important plugins is Grammarly. I use this for every single post on this site. It catches any typos, punctuation problems, and of course, grammar issues. The basic version is free and you can upgrade if you feel that you want the advanced grammar check features.

Tailwind This is another very useful tool I use. About once a week I go to Pinterest and look for pins that appeal to me and schedule them to be posted. It has helped me to gain followers and keep my boards active. It also has analytics by pin, board, and can integrate with Google Analytics to show you how you are doing in terms of traffic referrals. If you want to try it out, they let you schedule 100 pins free to get a feel for it. It's definitely a time saver.
Advertising
Gourmet Ads One of the ways I wanted to try and offset costs of maintaining this website was by employing advertisements. Google Adsense provides nothing and is not a good way to earn through advertising unless you have a ton of traffic coming to your site. The good thing about this company is they guarantee 100% fill rate.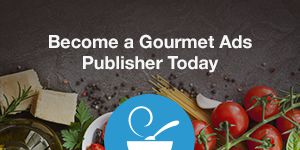 Amazon Associates The last way that I have implemented as an income source linking to products through the Amazon Affiliates program. You generally earn a very small percentage of a sale through Amazon. I believe there is a 24 hour time window that you would receive credit, if someone goes and buys something. The price is the same for the buyer and you get what is essentially a commission for referring the customer to Amazon.
Education
Food Blogger Pro Online Course I took this course late last summer to see if it would help me learn quickly how to get up and running. It was a good course with a lot of content from basic setup, to marketing, and how to take your photos and touch them up. I would definitely recommend taking this course if you are planning to start your own website. I think it helped answer a lot of my questions and ensure that I am doing everything correctly. They also have a forum where you can connect with other bloggers to ask questions and for additional support.

Software and Hardware
Inkscape This is free software. It's similar to Photoshop and can accomplish a lot of the same functions. I create my website art through this in combination with my 53 Pencil and my iPad. Read this post if you want to see an example  Throwback Thursday – The Birth of the All Day I Eat Shark. Here is another example of me updating my logo- Timelapse of the All Day I Eat Valentines Day Special Logo
I also use it to create vertical pins on Pinterest. Watch How to Make Vertical Pins for Pinterest using Inkscape – No need to buy Photoshop!!
Adobe Lightroom 6 The gold standard when it comes to touching up photos. I didn't use this initially, but once I did I've been able to fix lighting and color issues to make my pictures look better. Absolutely essential if you are going to be posting photos anywhere. Here is a short video I put together that illustrates some of the basic edits I make with the program. Adobe Lightroom Basics for Food Photos Taken with an iphone 7 plus

EverywhereFocus Smartphone stand This stand helps me to record video. It's like having an apprentice hold your phone for you. No shaking/wobbling. I've used it while traveling as well. The flexibility of the stand makes it very versatile.

Gadgin Bluetooth Shutter Release You want to have a shutter release to start and stop your video or to take a picture with the click of a button. No need to touch your phone. Useful in minimizing wobbling or if your hands are tied doing something else.

Apple iPhone 7 Unlocked Phone 128 GB – For pictures, I use my iPhone 7 Plus. I don't have a DSLR since I'm not that into photography, but am considering the upgrade.

Apple MacBook Pro MLUQ2LL/A 13.3-inch Laptop (2.0GHz i5, 256GB Retina)A workhorse. I needed a small and powerful laptop to take on the road. It's small and light enough with good power for photo/video editing. Make sure you get one with a solid state drive (SSD). Compared to non-SSD drives, an SSD drive will allow your computer to power on in seconds, perform better, and use less power.
Apple Magic Mouse 2 (MLA02LL/A) I don't know about you, but I think it's very inefficient to use the trackpad when you have a lot of mouse movements. It's no ordinary mouse as it has similar swipe functions as the trackpad. Get the magic mouse and you won't regret it.

Acer G277HL Abid 27-Inch Full HD (1920 x 1080) Widescreen Display  A large bright display is a must when editing photos. Plus it makes updating your website and just browsing the web that much easier on the eyes.
Note: this page contains affiliate links. This means I may receive a small commission if you click on my link and end up buying the product or service. I only link to products/services I trust and recommend after using myself. If you have any questions, please let me know. Thank you in advance for your support!