Yaki onigiri (pan toasted rice balls) v1
This will be the first in a series of yaki onigiri(焼きおにぎり) posts.
Yaki onigiri are essentially baked or pan toasted rice balls seasoned with soy sauce, mentsuyu and other ingredients.
If you've never had this before it's a pretty tasty snack and you can make mass produce them and then freeze the leftovers for a later time if you don't end up eating them all.
The image below is the rice mold that I use to make the triangle shape, if you dont have one of these you can use plastic wrap and your hands as an alternative.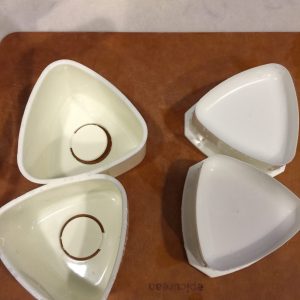 Like a novice I screwed up and didn't push down hard enough when I was making the omusubi (triangle shape rice) and it just fell apart on the pan. Don't let this happen to you.
No bueno!!!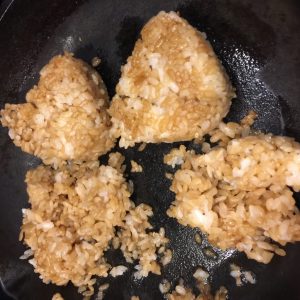 | | |
| --- | --- |
| | |
Mix cooked rice with shoyu and mentsuyu.

Press firmly and mold into the desired shape.

Using a cast iron skillet add a bit of sesame oil to the pan. On medium low heat, toast rice balls about 2-3 minutes per side until rice gets crispy.
An alternative to using the stove is to toast the rice balls, you can use an oven or toaster and toast until the outside gets crispy.
You can also add additional flavor and crispiness by basting the rice balls with a brush prior to toasting. Use a 1-1 mixture of soy sauce to mentsuyu.
To create a more complex flavor, mix in sesame seeds and or katsuobushi (bonito fish flakes)