How to make Agedashi Tofu (fried tofu)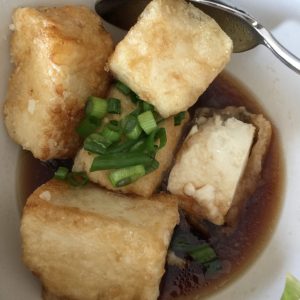 How to make Agedashi Tofu. Well. I did some research and it is not as hard as I expected.
I made a ton of mentsuyu and was looking for recipes to use it for.  Agedashi tofu ( 揚げ出し豆腐) is one of my favorite things to eat. It is warm tofu with a crispy skin that comes in a light and savory broth. Sometimes served with grated daikon (radish) and green onions. Not exactly the healthiest thing to eat since its fried, But I try to make it healthier by using olive oil and pan frying instead of deep frying. This is the first time I've tried making the dish and it turned out much easier than expected.
Here is the original recipe I am referencing, there is a video you can watch too.
I know that cornstarch might be a lot easier to find for some people than potato starch, and so I made a batch with corn starch and got the same effect with crunchy outer skin, although slightly different flavor. So if you can, try to find potato starch, otherwise, cornstarch will suffice!
I also used my own mentsuyu, but store bought should work just fine. You can also top with grated daikon (Japanese radish) or grated ginger if you want to take the dish to the next level.
If you have any tips on how to make agedashi tofu or experiences to share would love to hear them.
| | |
| --- | --- |
| | |
Chop tofu into 1 in. x 1/2 in. blocks. Pat lightly with a paper towel to remove excess water. Ensure there is some moisture left which is needed to get starch to stick to the tofu.

Put potato starch in a bowl and take each square of tofu and coat all sides and set on a dish. (it helps to press the blocks lightly into the starch, but don't press too hard )

Once you have coated all your blocks of tofu with the starch, using medium heat, heat up olive oil in a pan. (I used a small cast iron with oil depth ~1/4in.)

After the oil is heated and shimmering, add each block of tofu and fry for at least 1+ minute per side. Use tongs to check that the sides are getting browned and if slightly browned, rotate. Repeat until all sides are browned and continue to add oil as needed.

Place fried tofu into a bowl and drizzle mentsuyu over and garnish with green onion.