Coffee Rubbed Steak from Bon Appetit
Bon Appetit is one of my favorite magazines, they publish some solid content and I like their recipes. Coffee Rubbed Steak is one of their recipes I tried and is a keeper, I made no alterations.
I used a pretty lean cut of top sirloin cut of meat for dinner this time. The first two times I used rib eye and I think the fat in the meat might help to add depth to the steak. Probably because that is what make ribeyes so good!
The top sirloin definitely came out a little lighter than the previous times I made it. So if you are trying this recipe, I would use a cut that has a bit of fat in it.
The original recipe makes quite a lot of rub, so depending on how much meat you have, it could last you a few meals. I also used my own roasted coffee beans.
Here's the steak after chilling in the fridge, right before cooking.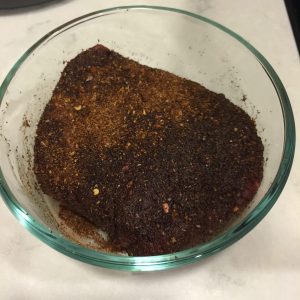 Important to follow the technique outlined in the recipe. First sear both sides of the steak to create a nice crust and then finish in the oven. I used a cast iron skillet to sear. It is a very foolproof method and especially so when paired with a thermometer.
I have also used another technique for steak, which is to first sear each side, and then continuously flip the steak over and over again. This resulted in a very nicely cooked piece of meat. But not sure that I would recommend it for a steak that you want a crust on. The reason being that if you keep rotating the steak the crust will probably fall off.
Once you throw it in the oven, you can check the doneness using a meat thermometer to be precise and you will end up with a nice medium rare steak like the one below!!
Have you tried any other recipes for Coffee Rubbed Steak? would love to hear your experiences!